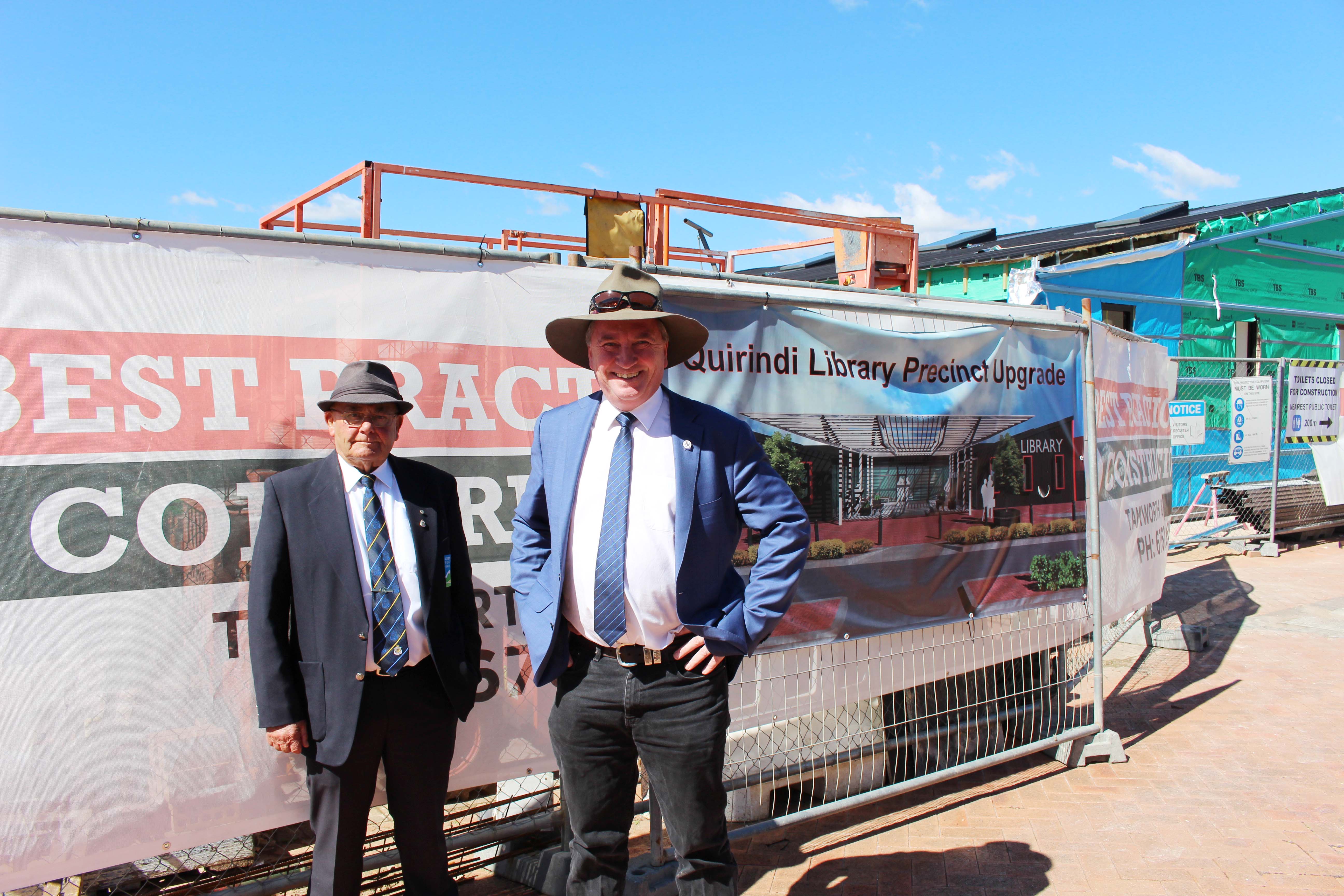 Pictured: Member for New England Barnaby Joyce and Liverpool Plains Shire Council Mayor Doug Hawkins at Quirindi's new library which is undergoing construction supported by Australian Government funding
Almost $1 million in Australian Government funding is supporting upgrades to the Quirindi library precinct, local sports courts and road projects on the Liverpool Plains.
Member for New England Barnaby Joyce said the projects are being funded under round one of the Government's Local Roads and Community Infrastructure Program, which is helping local communities recover from the economic hardship as a result of the COVID-19 pandemic.
Funding includes $163,000 for the Quirindi netball, basketball and tennis court lighting project on the corner of Rose and Henry St, Quirindi. Installation of the lighting is complete and already in use by the local community.
A further $200,000 is being invested in the Quirindi Library Precinct major upgrade where construction is ongoing. This is a complete redevelopment of the library precinct with a new pergola, landscaping, technology upgrade, plumbing and plastering. Total cost of this project is valued at about $1.5 million.
Elsewhere the Government contributed $143,772 toward major rehabilitation works on Blackville Road. This project has been completed and involved repair of road surface significantly affected by drought and recent rainfall.
Additionally, $230,000 will assist council in its $600,000 upgrade of Centre Street in Quirindi and a further $130,000 for the Lowes Creek Road Deviation to improve road safety into the proposed water treatment facility. These projects will start shortly.
Mr Joyce said the government investment would leave a lasting legacy for Liverpool Plains communities.
"Development of the new infrastructure is not only improving public amenities to enjoy for years to come, the construction activity being generated is supporting local jobs and the local economy through increased trade," Mr Joyce said.
"It is yet further delivery for the people on the Liverpool Plains and the New England."
Liverpool Plains Shire Council received $866,772 in funding for these round one projects and will receive more than $1.6 million over two funding rounds of this program.
Liverpool Plains Shire Council Mayor, Councillor Doug Hawkins OAM, welcomed Mr Joyce to the Shire and extended his thanks to the local Federal member for facilitating funding for these important projects.
"Without funding support from both our Federal and State Governments, quite simply rural Shires like ours would be unable to afford and undertake important projects such as these.
"Mr Joyce is correct when he says projects such as these will leave a lasting legacy for the Liverpool Plains community. Thank you," Councillor Hawkins said.
(ENDS)