Federal Member for New England Barnaby Joyce has joined families from across the region for the 150th year celebration of the Kellys Plains Public School on Friday.
The day's events included a formal assembly, the traditional ringing of the school bell, a historical re-enactment by students of the history of the school and a barbecue lunch.
The school currently has 40 students and two teachers.
Principal Richard Cotter said there were multiple students who lived closer to the cities but commuted to the school because of its close knit and friendly community.
"Some of the students present are the third generation to come through the school gates," Mr Cotter said.
"I think it shows the value of small school cultures. Our students are frequently complimented on their outstanding behaviour and conduct every time they leave the school."
Mr Joyce said the event was an important opportunity for past and present students and families to meet and discuss the school's history, present and future.
"From everything I have seen here today, the school's motto, Sharing, Learning and Caring really encompasses this school," he said.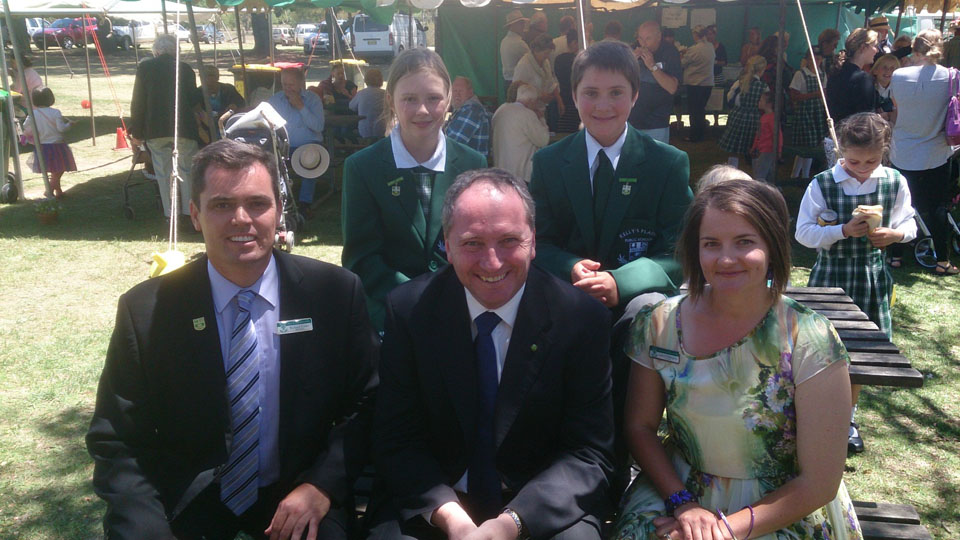 Federal Member for New England, Barnaby Joyce, talks with Girl School Captain, Lucy Gardiner, Boy School Captain, Liam Smith, Principal Richard Cotter and Lower Division Teacher Lauren Piddington at the Kelly's Plains 150th celebrations.