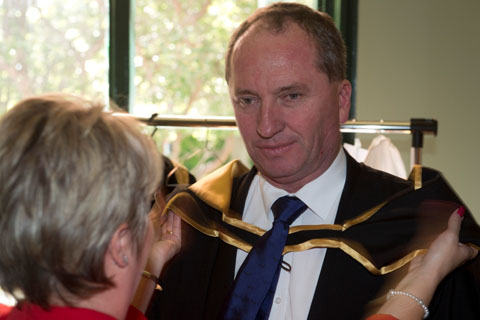 Federal Member for New England Barnaby Joyce has joined the formal procession at the latest University of New England Graduation Ceremony.
Adorned in the traditional academic robe of his Alma Mata, Mr Joyce watched on as more than 600 graduands took their place of honour alongside almost 90,000 UNE Alumni (including Mr Joyce himself).
Mr Joyce studied a Bachelor of Accounting at UNE between 1986-1989.
After graduation, Barnaby spent three years with a chartered accountancy firm then a short period with an American multinational in cost accounting before completing five years with a major regional bank. With a choice between a senior role in banking or starting his own business Barnaby chose the latter and owned and operated Barnaby Joyce and Co for ten years in the western Queensland town of St George.
"The ceremony has reminded me of the immense sense of accomplishment you receive when you walk up on stage as a fresh graduate and realise all those years of hard work have come to fruition," Mr Joyce said.
"As I am also serving as Federal Agriculture Minister, I was encouraged to see the number of postgraduate students who had completed their studies in agricultural science – some at the highest level possible."
"I wish all the graduates a well-earned break before embarking on a fulfilling career, no matter which direction they choose."