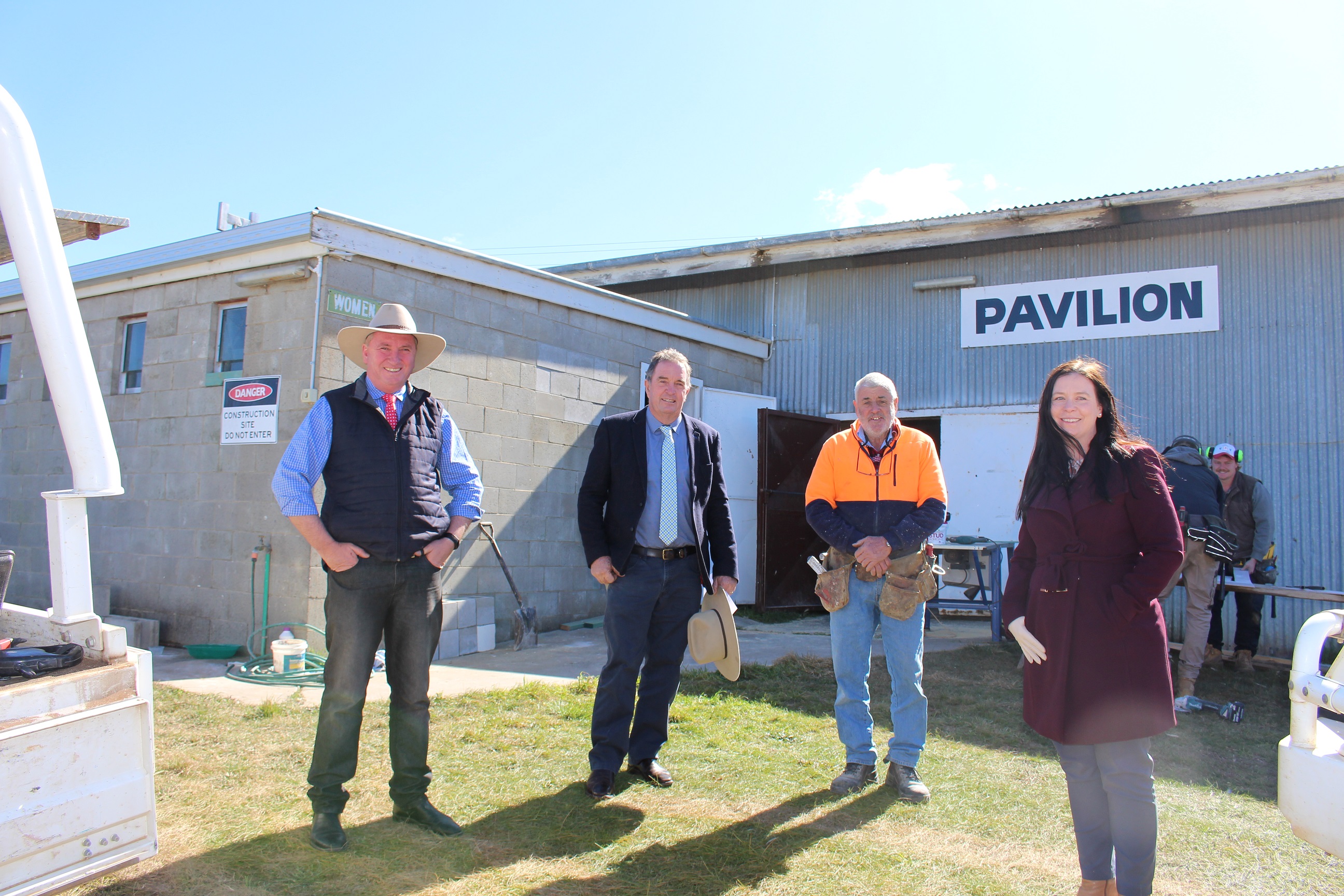 Pictured: Member for New England Barnaby Joyce with Walcha Council Mayor Eric Noakes, Site Manager Murray Rose and Walcha Council General Manager Anne Modderno viewing amenities upgrades underway at Walcha Showground's Youth Hall. The project includes an upgrade of the showground office and new bathroom facilities.
Construction has started on refurbishments to the youth hall amenities at Walcha Showground and upgrades to the facilities at Woolbrook Stampede Grounds.
Member for New England, Barnaby Joyce, said both projects were supported by the Federal Government's Drought Communities Program Extension.
Under the program, Walcha Council has received two instalments of $1 million each for community-led projects to help spur economic recovery from drought in the region.
The first round delivered a new function centre for Walcha, among other projects. The second $1 million investment in drought relief also included an upgrade to the town's water treatment plant, refurbishments to Ingleba and Yarrowitch halls, new amenities at Nowendoc Rest Stop as well as improvements to Lions Park and McHattan Park.
Mr Joyce said the Drought Communities Program (DCP) was helping to keep local economies going through tough times caused by drought.
"Walcha's brand new function centre at the showground is a shining example of how this funding can leave a long-lasting impact in local communities," Mr Joyce said.
"It's great to see more of these projects underway across the shire, as it helps keep people in work, cash flow going around town and ensures that local businesses can continue operating."
Minister for Agriculture, Drought and Emergency Management David Littleproud MP said the DCP would create jobs for people struggling to find work because of drought.
"Make no mistake, we're standing shoulder-to-shoulder with drought-hit communities in the New England," Minister Littleproud said.
"We've committed more than $8 billion to drought and that includes investments to make our communities resilient and better prepared for the next drought.
"The $2 million we're spending in Walcha will run right through the community when workers have more money to spend at the local shops."
Walcha Mayor Eric Noakes said the difficulties and effects of the drought have been eased in Walcha through the release of the Drought Communities Program funding.
"This has led to necessary infrastructure improvements and employment of locals in these trying times. In what remain tough times this type of funding allows resilience in our community," Cr Noakes said.

(ENDS)