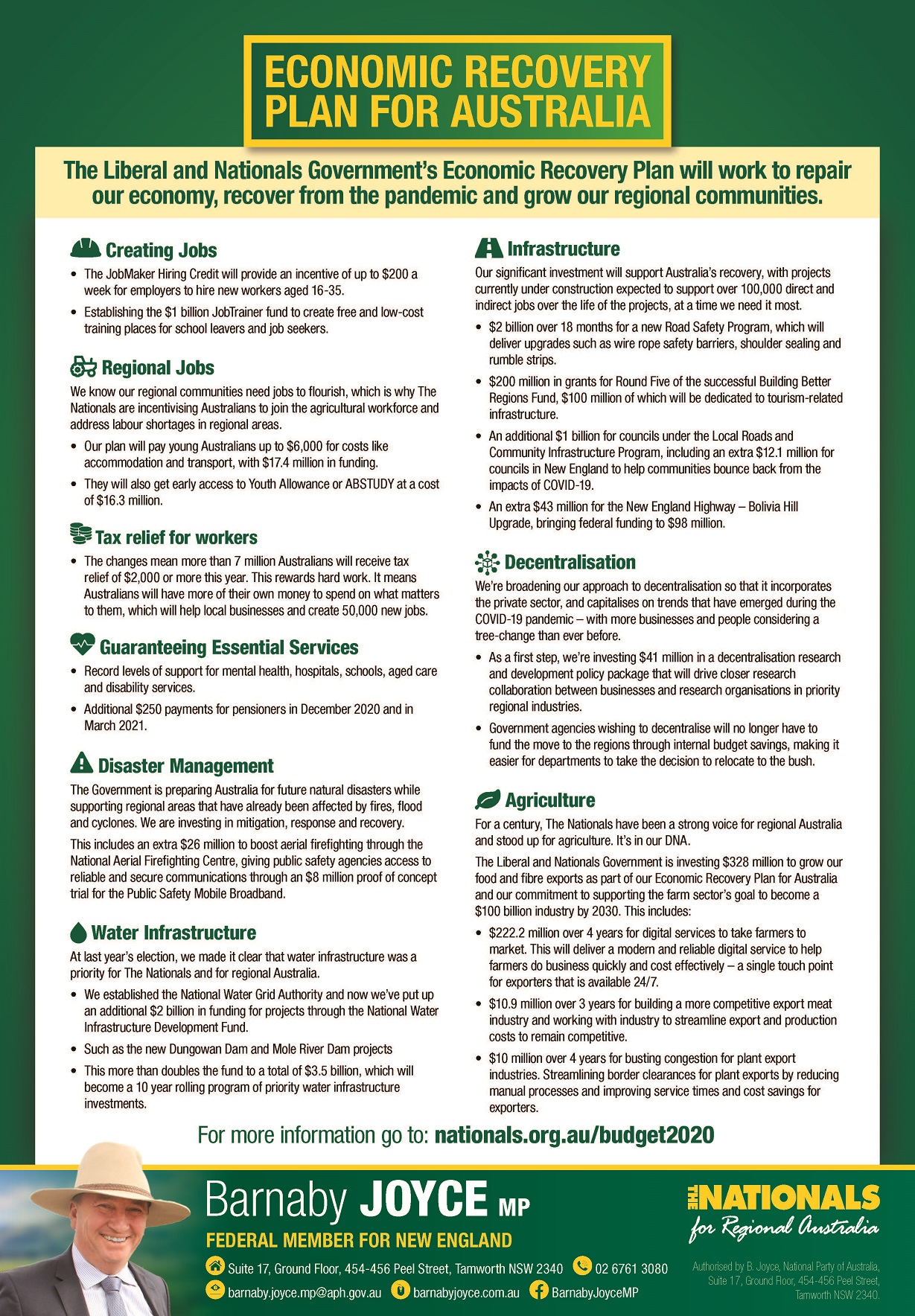 The Coalition Government will continue supporting job-creating, economy-boosting infrastructure as part of its Economic Recovery Plan for Australia, rebuilding our economy to secure the future of the New England.
The Government's record $110 billion transport infrastructure program and $3.5 billion rolling water infrastructure fund will support local jobs and businesses at the time it is needed most.
Member for New England, Barnaby Joyce, said the 2020-21 Budget included more than $50 million to advance water infrastructure projects in the electorate this financial year including a $40 million instalment for the new Dungowan Dam and $12 million toward the Mole River Dam Business Case.
Major road projects are also forging ahead with $34 million being invested in the Bolivia Hill upgrade in the coming months, $4 million for the Legume to Woodenbong section of the Mt Lindesay Road upgrade and $3.8 million for the Tenterfield Heavy Vehicle Bypass planning.
This is in addition to $14.2 million being rolled out to 10 local councils across the New England this financial year under the Federal Government's Roads to Recovery Program as well as $52 million in funding for New England councils under the government's Financial Assistance Grant program.
Furthermore, $22.7 million will be provided to deliver a sixth round of the Stronger Communities Programme (SCP).This will feature a further $150,000 in funding for community-led projects seeking grants between $2,500 and $20,000 throughout the New England.
The Government also announced a further $200 million towards a fifth round of the Building Better Regions Fund, including $100 million dedicated to tourism-related infrastructure supporting the regions to recover after COVID-19. Recent projects in the New England funded under this program include the New England Regional Hydrotherapy Centre in Armidale, a new stable complex in the Upper Hunter and a new facility for Armajun Aboriginal Health Service in Inverell.
Deputy Prime Minister and Minister for Infrastructure, Transport and Regional Development Michael McCormack said the Budget delivered on our economic plan for a stronger and more resilient Australia.
"The Budget includes new and additional funding in the 2020-21 Budget for projects and initiatives, supporting more than 30,000 direct and indirect jobs over the life of the projects, to get Australia back to work and back in business following the pandemic," the Deputy Prime Minister said.
(ENDS)