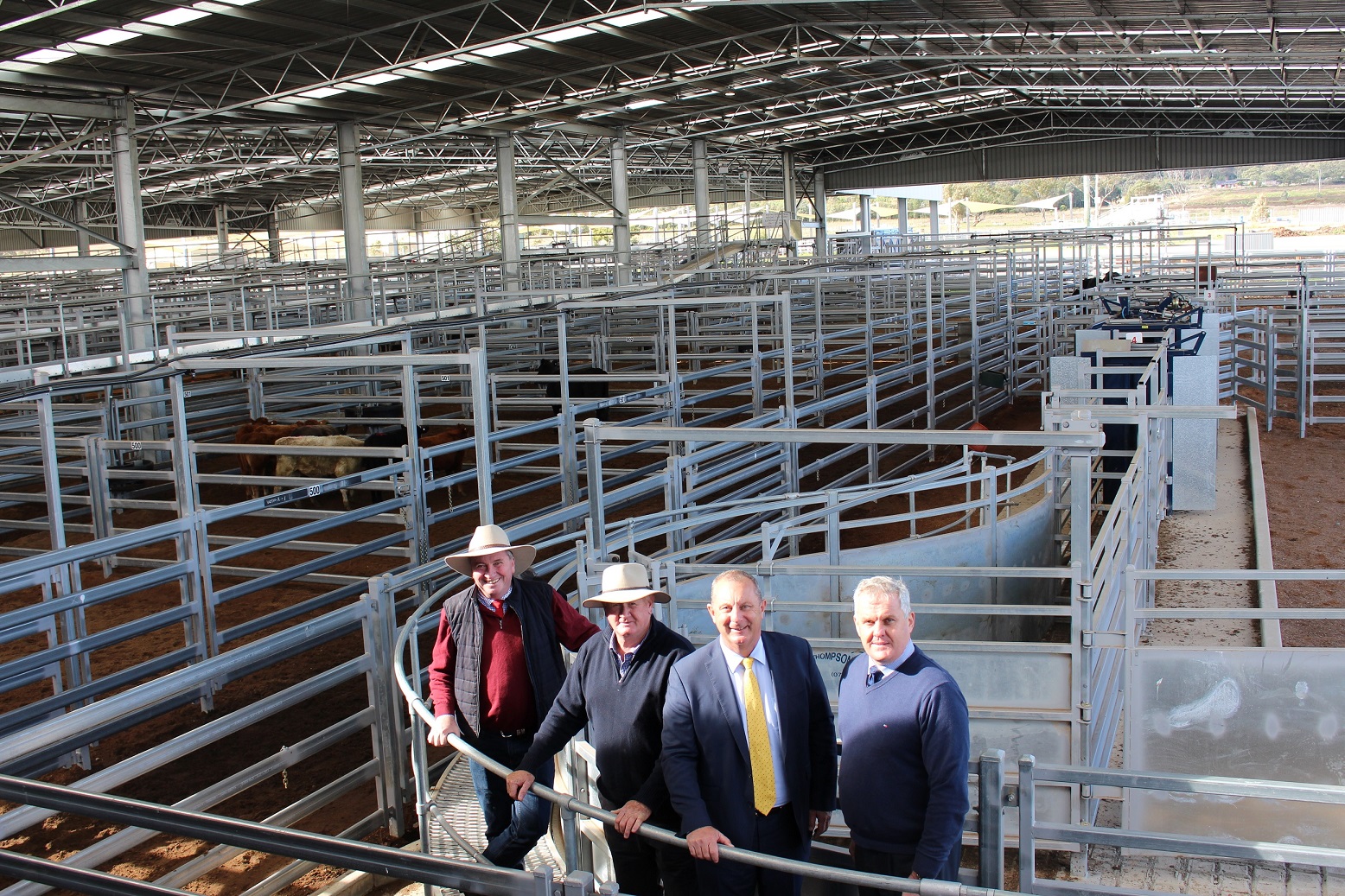 Pictured: Member for New England, Barnaby Joyce, Upper Hunter Shire Council Mayor Maurice Collison, Member for Upper Hunter Michael Johnsen and Upper Hunter Shire Council General Manager Steve McDonald at the newly upgraded Scone Regional Livestock Selling Centre.
Communities in the Upper Hunter and across the New England are set to benefit from improved stock selling capacity with the official opening reached on the $7 million upgrade of Scone Regional Livestock Selling Centre.
Federal Member for New England, Barnaby Joyce, said the upgraded centre will ensure the facility remained competitive in servicing Upper Hunter local livestock producers and the equine industry, increasing throughput by 50,000 head per annum.
"The added efficiencies this modern selling centre now offers will reduce operating costs, improve sale prices and increase the number of cattle producers choosing to use the facility here in Scone," Mr Joyce said.
"It will also support and protect up to 269 jobs in the agriculture, manufacturing, transport and agribusiness sectors within the Upper Hunter region, increase support to local selling agents, local retail businesses, transport and logistics companies, stock feed suppliers and fuel outlets, each of which will support our region well into the future."
Deputy Prime Minister and Minister for Infrastructure, Transport and Regional Development Michael McCormack said the Australian Government's $2.8 million investment in the saleyards would provide long term benefits to the region.
"By supporting 24 jobs in construction and creating an expected 38 ongoing jobs after completion, in addition to using local businesses and supplies, this project will increase employment within the agricultural, transport and manufacturing sectors and help bring economic prosperity to Scone for many years to come," Mr McCormack said.
Upper Hunter Shire Council Mayor Maurice Collison said the major upgrade was bringing substantial economic benefits, as well as creating a much safer environment for animals and people.
"There has been a lot of positive comment and feedback on the great improvements that have occurred and we have seen the results already," Cr Collison said
"This is a regional saleyard and the upgrade is bringing more cattle from further away. A few weeks ago we had a very successful store sale with 1000 store cattle penned at the facility, the first store sale in years.
"It gives me great confidence that from now on the agents will be able to hold regular store sales in the new facility."
This project received $2,827,248 in funding from the Australian Government under the Building Better Regions Fund. Upper Hunter Shire Council provided the remaining $4,240,871 contribution toward the project.
Scone Regional Livestock Selling Centre upgrade included:
o Construction of new bays and selling pens, including a soft floor system, roof, water reticulation system and dust suppression system.
o Construction of a temporary services and holding yard shed.
o Construction of an office, canteen and workshop/storage shed.
o Construction of roads and parking.
o Installation of IT and electrical services, including a walk through cattle scanning system, LED lighting, security system for the new staff facilities, upgrade of the livestock selling system and upgrade of the CCTV system.
o Installation of drainage, water and effluent management
Ends.