FEDERAL Member for New England, Barnaby Joyce said Tony Windsor's claims today that more could have been done to keep the Royal Australian Air Force (RAAF) flying school in Tamworth are simply wrong.
"The fact is that there was a fair and open tender process and that the government's decision reflected the Department of Defence's assessment of what would deliver them the best capability," Mr Joyce said.
"For Mr Windsor to assert that the government should neglect the unequivocal advice of Defence and potentially compromise the training of our future pilots is simply astounding.
"At best Mr Windsor's comments demonstrate a complete lack of understanding of procurement processes; or worse, he has demonstrated that he has no confidence in the professionalism of the Defence personnel who conducted this tender.
"The evaluation of the tender process was handled by the National Security Committee not through Cabinet," Mr Joyce said.
"There was a substantial difference between the price tendered by Lockheed Martin and BAE System.
Mr Joyce also cited a statement made by BAE Systems Australia Director Aerospace Steve Drury in the Northern Daily Leader, who said it was "very early days" so the company did not know the full details of the successful tender, but Mr Drury believed it came down to the aircraft that Lockheed Martin would be using being better suited to the ADF's simulators and training.
"Any builder in town will tell you if there is a substantial difference in price in a tender, then you live to fight another day.
"And any real estate agent will tell you, if you lose a tenant in a house, you don't pull down the house, you go out and find another tenant.
"And that is exactly what we are doing, looking for another tenant."
Mr Joyce said his cabinet colleague, the Minister for Defence, the Hon Kevin Andrews stated on the return from his last trip to Singapore, that he encouraged his Defence counterpart in that country to consider expanding the Republic of Singapore Air Force presence at Tamworth, noting that there will be additional capacity from 2019.
Mr Joyce said it was important to reinforce that his advocacy had enabled an extension of the Basic Flight Training School run by BAE Systems would remain in Tamworth until the end of 2019.
"That gives us four years to find another tenant.
He said there is increasing international demand for highly-trained commercial and military pilot training and the Tamworth flight school, already trains pilots from Singapore, Brunei and Papua New Guinea.
"If Mr Windsor were an effective advocate for his region he would be encouraging future international investment in Tamworth, rather than trying to score cheap political points."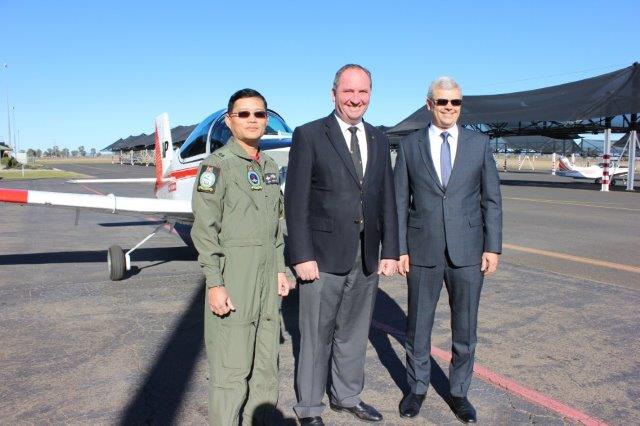 Caption:
Acting CO Republic of Singapore Air Force AGC, Major Aaron Ang, the Member for New England Barnaby Joyce and BAE Systems Director Aerospace, Steve Drury.