The Deputy Prime Minister and Member for New England, Barnaby Joyce will attend the launch of the Wallamore Anabranch restoration project, designed to end more than a decade of ongoing serious bank erosion, impacting on multiple agricultural properties and downstream aquatic habitat.
The Coalition Government has invested more than $600,000 in this project, the outcome of which deliver riverbank stabilisation and on-farm native revegetation to improve water quality, farming outcomes and habitat connectivity along more than nine kilometres of mainly cleared riparian land of the Peel River and its Wallamore Anabranch near Tamworth.
Mr Joyce said during the past decade, the Wallamore Anabranch has suffered from high flows and the landholders along the course of the anabranch experienced significant erosion, farming land loss and reduced productivity.
Landcare Australia will coordinate the project across the next 3 years on behalf of the project Steering Committee comprising Landcare Australia, NSW DPI, North-West LLS and Wallamore Landcare Group. Jim McDonald, a previous Chairman of the former Namoi CMA, is the independent Chairman of the Steering Committee.
Significant bank stabilisation works are underway to prevent further erosion of channel banks. These works are a combination of rock groynes, rock armouring, earthworks to reduce the slope of upper embankments and extensive revegetation.
Mr Joyce said the project will stabilise actively eroding areas and re-establish native habitat that has disappeared from much of the riparian zone and the revegetation works will re-establish connectivity between remnant native habitat areas on the Peel and anabranch channels. In addition the overall impact of the terrestrial works will greatly improve aquatic habitat in the channel and downstream.
He said the project aims to rehabilitate and regenerate River Red Gum/River Oak riverine open forests leading to improved habitat connectivity, reduced sediment loads entering the waterway, bank stabilisation and a reduction in weeds.
"The properties impacted by the erosion and habitat loss are some of the most fertile in the region. It is important that they are protected from further degradation and erosion," he said.
The riparian zone will be fenced by landholders to exclude stock from routinely entering the area to support rehabilitation and stabilisation of the banks and channel.
More than 20,000 native seedlings are to be propagated and planted as part of the works. The first planting of 1000 trees was undertaken in early November 2016 by the Tamworth Green Army team, along with DPI Fisheries, Local Land Services and Landcare Australia staff.
The majority of the rock stabilisation work is planned for completion in 2016. In-channel planting of approximately 8,000 trees is scheduled to be completed after these major works. The remainder of plantings on the upper riparian zone areas will occur in autumn/winter of 2017.
Landcare Australia's Chief Executive Officer, Tessa Jakszewicz, Ken Flower, General Manager North West LLS and Pam Welsh, Regional Coordinator NSW DPI will also attend the event.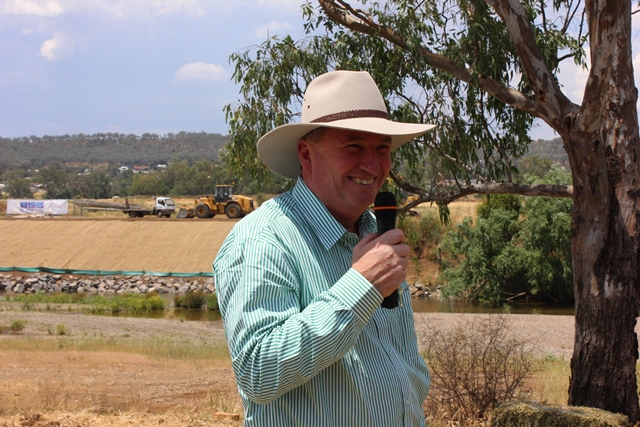 Engineering work on the Wallamore Anabranch has been funded by a total of $600,000 in Federal Government grants