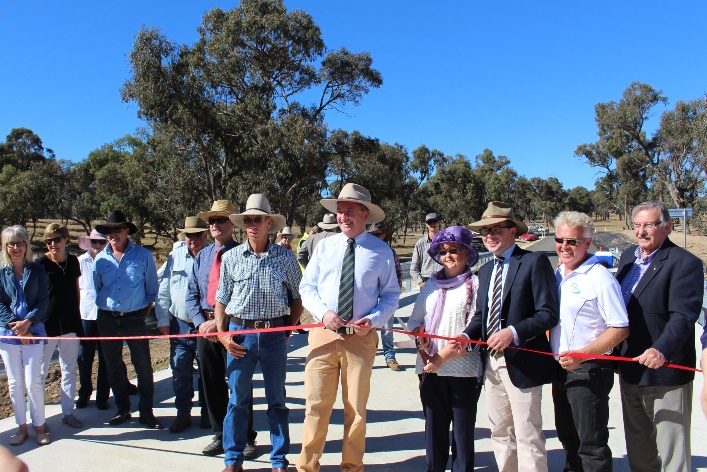 Pictured with Guyra Citizen of the Year Dot Vickery cutting the ribbon to officially open Tenterden Bridge.
Member for New England, Barnaby Joyce, was delighted to officially open the newly upgraded Tenterden Bridge which will help link communities near Guyra and Armidale.
The new two-lane concrete bridge, jointly funded under the Australian Government's Bridges Renewal Program, replaces the previous 1960s era, wooden structure, which was in urgent need of replacement.
"This upgrade will make a big difference for those in the area, whether that's kids travelling on the school bus or farmers using the bridge to transport stock and produce - it keeps the money flowing back through the farm gate and means locals can get to their destination faster and with greater safety," Mr Joyce said.
"Tenterden is one of 22 bridges across the electorate funded under the program, plus the recently approved Munsie Bridge near Uralla, and works hand in glove with major New England Highway upgrades such as the Tenterfield and Scone bypasses and the Bolivia Hill realignment."
Deputy Prime Minister and Minister for Infrastructure and Transport Michael McCormack said the project received funding under Round 2 of the Bridges Renewal Program.
"Through the Bridges Renewal Program, the Australian Government is upgrading and replacing local bridges across the country, ensuring communities and businesses can access essential services, while moving freight more easily and safely," Mr McCormack said.
"Safe and reliable local bridges support councils to better serve communities and drive greater efficiency and productivity for both freight and traffic flows – and this project is a fantastic local example of that."
The Tenterden Road Bridge Replacement project is funded with the Australian Government committing $530,000, the New South Wales Government $510,000, and Armidale Regional Council $20,000.
(ENDS)