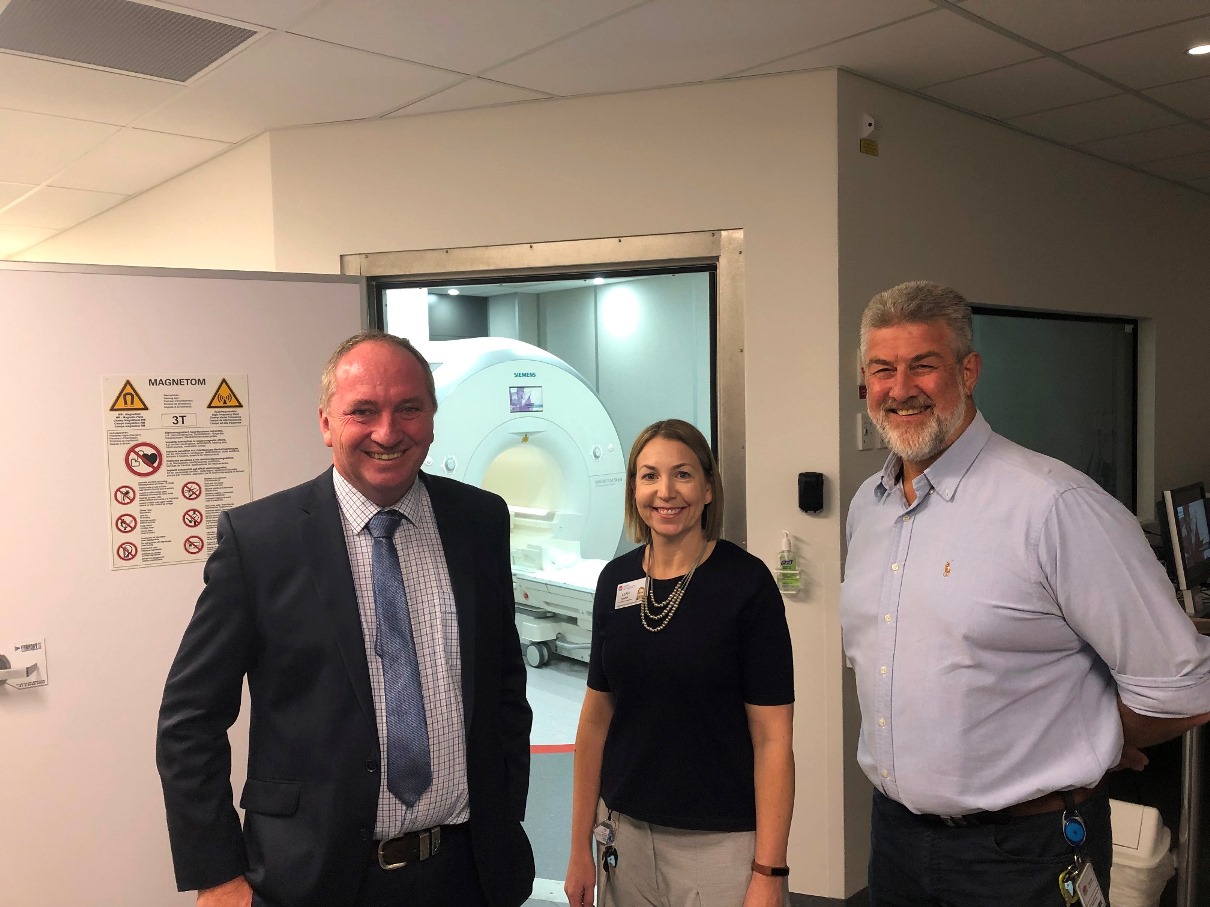 Mr Joyce pictured last month with Tamworth Hospital senior staff Leah Mann and Nick Ryan at the new MRI which will be Medicare eligible from April 1.
Patients in the New England electorate and across the greater North West will now be able to access lifesaving scans for cancer, stroke, heart and other medical conditions, with the Liberal Nationals Government announcing a new MRI licence for Tamworth Hospital
This MRI licence means locals will be able to access a Medicare rebate for an estimated 3,354 services a year – saving lives and reducing the costs for patients.
Member for New England, Barnaby Joyce, said the funding was a vital breakthrough in healthcare across the region.
"I went into bat on this MRI licence for the people of New England and now I'm delivering," Mr Joyce said.
"This is first-class, diagnostic technology located right here in Tamworth which patients will be able to access from April 1, saving people many costly trips out of the region for scans.
"Instead of traveling to Newcastle or elsewhere for an MRI, they can now save on that expense and have a Medicare-funded scan at their local hospital."
An MRI is a commonly used medical scan which gives a detailed view of the soft tissues of the body such as muscles, ligaments, brain tissue, discs and blood vessels.
It is used by doctors to diagnose and monitor a number of different medical conditions including cancer and trauma or sporting injuries.
Minister for Health Greg Hunt said the Liberal Nationals Government is helping Australians stay healthy and keeping down the cost of healthcare for families.
"Not only will our new Medicare support ensure patients get better treatment and save money, it will also cut down the amount of time patients travel to get a scan," Minister Hunt said.
"Our investment in MRI licences of over $375 million over the forward estimates for 50 new locations around the country delivers on the Government's commitment to improve access and outcomes for patients."
"Unlike Labor we have also committed to reduce the cost for patients by indexing targeted diagnostic imaging services including mammography, fluoroscopy, CT scans and interventional procedures."
Under the Liberal Nationals Government, Medicare spending is guaranteed and increasing every year from $24 billion in 2017–18 to $28.8 billion in 2021–22 to
support health care for every Australian.
(ENDS)