$500,000 for drought affected areas in regional NSW to combat pest animals and weeds
Funding will build on $15 million of projects nation-wide
Commonwealth to work with State Government to identify and target projects
The Deputy Prime Minister and Member for New England, Barnaby Joyce said farmers in drought-affected regions across NSW are set to benefit from an additional $500,000 to control established pest animals and weeds in drought affected areas, which is proof of further delivery of the Coalition Government's $4 billion Agricultural Competitiveness White Paper.
Mr Joyce said the funding would build on the $15 million worth of projects nation-wide already provided under this measure and target areas of greatest need.
"The Coalition Government is helping limit the harmful impact of weeds and pest animals on farmers, the environment and the NSW economy, which are felt particularly hard during times of drought," Mr Joyce said.
"Tackling pests is particularly important during drought, where weeds dominate pasture areas and food scarcity results in livestock losses at the hands of pests such as wild dogs.
"Each year pest animals and weeds cost our farmers around $4 billion in livestock losses, disease controls, and weed management costs—ruining our environment and impacting agricultural productivity and the value of rural properties.
"That's why the Coalition Government committed drought-specific funding in the Ag White Paper, on top of $50 million to help manage established pests and weeds.
"This funding will deliver regionally-based and managed pest and weed management projects, to help farmers control weeds and pests moving onto their already drought-affected properties.
"This is another example of the Coalition government delivering on our commitment under the Ag White Paper to support farmers and rural communities to strengthen drought preparedness and risk management.
The Commonwealth will work with the state government to identify projects that target these funds where they are most needed and likely to have the biggest impact.
For more information on the $4 billion Ag White Paper visit agwhitepaper.agriculture.gov.au.
To find out more about established pest animals and weed funding, visit agriculture.gov.au/pests-diseases-weeds.
FAST FACTS:
Every year established pest animals and weeds cost our farmers in excess of $4 billion in livestock losses and weed management costs.
Australia's agricultural production industry is worth over $58 billion (ABARES Agricultural Commodities Report June 2016/17)
The Agricultural Competitiveness White Paper has invested:
$50 million over four years to tackle established pest animals and weeds
A further $25.8 million specifically for areas still feeling the on-going impacts of drought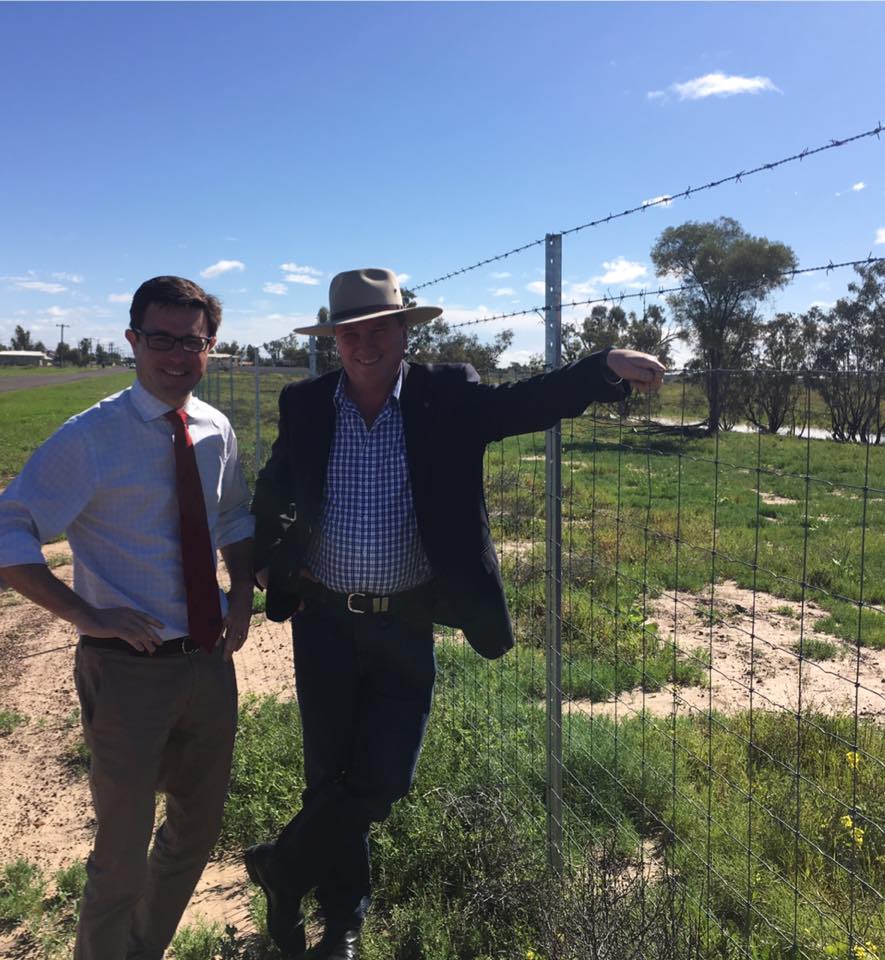 Inspecting wild dog control fencing with the Member for Maranoa, David Littleproud.