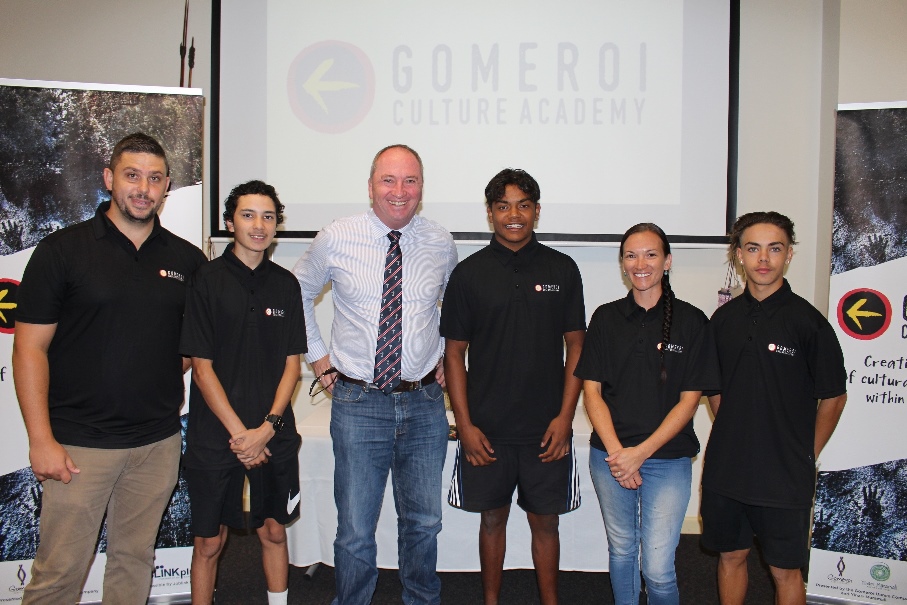 PICTURED: Mr Joyce with Gomeroi Culture Academy facilitators Marc Sutherland (left) and Lorrelle Munro (second from right) and a few of the academy participants at the program launch in Tamworth on Thursday.
Member for New England, Barnaby Joyce, has welcomed the launch of the Gomeroi Culture Academy in Tamworth.
Funded through the Prime Minister and Cabinet's Indigenous Advancement Strategy (IAS) in partnership with local agency Joblink Plus, the project will help strengthen and build on personal identity and leadership of local Aboriginal students.
It forms part of the region's school engagement and retention platform, with the pilot program drawing on $56,000 in Federal Government funding.
"This academy is great news for local students here in the New England," Mr Joyce said.
"The Government is proud to support the work in creating a generation of culturally strong leaders in our community.
"I look forward to seeing these students progress through the academy and as leaders but also in whatever they choose to do in the future."
The Academy will focus on four keys areas for development during the 35-week self-development program. Each student receives a cultural learning plan and will leave the program with nationally recognised qualifications.
(ENDS)