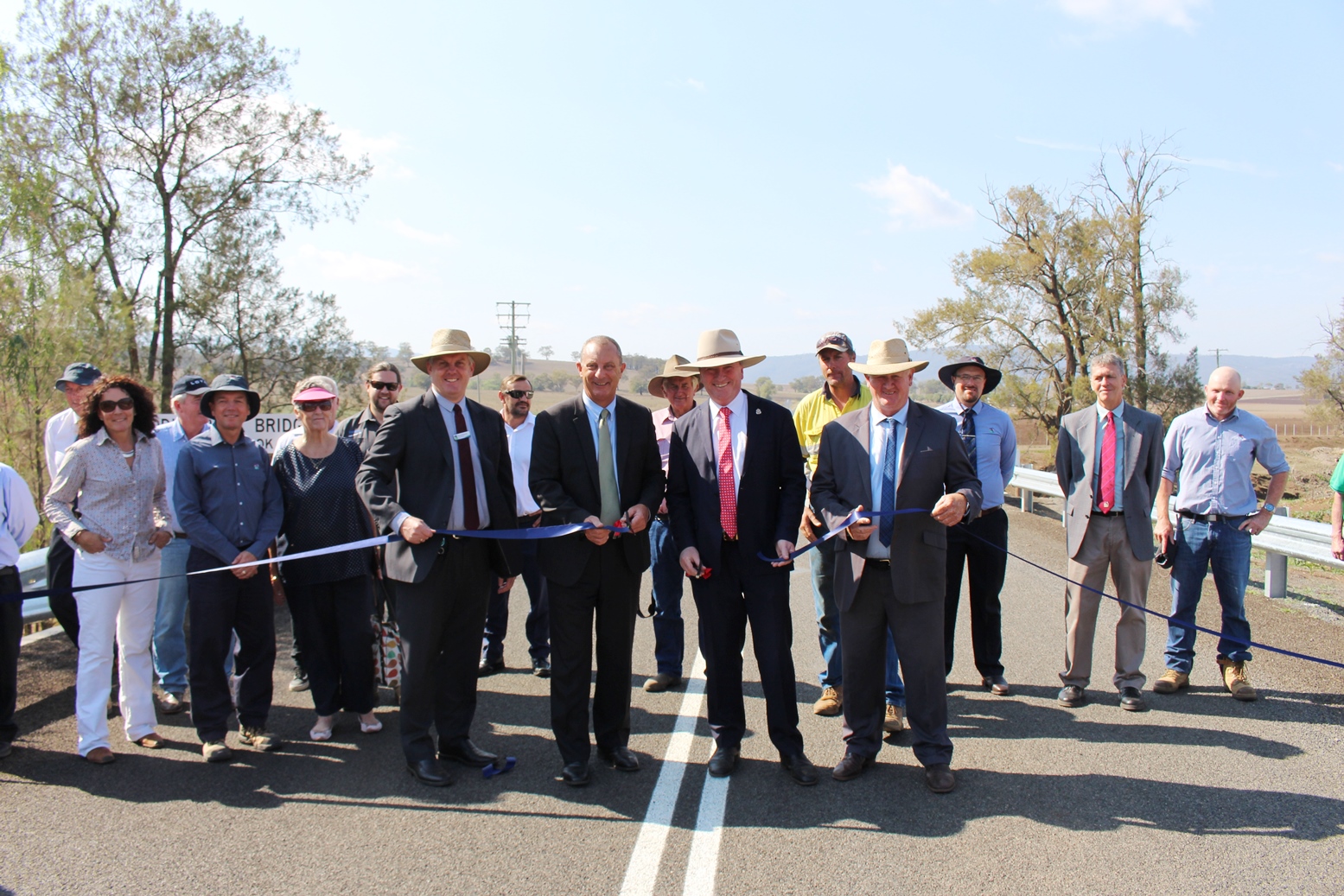 PICTURED: Cutting the ribbon to officially open Middlebrook Bridge on Thursday with Upper Hunter Shire Council (UHSC) General Manager Steve McDonald, Member for Upper Hunter Michael Johnsen, Member for New England Barnaby Joyce and UHSC Deputy Mayor Maurice Collison.
Motorists and transport operators in the Upper Hunter and the New England can look forward to safer journeys and more cost-effective freight options with today's official opening of the new Middlebrook Bridge near Scone.
Member for New England, Barnaby Joyce, said the $2.3 million project to replace the single-lane wooden bridge with a dual-lane, concrete structure included $1.16 million in Australian Government funding through the Bridges Renewal Program.
"Replacing the old timber bridge that had stood here for more than half a century means we can finally remove the load limit for heavy vehicles and provide a more direct route for producers and businesses using this road in the Upper Hunter," Mr Joyce said.
"Building better bridges like this one at Middlebrook will not only help keep us safe on the road but also help drive our economy and expand local industry across the New England."
The 51-metre-long, 8.4-metre-wide bridge was co-funded by the New South Wales Government's Fixing Country Roads Program ($1.14 million) and Upper Hunter Shire Council ($20,000).
Member for Upper Hunter Michael Johnsen said the project was a great example of all levels of Government working together to improve infrastructure in the shire.
"The Nationals in Government are dedicated to funding vital road and bridge upgrades to better connect local and regional roads to state highways and key freight hubs," said Mr Johnsen said.
Upper Hunter Shire Deputy Mayor Maurice Collison said the bridge upgrade was a great result for the local community.
"The project has been a great example of all levels of Government working together to improve infrastructure in the Upper Hunter Shire and we look forward to many more similar partnerships," Cr Collison said.
Deputy Prime Minister and Minister for Infrastructure and Transport Michael McCormack said the program is helping better connect regional communities.
"Across the country, this program is upgrading and replacing bridges to improve links between local communities and reduce business costs by supporting higher productivity freight access," Mr McCormack said.
Middlebrook is the second bridge opened this month in the New England under the Federal Government's Bridges Renewal Program with $1.06 million Tenterden Bridge near Guyra also opened to traffic recently.
(ENDS)