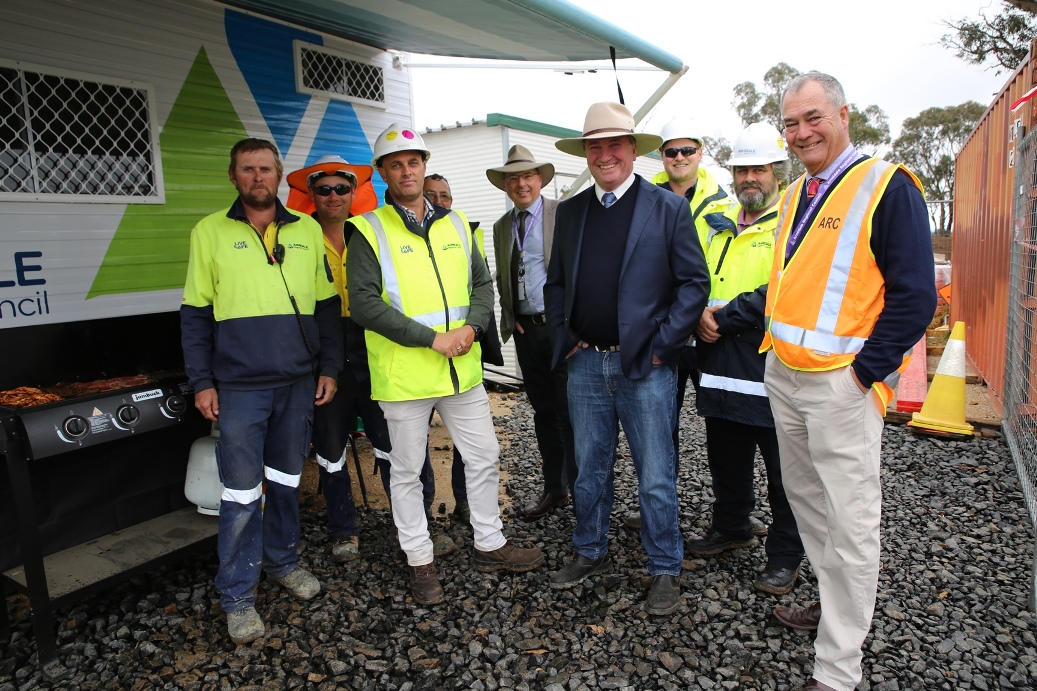 PICTURED: Member for New England, Barnaby Joyce, with Armidale Regional Council Mayor Simon Murray and staff during Tuesday's media announcement for the airport roundabout. Photo courtesy Armidale Regional Council.
Member for New England, Barnaby Joyce MP, has welcomed further progress on the $3.2 million Armidale Airport roundabout.
Roundabout construction remains on track and will soon shift focus to the eastern side of the New England Highway.
Construction of the Federal Government-supported project, which includes $1 million in Commonwealth funding, is serving a vital role for towns like Armidale during these tough economic times.
Mr Joyce said the roundabout construction is helping prop up communities experiencing a downturn in trade due to the drought.
"Capital infrastructure such as this is helping draw the wealth back into drought-hit communities across the New England and making sure our towns, as well as our farmers, can see out these incredibly lean times," Mr Joyce said.
"It works hand-in-glove with other major projects underway across the New England that we're investing in such as the multi-million dollar upgrades of Scone and Inverell saleyards, upgrade of the New England Highway at Bolivia Hill and construction of the new home for APVMA in Armidale.
"These projects have the capacity to support the economies of whole communities affected by drought and drive investment back into local towns."
The Australian Government has committed $1 million for the new roundabout, which is being built by Armidale Regional Council about 500 metres south of the existing entrance to the airport, with Council committing a further $1.2 million and the NSW Government $1 million.
(ENDS)