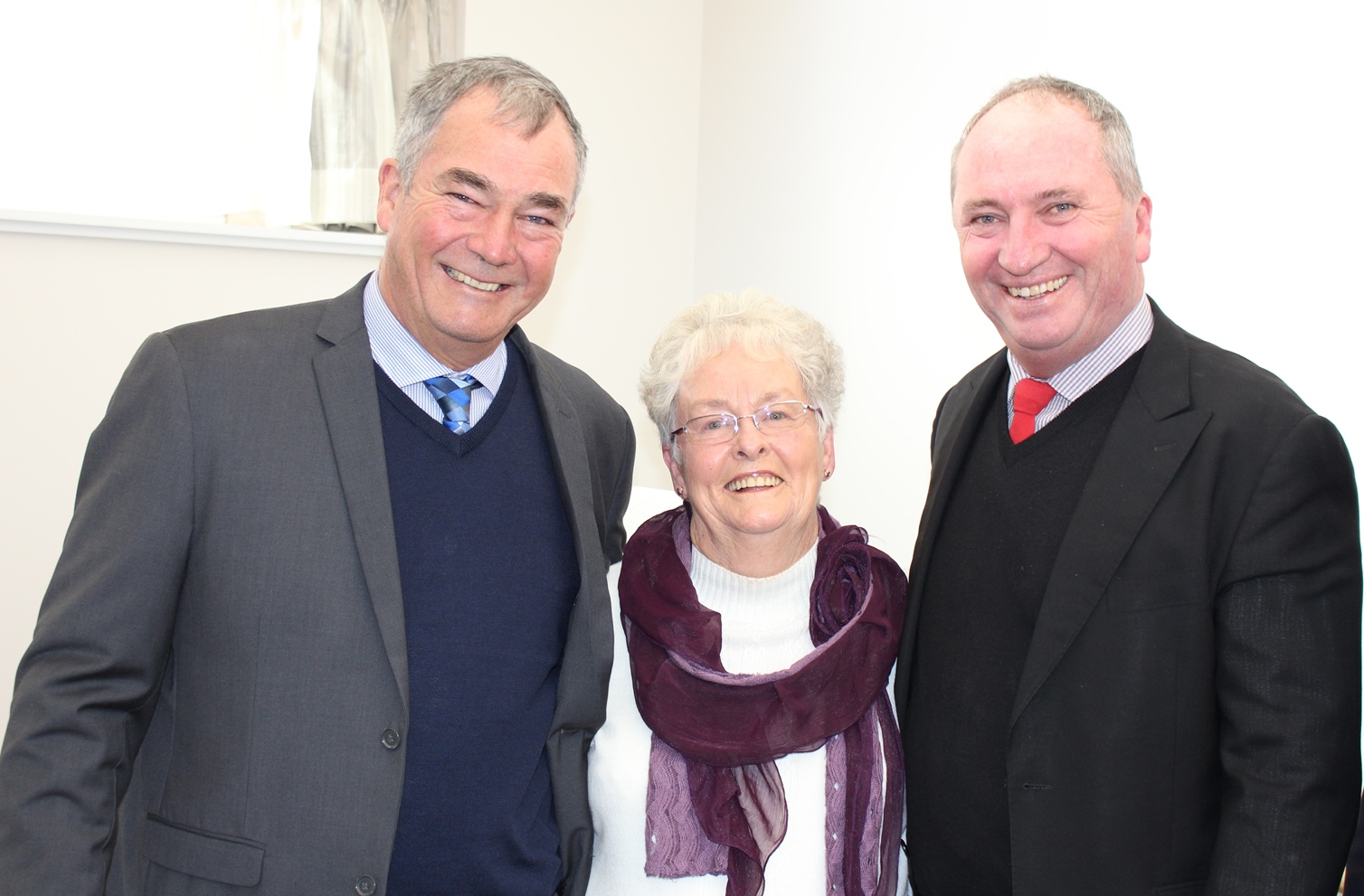 Pictured: Armidale Regional Council Mayor Simon Murray, former Guyra councillor Dot Vickery and Member for New England Barnaby Joyce at the official opening of Kolora Aged Care in Guyra.
Extension provides increased aged care capacity in the region
The new wing will provide a safe, modern residential aged care facility for residents
Coalition Government invested $2 million in the project
Kolora Aged Care Facility's new wing will provide more modern facilities and easier access to health services for elderly residents in the community.
Minister for Regional Development, Territories and Local Government John McVeigh said the project was part of the Coalition Government's continued support for regional Australia.
"This great investment in the local economy supported 310 jobs during construction and created 25 ongoing jobs, which means more families are spending more and investing more to create more jobs and confidence in the local community," Dr McVeigh said.
Minister for Aged Care Ken Wyatt AM said the Coalition Government's new "More Choices for a Longer Life package" gives older Australians more choices and greater flexibility for how they receive care.
"This project is an example of the Coalition Government's commitment to aged care – this year, we are providing record aged care funding of more than $18 billion rising to $23 billion a year in 2021-22, investing in over 14,000 new residential aged care places and providing $60 million in capital funding," Minister Wyatt said.
Federal Member for New England Barnaby Joyce who officially opened the new wing said the new wing provided a safe, modern residential aged care facility for residents, their carers and visiting family.
"The new wing will provide 10 additional ensuite rooms, as well as upgraded facilities to allow residents to continue to live close to family and friends," Mr Joyce said.
"The facility is close to the local hospital and offers residents greater comfort as well as unparalleled access to medical staff and services."
Mayor of Armidale Regional Council Simon Murray said the new Kolora Residential Aged Care Facility in Guyra ensures that quality aged care continues to be available to deliver improved health and wellbeing outcomes for older residents.
"The vision and determination of the Guyra community and the Council to bring this project to its conclusion demonstrates the resilience and compassion often found in regional communities like Guyra," Cr Murray.
The Kolora Aged Care Facility project was jointly funded with the Coalition Government investing $2,002,400 and the Armidale Regional Council $5,662,468.
(ENDS)