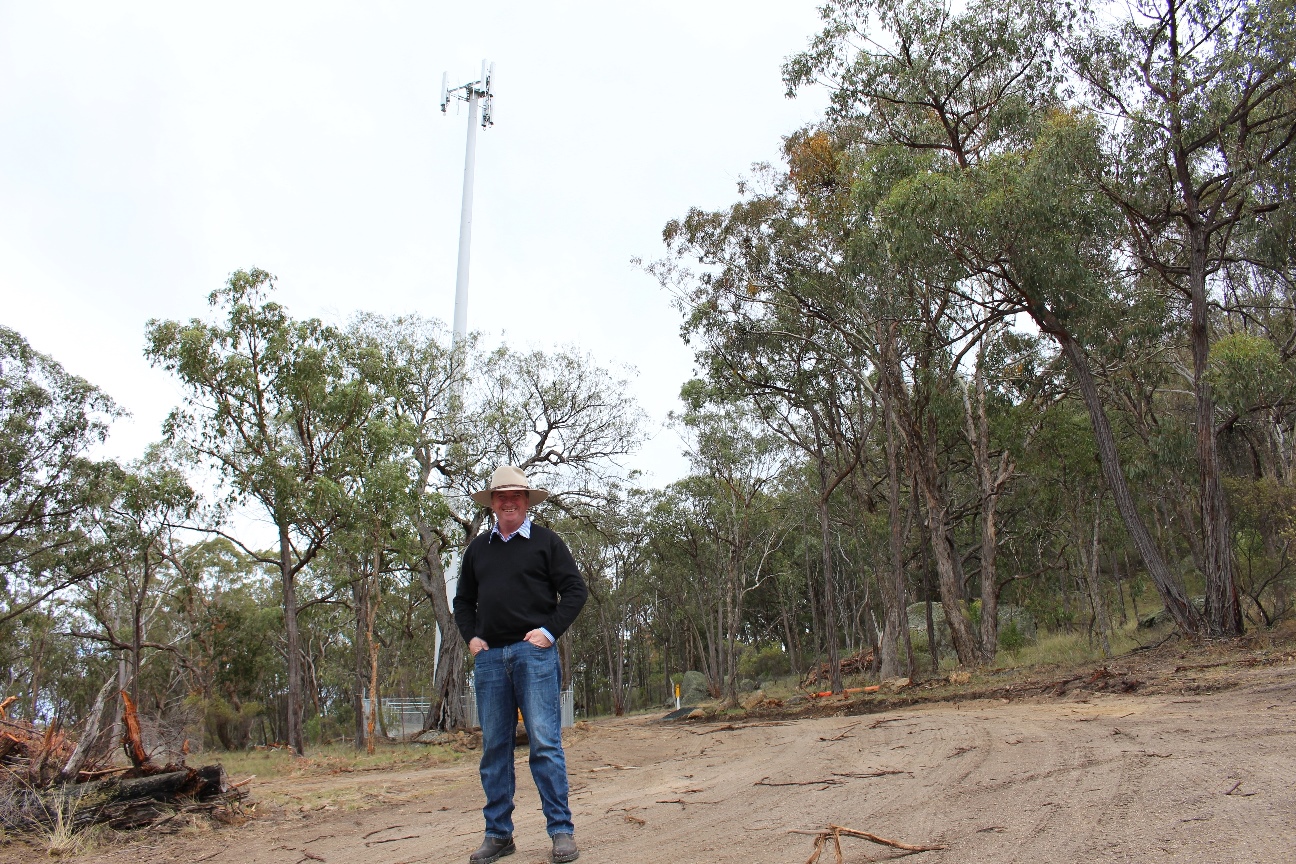 PICTURED: Member for New England Barnaby Joyce at the recently completed Balala mobile base station near Uralla
Federal Member for New England Barnaby Joyce has welcomed the Federal Government's plan to address more mobile service blackspots across the region.
The Coalition is committing $25 million for a fourth round of the Mobile Black Spot Program, delivering more coverage to regional and remote communities.
Mr Joyce said the new round demonstrates the Coalition's commitment to ensuring regional Australians have access to 21st century communications.
"This is great news for those living, working and travelling throughout the New England electorate, whether that's at home, on the farm or on the road," Mr Joyce said.
"We have 37 new and upgraded mobile base stations already earmarked for our region under the program, including at Dungowan and Koreelah which we launched just this month.
"This year alone we've also launched base stations at Hallsville, Attunga, Balala, Baldersleigh and Pinkett. Soon we'll see more towers at places like Barraba and Piallamore.
"This new round will enable more of our communities to take advantage of the social and economic benefits that 21st century communications can provide," Mr Joyce said.
"I encourage local residents, businesses and community organisations to engage with their state and local governments through the consultation process, to enhance coverage outcomes in the New England."

Minister McKenzie said the new Mobile Black Spot Program round will ensure regional Australians aren't left behind.
"The new round will call for applications from mobile carriers within the coming months, taking input from state, territory and local governments, as well as businesses, community organisations and emergency services," Minister McKenzie said.
"The Mobile Black Spot Program is already over halfway complete and is on track to deliver 867 base stations nationwide by June 2019."

The competitive selection process for round four of the program is expected to commence in the second half of 2018.
More information about the program is available at: communications.gov.au/mbsp
(ENDS)