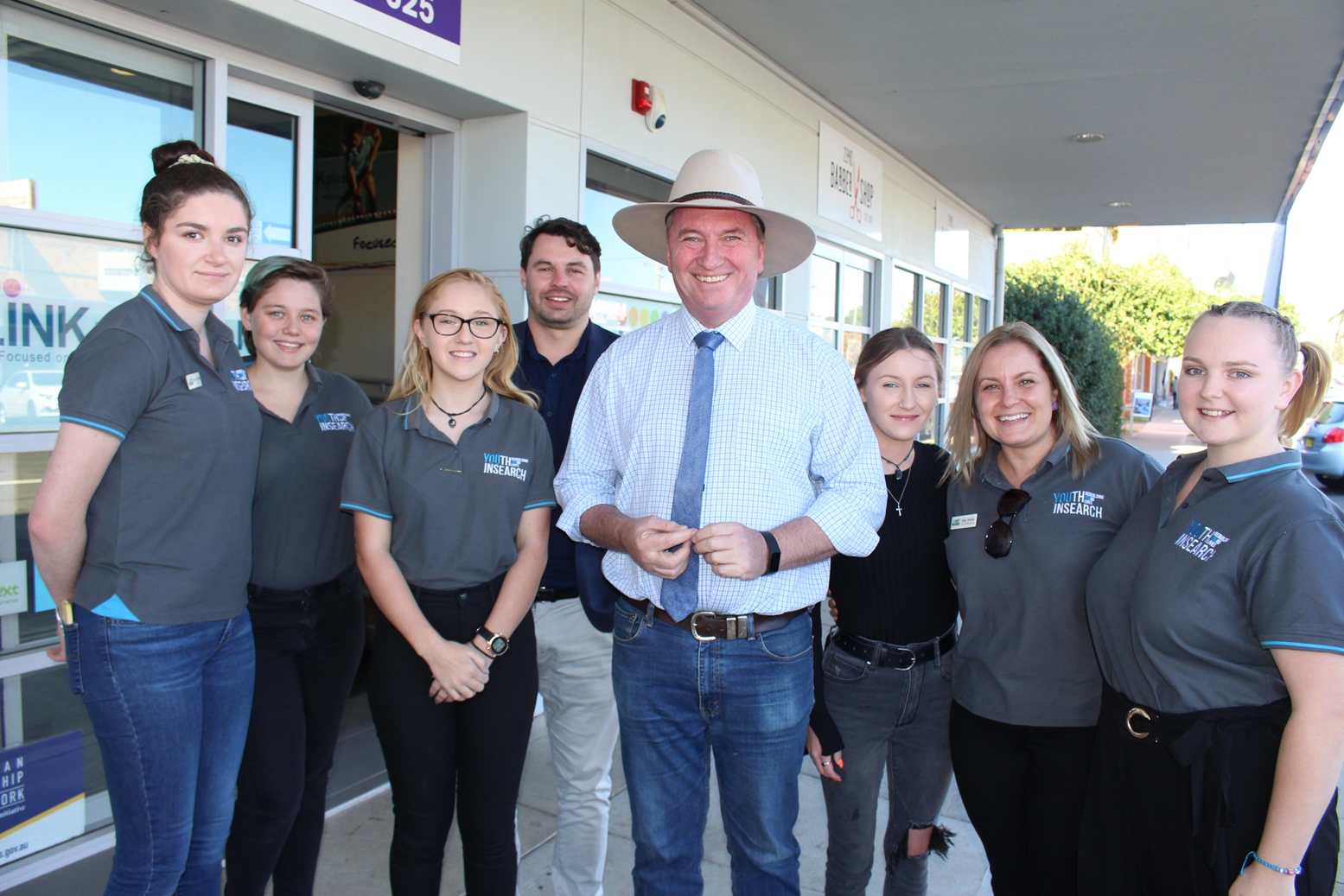 Pictured: Member for New England, Barnaby Joyce, with Youth Insearch CEO Heath Ducker and part of the New England Youth Insearch team in Tamworth to announce the recent Federal Government funding.
Member for New England, Barnaby Joyce, has welcomed $1.09 million in funding for Youth Insearch, which specialises in early intervention for young people.
Funding is being provided under the Federal Coalition Government's $96.1 million Try, Test, Learn Fund, that is trialling innovative ways to improve the lives of Australians identified as being at risk of long-term welfare dependency.
The Dependence to Independence Project, which is being delivered by Youth Insearch, will help young people in Tamworth and across wider New South Wales, Queensland and Victoria to become job ready by addressing the underlying causes preventing them from gaining employment or completing education.
The New England will share a significant portion of NSW's funding for the program.
"This funding will support 750 attendances in the project over the next 1.5 years, whereas an equivalent 750 young people remaining on long-term welfare benefits would cost the Government close to $230 million," Mr Joyce said.
"This shows that early invention is a no brainer – not only does it save money in the long run, it works too and is saving countless lives across the region.
"I've seen the positive impact this program is making on young people and I have been fighting to get this funding off the ground in the New England."
Youth Insearch CEO Heath Ducker said peer support and mentoring will play an important role in the program.
"Dependence to Independence will show young people what they can do to turn their lives around by connecting them with appropriate role models.
"This project will help young people take control of their lives and empower them to break the cycle of welfare dependency," Mr Ducker said.
(ENDS)