The Deputy Prime Minister and Member for New England Barnaby Joyce, NSW Minister for Roads and Freight Duncan Gay and NSW Member for Lismore Thomas George today committed an additional $24 million to complete the upgrade of Mount Lindesay Road, which would occur under a re-elected Federal Coalition Government.
Mr Joyce said $24 million was needed to realign, construct and renew the final section of the 42 kilometre Mt Lindesay Road upgrade between Legume and Woodenbong – a project he had been championing since elected as the Member for New England.
"This project is shovel-ready," Mr Joyce said.
"The road is narrow, windy and undulating with poor pavement condition. This funding can ensure we finish this job."
Mr Joyce said the Federal Coalition Government had already contributed $350,000 under Round 1 of the Bridges Renewal Programme (matched by funding from the NSW Coalition Government and Tenterfield Shire Council) for the replacement of the Bookookoorara Bridge along Mount Lindesay Road, located west of Legume.
NSW Minister for Roads and Freight Duncan Gay said the NSW Coalition Government had already committed more than $5 million since 2011 towards Mount Lindesay Road upgrades including extensive road sealing and road widening.
"The NSW Government and Tenterfield Shire Council have been working closely together to carry out extensive safety works such as replacing old gravel road to bitumen and widening the narrow road to improve line of sight and on more than 11.3 kilometres of Mount Lindesay Road Mr Gay said.
"We are pleased to commit another $12 million to the project to extend these improvements along the remainder of Mount Lindesay Road and upgrade the whole stretch from gravel to bitumen."
Member for Lismore Thomas George said upgrading this road provided a number of benefits, including safer travel for the 400 vehicles using it each day.
"This road is a vital link for the increasing number of local traffic, industry and tourists who use this road as the connector from South East QLD down to the Northern Rivers," Mr George said.
"Today's commitment is an example of a three way partnership between governments at all levels to deliver results for the community, something an independent has been previously unable to do."
Tenterfield Shire Council's Mayor, Cr Peter Petty welcomed the funding announcement, describing it as great news.
"The Mount Lindesay Road has been an issue for decades and its great news that Barnaby as our MP has been working so closely with Minister Gay and Thomas George to lobby for this funding.
Additional safety upgrades would commence in the next financial year. It will include road deviation at Koreelah Creek, including road widening and bridge construction, road realignment, widening, construction and sealing at various sections and road rehabilitation including drainage improvements.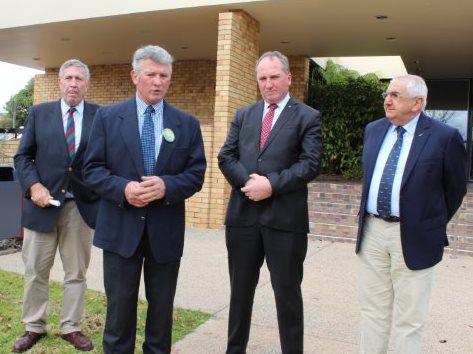 NSW Roads Minister, Duncan Gay, Tenterfield Shire Council Mayor, Cr Peter Petty, Deputy Prime Minister and Member for New England, Baranby Joyce and Member for Lismmore, Thomas George.