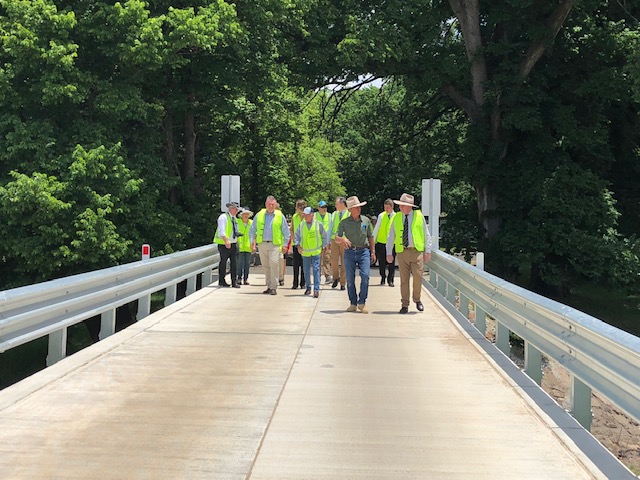 Mr Joyce and the local community inspect the new Munsie Bridge during its official opening.
The upgraded Munsie Bridge over Salisbury Waters, located 11.2 kilometres south of Uralla on Gostwyck Road, was officially opened.
Deputy Prime Minister, Nationals' Leader and Minister for Infrastructure, Transport and Regional Development Michael McCormack said the completion of the bridge fulfilled a 2016 election commitment.
"This is yet another example of the Liberal and Nationals' Government investing in local regional infrastructure projects that improve safety and travel times for local communities and freight operators," Mr McCormack said.
"The replacement of the previous timber bridge with a new concrete structure will also reduce maintenance costs and the frequency of bridge closures, keeping the local community connected."
Federal Nationals' Member for New England Barnaby Joyce said the upgraded bridge's higher load capacity enabled heavy vehicles to deliver goods to market faster and with reduced costs.
"This is yet another example of substantial delivery off the highway, which will help farmers and other motorist that reply on this vital connection" Mr Joyce said.
"If you can't get cattle to market or wool to sale, you can't get paid! Now Gostwyck has an old chapel and a beautiful new bridge".
Work on Munsie Bridge started in March 2018 and around 20 jobs were supported during construction. The bridge's new design re-used the existing concrete foundations and incorporated the existing wooden railings to emulate the heritage appearance of the old bridge.
The $800,000 upgrade was fully funded by the Australian Government.
(ENDS)