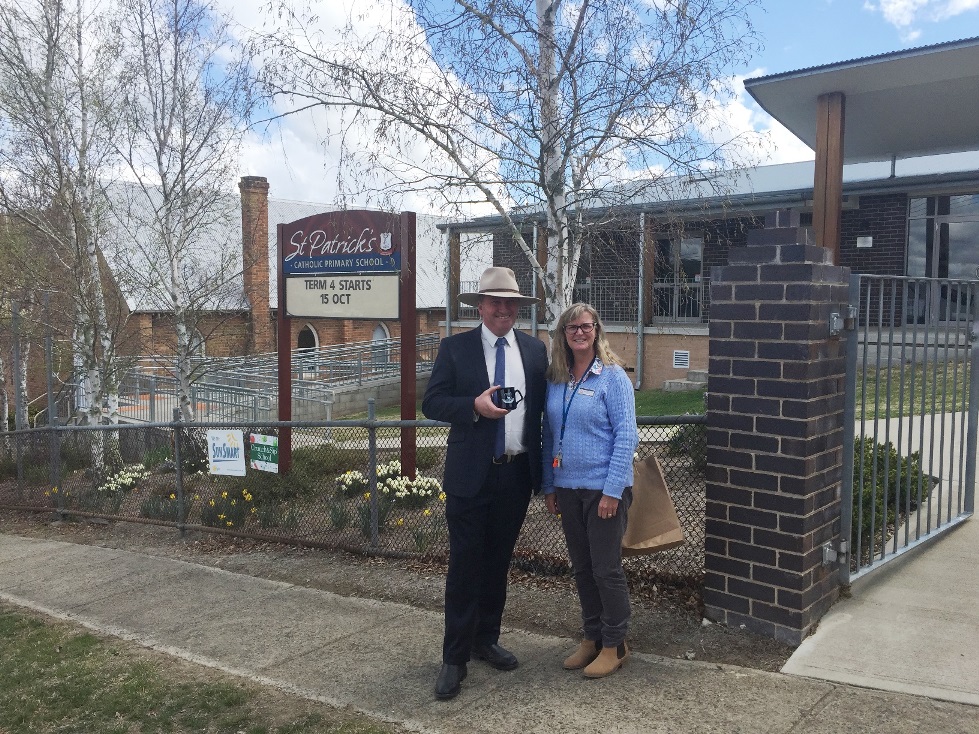 PICTURED: Member for New England, Barnaby Joyce, with a coffee mug presented by students, alongside Acting Principal for St Patricks Catholic School, Walcha, Belinda Burton, discussing the new funding arrangements for non-government schools.
Member for New England, Barnaby Joyce, said the Federal Government had guaranteed choice in education for local parents through its agreement with the Catholic and Independent school sectors.
Mr Joyce said there were 27 Catholic and Independent schools in the New England.
"We have wonderful schools in the New England and the Government has now guaranteed that parents will continue to have a choice about where to send their kids to school," Mr Joyce said.
"Our Government is providing increased funding to our schools to ensure better results for our students. In fact, our Government is providing record funding for education – record funding for child care, record funding for schools, record funding for higher education.
"Our record funding will be matched by a focus on results. We want to ensure that every student in the New England gets the best possible education to realise their potential."
Mr Joyce said the Government would transition to a fairer model for determining how non-government schools were funded as part of its response to the National School Resourcing Board's Review of the socio-economic status (SES) score methodology.
"From 2020, we will use a new direct income measure to determine the capacity of a school community to contribute to their operating costs," he said.
"To support schools during the transition, the Commonwealth Government will also provide $1.2 billion over the next ten years to guarantee choice in education in the New England.
"Ensuring we have low fee Catholic and Independent schools providing choice across the nation is a key government priority. This means that schools that need the most support will get the most support."
The Government is providing record funding over 10 years to all Australian schools with $113.6 billion to State schools, $88.9 billion to Catholic schools and $68.5 billion to Independent schools.
(ENDS)