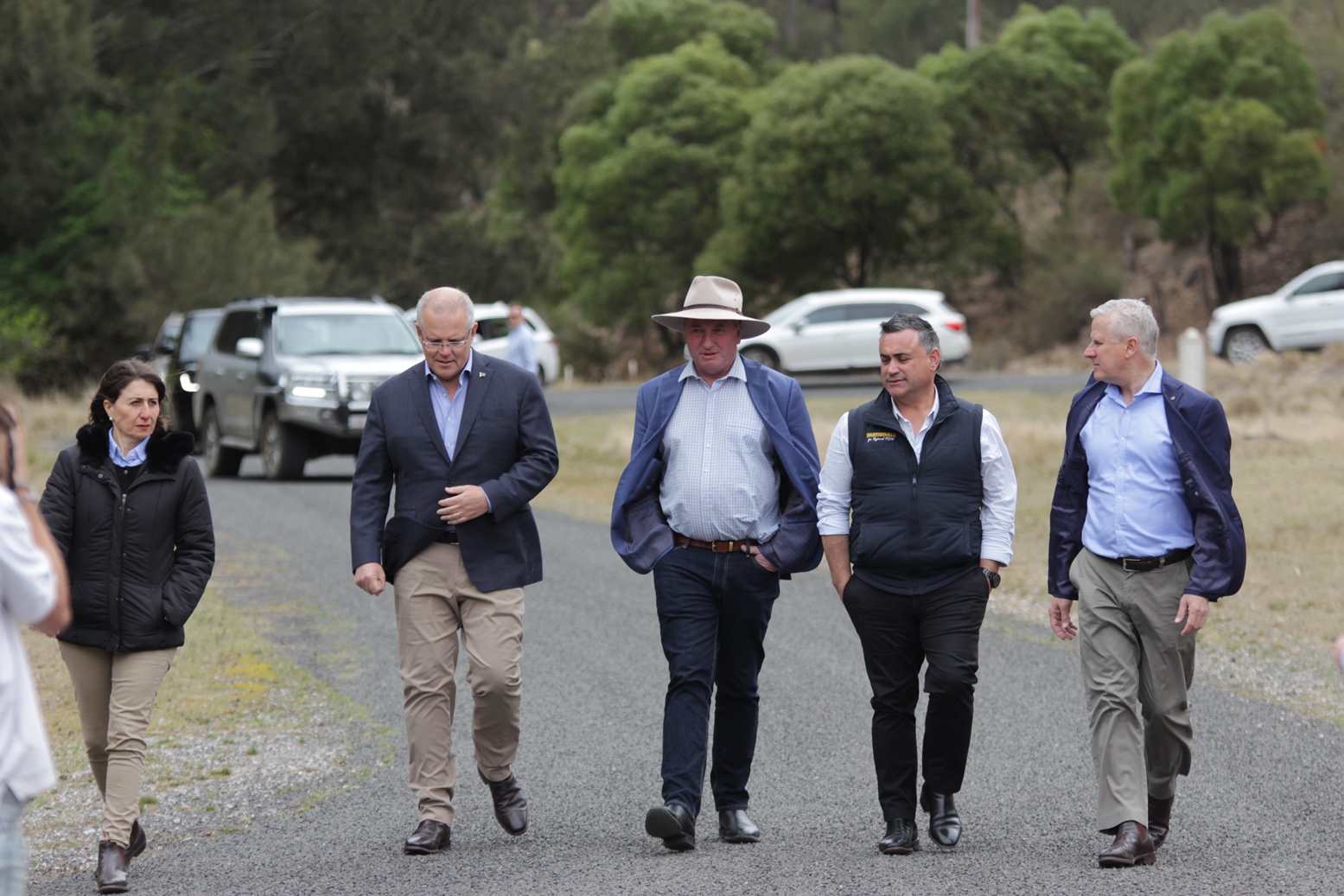 Speaking with the Prime Minister, Deputy Prime Minister and State Leaders during Sunday's water infrastructure announcement at Dungowan Dam.
EDITORIAL:
Half a billion dollars in infrastructure for New England on a Sunday is not a bad day. In fact, I can't think of a bigger financial commitment in one announcement in the history of New England. Two new dams, one to completion at Dungowan and one started on the Mole River shows that in our electorate we are driving forward to a new horizon of substantial economic growth.
When I returned home to New England I made it my first task to complete the stalled expansion of Chaffey Dam. If we had not achieved that, Tamworth would have now run out of water. You learn from a near calamitous event and working with Local Government and the State I knew, as we all did, that we had to build a new storage upstream from our city of Tamworth. A pipeline from Lake Keepit was too tenuous as it would have run out of water and was downstream from Tamworth.
Everything works to a plan for the growth of our New England. APVMA to Armidale, the start of the ring road around Tamworth, the new Instrument Landing System to assist in securing the new flight training school into Tamworth, Scone Bypass, Bolivia Hill realignment, Inverell Saleyards, Willow Tree to Merriwa second range crossing, mobile phone towers and new bridges, Armajun Medical Centre at Inverell, upgrade of the Woolbrook Stampede Grounds, Walcha Showgrounds and so many more. Yes it is a little annoying and gloating to keep repeating and informing, but in politics the question that is always thrown at you is "but what have you done for the electorate?" You have to be able to answer that and I do get a real sense of satisfaction rattling off what we have achieved together.
The reason that water infrastructure is so important is that without it, economic growth stops, capital gain on your house stalls and employment opportunities disappear. This is a lesson firmly etched in history from Rome and Persia to now. If we want expansion of our abattoirs, we need water; expansion of the poultry industry, we need water; secure the Country Music Festival, we need water and to grow crops, we need water.
Anyway, I won't be resting on my laurels and there is no way that the councils in the New England that I work so closely with would let my State colleagues or I, do so.
It is such an incredible honour to wake up and get around the New England like it was our own state; to help build it up so our children and grandchildren have a bright future here. When I was a small child I would blue tac the NRMA road maps to my wall at Danglemah and dream about what I would do for the area if I was given the opportunity. Now I have that opportunity and am doing my very best to deliver.
(** Read Barnaby's full media release on the water infrastructure announcement here **)