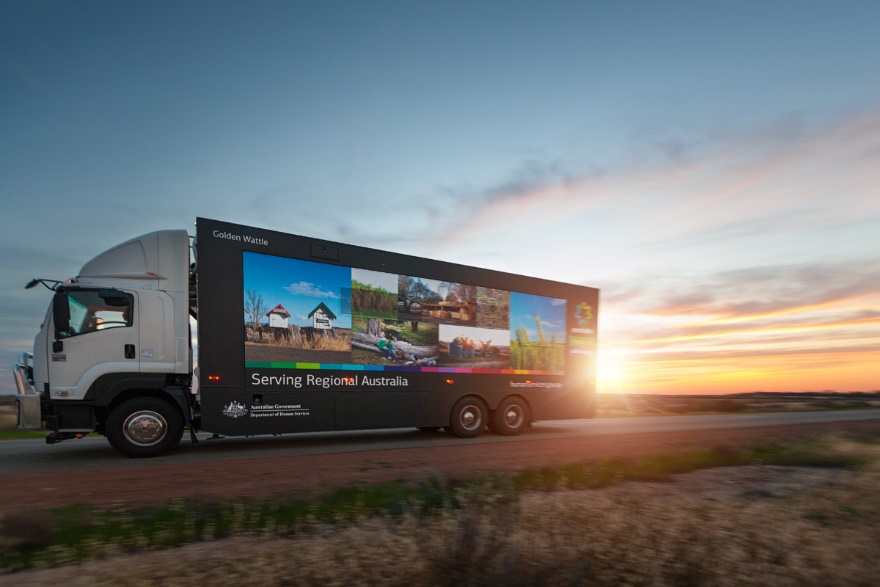 New England residents will soon have easier access to government services as the Golden Wattle mobile services truck prepares to visit more than a dozen locations across the electorate.
Golden Wattle is one of two 20 tonne trucks run by the Department of Human Services staff who can assist with Centrelink, Medicare and Child Support services enquiries.
"It is great to welcome this outreach service back to our New England electorate because not everyone is fortunate to have government services on their doorstep," Federal Member for New England, Barnaby Joyce, said.
"This gives people living in rural communities who are often isolated from bricks and mortar offices, the chance to speak to someone face-to-face about their situation.
"The drought has made it tough for families in our region, so I encourage them to jump on board Golden Wattle while it's in town and find out what support is available to them," Mr Joyce said.
The Golden Wattle trucks have travelled over 900,000 kilometres to provide services to more than 4,900 communities and almost 150,000 customers since 2006.
Minister for Government Services Stuart Robert said Golden Wattle provides tailored support and information to people in rural communities.
"Mobile Service Centres reinforce the Australian Government's commitment to delivering the best services to all Australians, regardless of where they live," Minister Robert said.
"These trucks are purpose-built to replicate a service centre, complete with the latest technology."
Staff on board Golden Wattle can help locals with Centrelink claims – just like the Farm Household Allowance or Age Pension – Medicare registrations and online services.
A social worker will also be on board, and information about Department of Veterans' Affairs programs and associated support services will also be available.
Attendees do not need an appointment, and it's free – so anyone who needs help or has a question, should visit the team aboard Golden Wattle over the coming weeks.
Mobile Service Centre locations:
Scone
Thursday 15 August
9am to 3pm
Near Scone Shopping Village, Kingdon Street
Murrurundi
Tuesday 20 August
9.30am to 4pm
Located near Wilson Memorial Park on Mayne Street.
Quirindi
Wednesday 21 August
9am to 4pm
Located in the railway station car park on Station Street
Werris Creek
Thursday 22 August
9am to 4pm
Located near Hoamm Park on Single Street.
Nundle
Friday 23 August
9.30am to 4pm
Located near Captain Cook Park on Jenkins Street.
Manilla
Monday 26 August
9.30am to 4pm
Located at the Council Office on Manilla Street.
Barraba
Tuesday 27 August
9.30am to 4pm
Located near the Visitor Information Centre on Queen Street.
Bingara
Wednesday 28 August
9am to 4pm
Located near the Roxy Theatre on Cunningham Street.
Warialda
Thursday 29 August
9.30am to 4pm
Located near the Town Hall on Hope Street.
Delungra
Friday 30 August
9.30am to 4pm
Located in the Home and Community Care Building car park on Inverell Street.
Ashford
Monday 2 September
9.30am to 4pm
Located adjacent to McRae Park on Duff Street.
Tingha
Tuesday 3 September
9am to 3.30pm
Located near the Town Hall on Ruby Street.
Walcha
Wednesday 4 September
9.30am to 4pm
Located near McHattan Park on Fitzroy Street.
Uralla
Thursday 5 September
9am to 3pm
Near the Memorial Hall, Salisbury Street