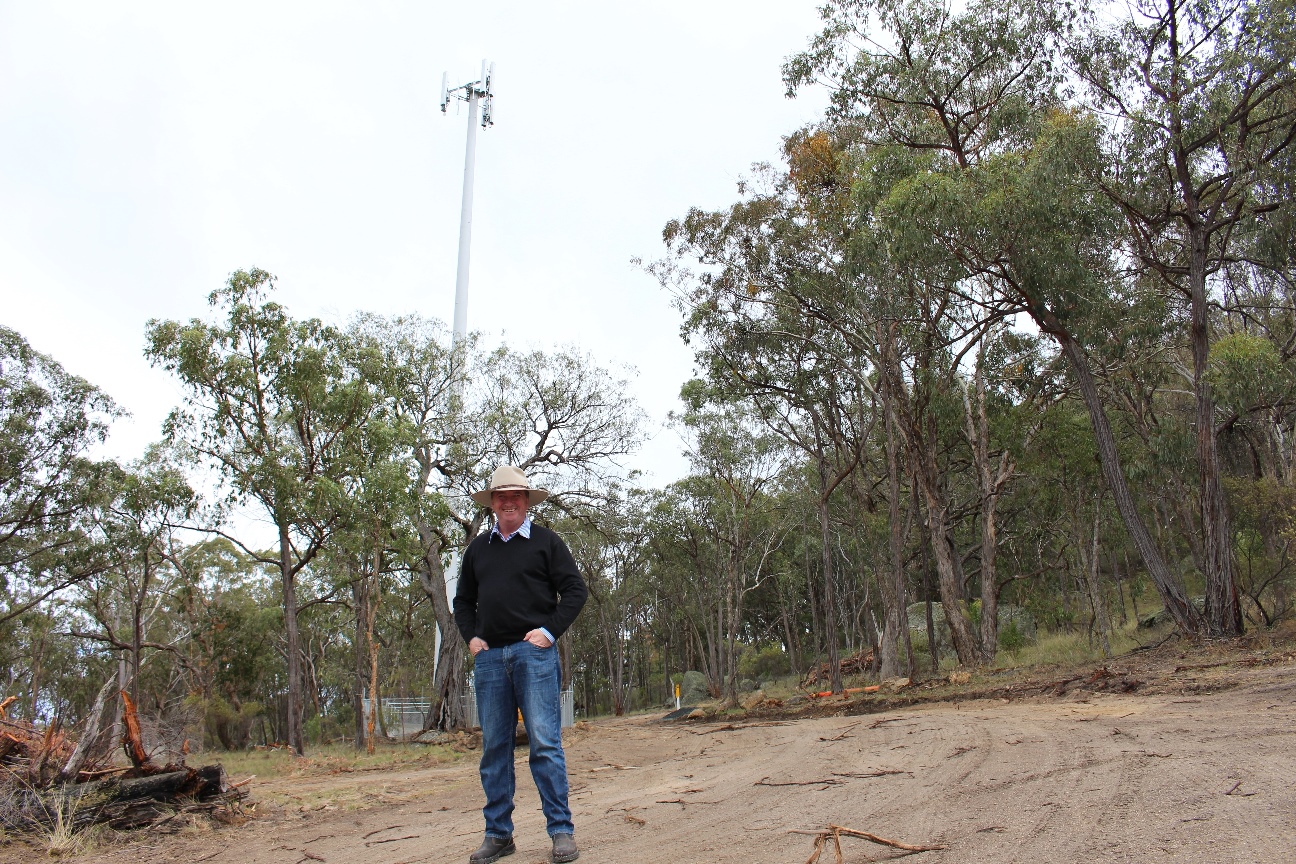 PICTURED: Member for New England Barnaby Joyce at the new mobile base station at Balala, near Uralla. The infrastructure is one of 37 new and improved base stations being delivered under the Coalition Government.
Member for New England Barnaby Joyce and Minister for Regional Communications Bridget McKenzie have welcomed the switch on of new mobile base stations at Baldersleigh and Balala delivered under the Federal Government's $220 million Mobile Black Spot Program.
The new mobile base stations near Uralla and Guyra were completed by Telstra and are the latest of 37 sites across New England set to receive new or improved mobile coverage under the program.
"The Mobile Black Spot Program is enabling mobile carriers to service areas like Baldersleigh and Balala where it would otherwise not have been economically viable," Mr Joyce said.
"Labor did not invest a single dollar into improving mobile coverage despite being in Government for six years.
"But with 37 base stations either planned or completed in the New England, the Coalition Government is helping connect rural and regional Australia like never before."
Minister McKenzie said these phone towers will make a real difference to people's lives across the country.
"It's fantastic to see that the program is reaching more and more communities across Australia, like in the New England," Minister McKenzie said.
"This program is delivering much needed new investment in mobile infrastructure across Australia to address mobile coverage issues."
Under the first two rounds of the program, a total of 765 new base stations will be delivered to address black spots in every state and territory. A further $60 million has been committed to a third round to address 106 sites in priority black spot areas including New England sites at Copeton Dam, Fig Tree Hill, Kingstown and a second site at Baldersleigh.
The competitive tender process for the Priority Locations Round closed in December 2017. The successful applicants and locations to receive funding are expected to be announced soon.
More information about the program and the rollout schedule is available at: communications.gov.au/mbsp