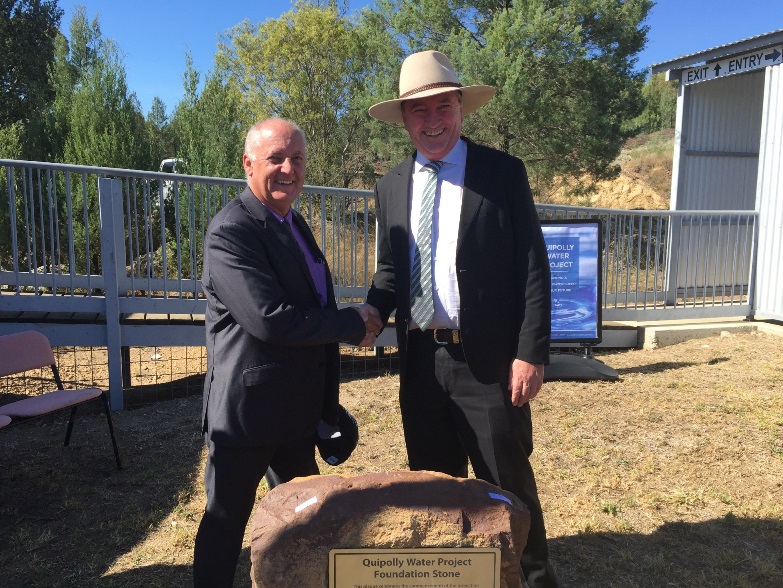 Member for New England Barnaby Joyce with Liverpool Plains Shire Council Mayor Andrew Hope at the official unveiling of the Quipolly Water Project foundation stone earlier this year.
Member for New England, Barnaby Joyce, has welcomed a new report which highlights the potential for massive water infrastructure development in regional Australia.
The Northern Australia Water Resource Assessment, completed by the CSIRO, estimated up to 15,000 regional jobs and $4.85 billion in production in northern Queensland, the Northern Territory and Western Australia could be created through construction of six new mega dams.
"This is a timely report given drought is now impacting 100 per cent of NSW, much of it in our own backyard here in the New England-North West-Upper Hunter districts, and about 70 per cent of Queensland," Mr Joyce said.
"This is about investing in infrastructure which will not only insure against future droughts, but drive economies in regional towns across the country because water means wealth.
"This is something the National Party has been driving – funding for studies to start building new dams and local water infrastructure such as the $28 million Quipolly Water Project which will guarantee the future water supply for towns on the Liverpool Plains like Quirindi, Werris Creek and Willow Tree.
"This builds on the back of Chaffey Dam, Rookwood Weir and the water infrastructure build in central Tasmania.
"But we have to do more - we have to be a nation that has real vision to build real infrastructure projects that make us a stronger place, to take our nation to the next step. That's the discussion Australia wants to have.
"So let's get on the one page and build this infrastructure to give people a real choice at the next election as a Government that is committed to building dams and the regional communities of tomorrow."
(ENDS)