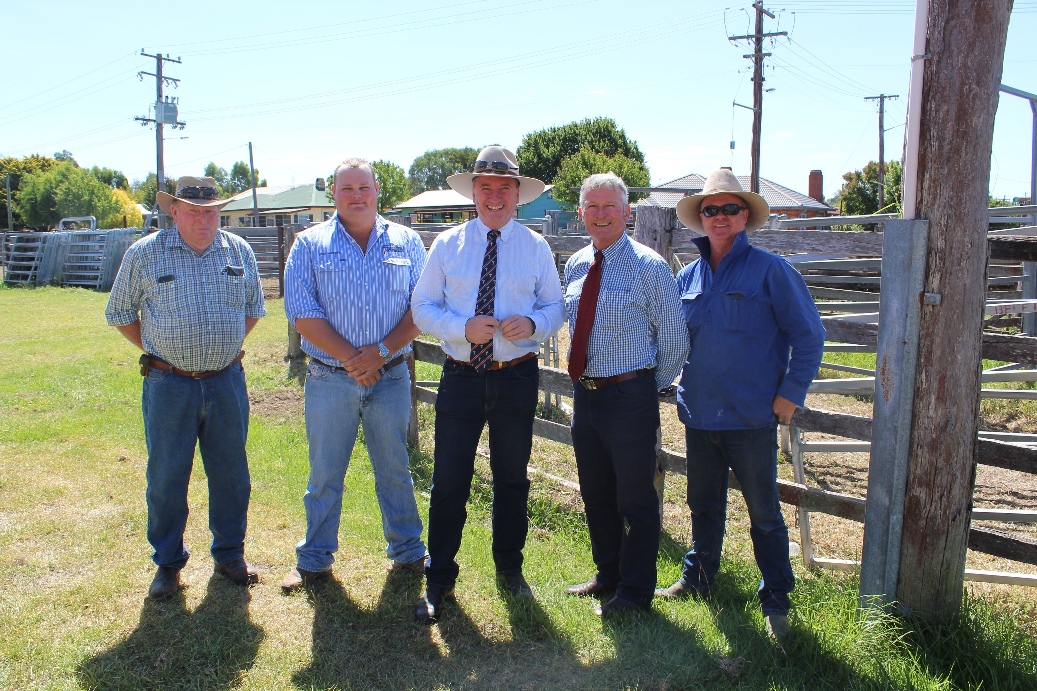 PICTURED: Member for New England Barnaby Joyce with Tenterfield Mayor Peter Petty (second from right) and showground trust representatives inspecting the soon-to-be replaced rodeo yards in Tenterfield earlier this year. The replacement is being funded under the Stronger Communities Programme.
Member for New England, Barnaby Joyce, has welcomed the Coalition Government's commitment of an additional $22.5 million in Budget 2018-19 to continue the highly successful Stronger Communities Programme (SCP).
The additional investment for a fourth round of SCP would ensure that local decision making continues to play a decisive role in funding community building projects.
"Our region has been very successful under previous rounds of the Stronger Communities Programme with funding supporting local projects like building repairs at Dungowan Tennis Club, vehicle modifications for Oxley Community Transport Service and more than $50,000 delivered in rodeo and cattle yard upgrades at Upper Horton, Tenterfield and Nowendoc," Mr Joyce said.
"Grants will be available between $2,500 and $20,000 for successful applications and I will soon invite organisations within the community to put forward their attractive, high-quality, projects for assessment."
Minister for Regional Development, Territories and Local Government John McVeigh said the fourth round of the program would ensure funding was available for a range of important community infrastructure projects such sporting facilities and community halls.
"This Budget continues the Coalition Government's commitment to building strong communities with extensions to vital community grants programs that invest directly in economic and social infrastructure," Dr McVeigh said.
"The Coalition Government will fund up to 50 per cent of costs for successful projects from a pool of $150,000 in each electorate, delivering more than 1,000 further projects in this round."
Also funded last year in the New England under SCP grants:
Tamworth Gymnastics Club $16,000 for new toilet amenities
Armidale Amateur Athletics Club $2,500 to replace high jump mats;
Currabubula Pony Club $11,344 for repairs and replacement of kitchen;
Tamworth RSL Sub-Branch $2,500 new shade awning;
Fire and Rescue NSW Firefighter Championship Association,
Tamworth $16,600 to restore and maintain historical fire brigade memorabilia and
Currabubula Local Advisory Group $8,656 to upgrade facilities at Currabubula Recreation Reserve
For more information on the Stronger Communities Programme, including application guidelines, visit: regional.gov.au/regional/programs/stronger-communities.aspx
(ENDS)