Six-kilometre unsealed section of Appleby Lane to be widened and sealed, intersection of Appleby Lane and Manilla Road to also be upgraded
Project will benefit agricultural producers and freight operators by facilitating heavy vehicle access to Tamworth from the north
Tamworth's Appleby Lane is set for a major upgrade to better connect areas north of Tamworth to the economically important Glen Artney Industrial Area.
Federal Minister for Infrastructure and Transport Darren Chester said a six-kilometre unsealed section of Appleby Lane between the Oxley Highway and Gidley-Appleby Road will be widened and sealed.
"The intersection of Appleby Lane and Manilla Road will also be upgraded as part of the project, providing a safer and more efficient road for the mostly freight-related traffic," Mr Chester said.
Deputy Prime Minister and Federal Member for New England Barnaby Joyce said the project will significantly improve the local road network by providing easier access for B-Double trucks.
"Little lanes like Appleby Lane ultimately become city ring roads. We have to build the city of 2090 now. That's why we're working with three levels of government to turn it into an important northern bypass and ring road for commuters of the future," Mr Joyce said.
"We are planning and delivering for our children's Tamworth. We're linking Manilla Rd to the Oxley Highway for better road safety, faster freight, and this means our farmers can get their produce to market quickly and reliably."
New South Wales Member for Tamworth Kevin Anderson said construction will start near Fairs Road about half way through the project.
"Over the next five months, work including bulk earthworks, relocation of power and telecommunications services, drainage upgrades and road widening will continue in stages along the lane," Mr Anderson said.
"Improved freight means a reduction in transport costs for local industries and businesses resulting in cheaper products at market, it also means less 'wear and tear' on council owned roads. I am proud the NSW and Federal Governments are working together to deliver vital upgrades."
Tamworth Region Mayor Col Murray said the $4.3 million project will be jointly funded by the Australian Government, New South Wales Government and Tamworth Regional Council.
"Once the lane upgrade work has been done, work will get underway at the intersection with Manilla Road," Cr Murray said.
"A final bitumen seal along the six-kilometre stretch of the lane will be applied in October this year to complete the project."
Funding for the project includes $1.566m from the Federal Government under the Heavy Vehicle Safety and Productivity Programme, $1.566m from the New South Wales Government through Restart NSW and $1.193m from Tamworth Regional Council.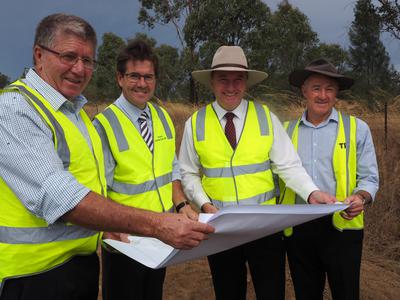 Left to right: Mayor of Tamworth Regional Council, Cr Col Murray, Member for Tamworth, Kevin Anderson MP, Deputy Prime Minister and Member for New England, Barnaby Joyce MP, and Tamworth Regional Council's Director of Regional Services, Peter Resch