FEDERAL Member for New England Barnaby said he was delighted to see reports of cattle prices breaking through long-standing highs as he continued to work hard to see saleyard prices hit the $3 a kilogram live.
Prices for cows in Tamworth earlier in the week hit 227.2 cents a kilogram, which is believed to be a saleyard record while at the Gunnedah market the next day, cow prices rose to $2.36 per kilo compared with $1.60/kg and $1.70/kg before Christmas.
At Roma store sale on the same 199 kilogram weaner steers made 288c/kg while 311kg heifers sold for 240c/kg.
Mr Joyce said processors clearing backlogs of cattle and increased opportunities for export cattle all played a part in the price surge.
"Since I have been Agriculture Minister we've now delivered on six new market opportunities for cattle exports in the past year, Egypt, Iran, Cambodia, Vietnam and most recently Thailand and Lebanon," Mr Joyce said.
"We've also delivered on three Free Trade Agreements with China, Japan and Korea," he said.
"This means there is real competition in the saleyards and the money that goes down Peel, Rusden, Conadilly and Byron streets is the money that keeps the economy growing," he said.
"This doesn't happen by accident, there has been a lot of hard work in getting to this point and we'll continue to strive for higher returns at the farm gate.
Mr Joyce said the Australian beef export record has now been broken for three consecutive years.
Australian beef and veal exports for 2014 registered a new record, at 1.29 million tonnes shipped weight – a staggering 17 per cent above the previous high recorded just 12 months ago.
According to Meat and Livestock Australia [MLA] said shipment to the US finished the year at 397,890 tonnes, up 87 per cent from the previous year, with exporters capitalising on the high beef prices over the course of the year.
Mr Joyce said MLA figures also revealed almost the entire volume of additional beef Australia exported internationally in 2014 compared to 2013 (187,525 tonnes) was directed to the US. Further emphasising the North American demand, exports to Canada for 2014 were 84 per cent, or 15,075 tonnes, higher year-on-year.
He said beef exports to Japan finished the year strongly, up 2 per cent year-on-year – encouraging, despite their economy falling back into recession towards the end of the year.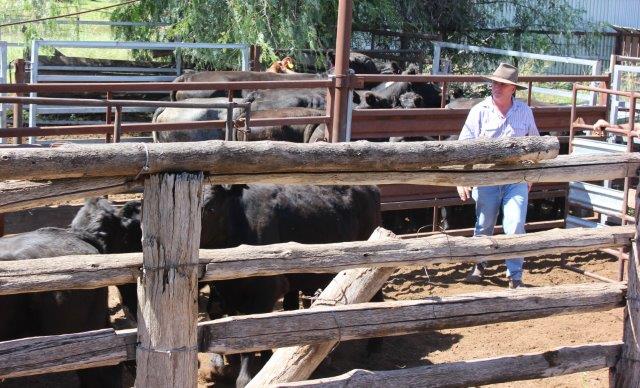 Member for New England Barnaby Joyce working some of his cattle while on leave. Photo: Craig Croker