The Deputy Prime Minister and the Member for New England Barnaby Joyce said a Coalition grant of $800,000 will guarantee that the last remaining timber bridge in the Uralla Shire is replaced.
Mr Joyce said local bridges are vital to ensuring communities and local businesses have easy access to essential services, traffic movement and the efficient transportation of road freight.
"Right throughout this election campaign I have been campaigning to ensure the New England Electorate is well serviced with road and water infrastructure and opportunities to create jobs," Mr Joyce said.
East of Uralla on the Gostwyck Road and crossing Salisbury Waters, Munsies Bridge was built in the late 1930s, acting Director of Infrastructure and Regulation for the Uralla Shire Council, Owen Johns said.
"This is the last bridge in the Shire in need of an upgrade," he said.
Mr Owen said the concrete foundations would be re-used in building the new bridge and wooden railings would be incorporated into the new design of steel railings, to emulate the heritage appearance of the old bridge.
"This will still be a single lane bridge, the cost benefit ratio resolved this to be the most efficient approach, considering the amount of traffic on the road," Mr Owen said.
Mr Joyce said providing funding to upgrade and replace local bridges give councils the support they need to better serve communities and drive greater efficiency in road freight and traffic movement.
"These upgrades mean local communities within the Uralla Shire Council LGA will have access to safer and more reliable road access.
"This will not only reduce the time taken to transport freight from farms and local industry, but increase productivity and economic gains," he said.
Earlier this week, the NSW Member for Northern Tablelands, Adam Marshall, hosted the NSW Roads Minister, Duncan Gay for the official opening of the Abington Bridge, west of Uralla.
Abington Bridge was funded by both the Federal and State Governments under the Coalition established Bridges Renewal Programme with grants of $705,000 each.
"We're all about working to a plan, a plan that will deliver the infrastructure we need to get our economy moving. Whether it's delivering blueberries from Drake, tomatoes at Guyra and beef from the east of the Electorate to the processing plants at Inverell and Tamworth," Mr Joyce said.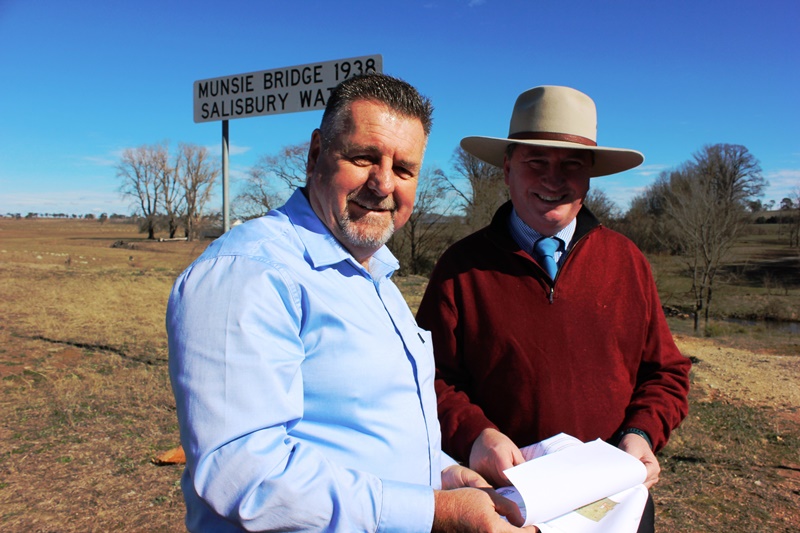 Uralla Shire Council Mayor, Cr Michael Pearce with the Deputy Prime Minister and Member for New England, Barnaby Joyce at Munsies Bridge, 10 kilometres east of Uralla.