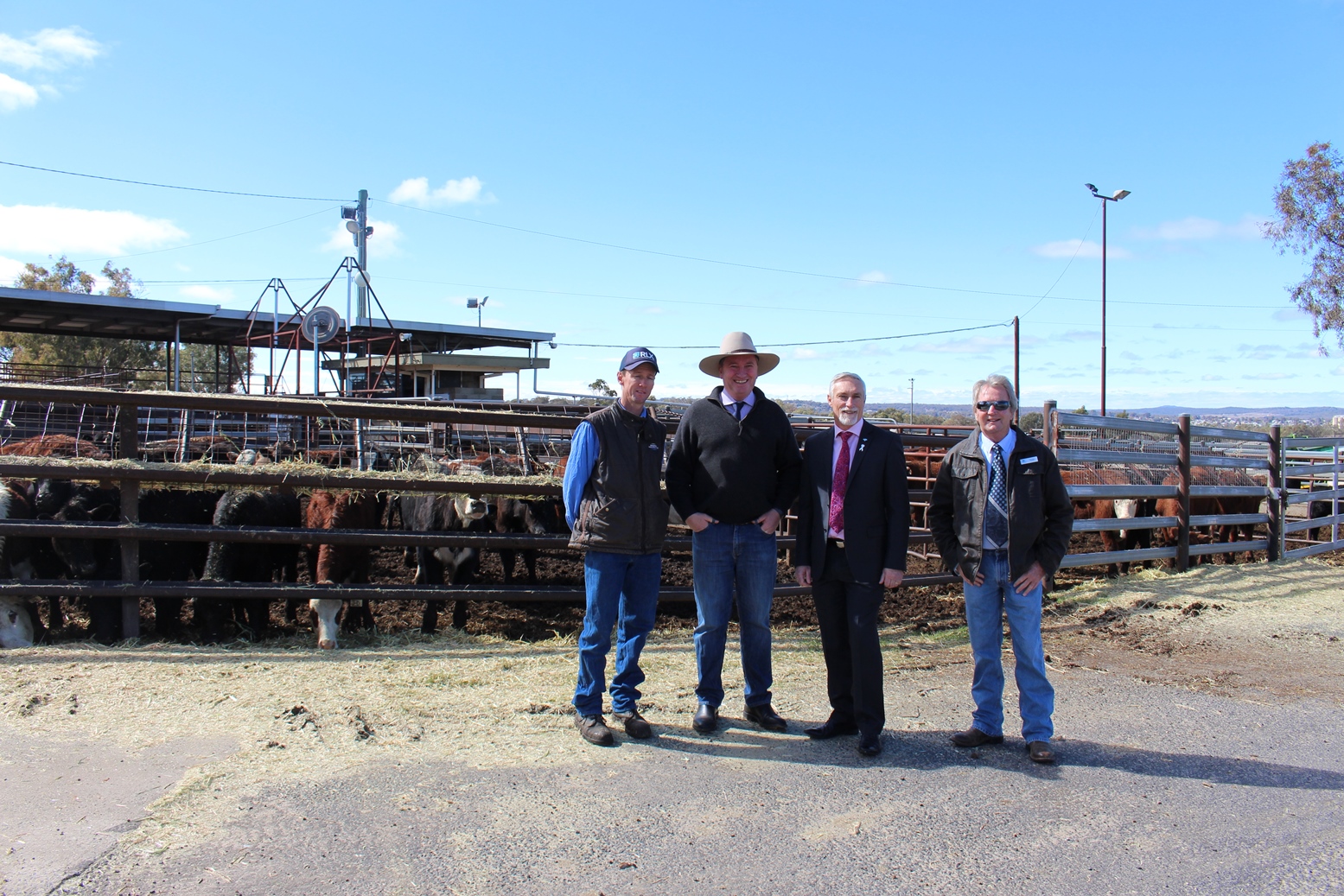 Pictured: IRLX site manager Steven O'Brien, Member for New England Barnaby Joyce, Inverell Mayor Paul Harmon and councillor Paul King touring planned developments for the saleyards in Inverell.
Member for New England, Barnaby Joyce, says development of capital infrastructure particularly in the agricultural sector, is key to helping the region recover from drought.
It follows Wednesday's inspection of development plans for the $8.4 million redevelopment of Inverell Regional Livestock Exchange (IRLX).
The project is supported by a $2.5 million grant from the Federal Government's Building Better Regions Fund – Infrastructure Projects stream.
"Farmers are a pretty resilient lot but when it finally does rain, and it will, it's going to take them a while yet to bounce back from this record drought," Mr Joyce said.
"That's why, in the meantime, we need major projects like this at Inverell saleyards and similar ones such as at Scone saleyards, to support the economies of whole communities and drive investment back into local towns.
"The Coalition Government has already committed $1.8 billion in federal drought assistance and having projects like these will draw wealth back into struggling communities and help them get back on their feet."
The Inverell Regional Livestock Exchange redevelopment includes:
Upgrade of facility access roads and sealed road truck movement areas
Construction of a new truck parking and trailer decoupling area covering up to 6000m2.
Construction of a new drive through double bay truck wash with effluent management system
Construction of a new transport driver amenities building incorporating toilets and showers
Construction of up to 240 new cattle pens
Construction of a roof structure over selling pens and other yard areas
Construction of new cattle holding yards and redevelopment of ramp yard areas
Construction of new cattle drafting facilities
Construction of new cattle loading ramps
Construction of a new office and amenities building for livestock agents and buyers
Work is also progressing on the $11.8 million redevelopment of the Scone Regional Livestock Selling Centre, which is being funded under a previous round of the Building Better Regions Fund.
(ENDS)