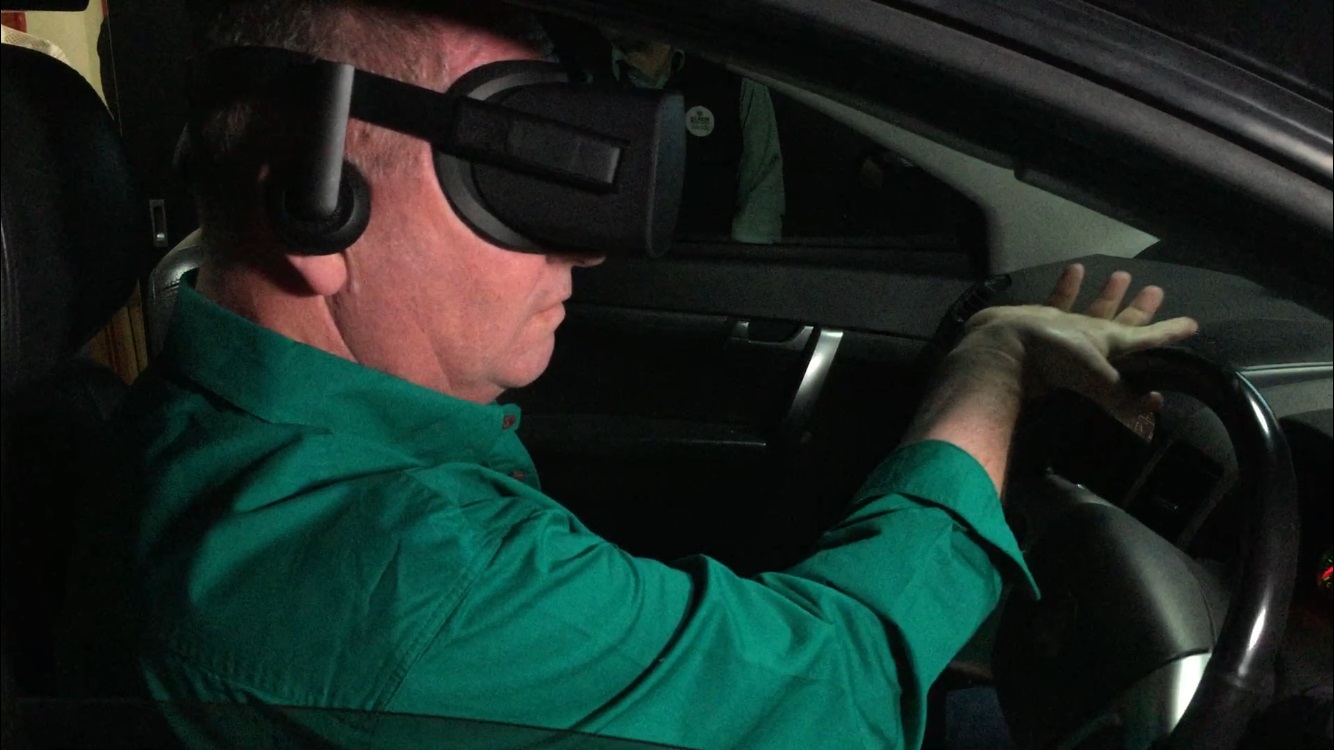 Pictured trialling the new driving simulator during its official launch in Inverell.
In an Australian-first, a new cutting-edge driving simulator designed specifically for older drivers has been launched in Inverell.
Member for New England, Barnaby Joyce, helped officially open the Hector Virtual Reality (VR) Driving Simulator for Older Drivers which was developed in conjunction with Deakin University's VR Laboratory.
The simulator was made possible through $726,275 in Federal Government funding to McLean Care, under the 2016 Dementia and Aged Care Services (DACS) Research and Innovation Funding round.
"As the McLean Care team told me, this project is one of the first in Australia to combine fully immersive VR technology with the shell of a real car and possibly the first in the world that is specifically designed for older drivers," Mr Joyce said.
"It is fitted with sensors, which will measure the driver's reaction times and heart rates to assess the physiological responses to certain aspects associated with driving."
Hector VR allows participants to practice or test their driving skills in a safe but realistic virtual environment, exposing them to a range of driving conditions and hazards, and is even mapped on the Inverell township with important local buildings, major shopping centres, retail outlets and landmarks to make the user's experience as realistic as possible.
To develop the simulator, the team worked with about 50 older people from Inverell and Tamworth who provided input on its implementation – challenging the stereotype of older people engaging with technology. Already the project is gaining attention overseas with an invitation to address a conference in Canada next year.
"We know the health benefits from independent living in our twilight years and a big part of that is having a driver's licence, whether it's for shopping, medical appointments or just to see friends, so this technology will help us strike the right balance between retaining that independence and road safety," Mr Joyce said.
McLean Care CEO Sue Thomson said the impact of not having a licence would be profound.
"The world is a different place since drivers obtained their licences over 60 years ago; living in small rural communities with limited support, no access to alternative forms transport such as taxis and buses. Surrendering you driver's licence unnecessarily, if you are the primary carer of a partner for example, would have a profound impact on your life and that of your partner," Ms Thomson said.
(ENDS)