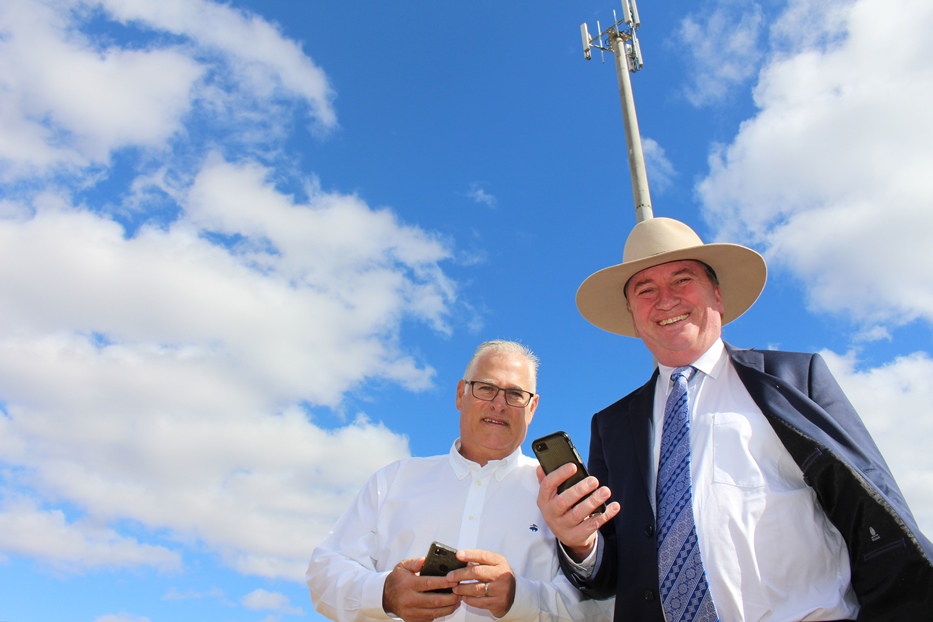 Pictured: Member for New England Barnaby Joyce with Telstra's Area General Manager for the North West region, Michael Marom, at the newly completed mobile base station at Dungowan.
Member for New England, Barnaby Joyce, has announced a new mobile base station is now live for Tenterfield shire residents at Koreelah. Another tower at Dungowan in the Tamworth shire is also now live.
The two new Telstra towers, funded under the Federal Government's $220 million Mobile Black Spot Program, will help improve coverage for residents and motorists in the local areas.
"Koreelah and Dungowan are among 37 new and upgraded towers we're funding in the New England Electorate under this program," Mr Joyce said.
"It includes four priority location sites in the north of the electorate planned for Baldersleigh, Fig Tree Hill, Copeton Dam and Kingstown.
"The Koreelah tower will not only provide modern communications to local residents in our electorate's far north, it will help build our corridor of commerce in the New England and support neighbouring major projects like the $24 million upgrade of the Mt Lindesay Road-Legume to Woodenbong Road, the Tenterfield Heavy Vehicle Bypass and the Bolivia Hill realignment.
"Around Tamworth, the program is already providing improved coverage in places like Westdale, Attunga, Oxley Vale and the neighbouring community of Woolomin to name a few. Likewise, this new tower at Dungowan will provide reliable communications to even more residents in the New England, helping connect regional Australia like never before."
Minister for Regional Communications, Bridget McKenzie said after three rounds of funding, the black spot program is now delivering 867 base stations across Australia, representing a Commonwealth commitment of $220 million and a total investment of $680 million.
"This significant investment is great news for thousands of people across Australia who live, work and invest in these local communities," Minister McKenzie said.
"The Coalition understands the importance of having access to modern and reliable 21st century communications, particularly in the regions."
Telstra Area General Manager Mike Marom said the new mobile base station will bring new and improved coverage to the area.
"This is an important moment for residents, businesses and visitors in Dungowan who can now make, receive mobile calls and access high speed mobile broadband using Telstra's latest 3G and 4GX services," Mr Marom said
This is the most significant one-time increase in mobile network coverage to regional and remote Australia delivered by a single public funding program in the history of mobile communications. Despite being in Government for six years, Labor did not invest a single dollar into improving mobile coverage.
(ENDS)