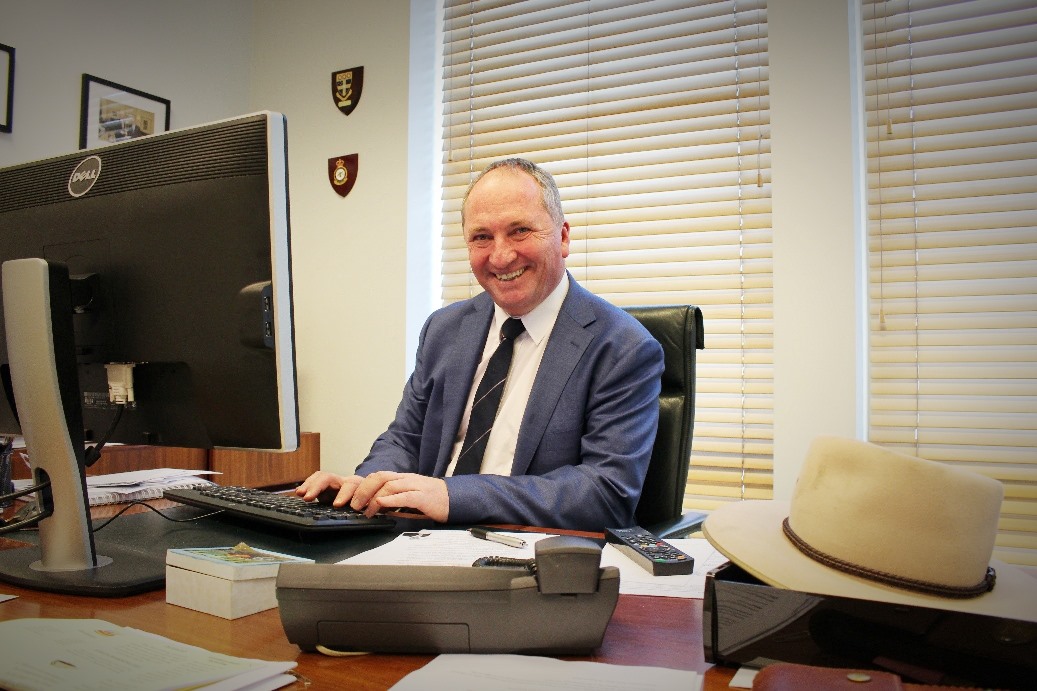 Photo: Mr Joyce, pictured at work in Canberra this week, is calling on organisations to apply for grants to help them deliver free digital skills training in their community.
Member for New England, Barnaby Joyce, has called on community organisations to help older Australians in his electorate become more tech-savvy.
Community groups are urged to join the 'Be Connected Network' to be eligible to apply for a share of up to $20 million in Federal Government funding.
Mr Joyce said the Coalition Government is providing grants to local organisations for free digital skills training to people over 50 years as part of the Be Connected program.
"Many local libraries are already delivering the program like those at Barraba, Manilla, Uralla and Walcha, as well as other groups like Community Connect Services at Murrurundi and Scone," Mr Joyce said.
"But we need more organisations in the New England to come on board.
"Older Australians have contributed all their working lives and the Australian Government will continue to support them in their retirement and old age.
"Our region is becoming more digitally connected every day and we're providing infrastructure to support that with the NBN rollout now more than 89 per cent complete in the New England and 37 new and upgraded mobile phone towers being delivered.
"By joining the Be Connected Network, organisations help seniors in the New England to maintain their independence and keep connected with family and friends," Mr Joyce added.
Community organisations that join the network can apply for a range of grants, including:
an Activation Grant of $2,000
a Get Online Week 2018 Event Grant of $1,500
a Building Digital Skills Grant of up to $15,000, depending on how many people they have registered on the Be Connected website.
Participants in the program get free, personalised face-to-face coaching and access to interactive tutorials and resources.
More than 1,500 organisations have already joined the Be Connected Network across Australia, including libraries, community centres, clubs and aged care facilities.
To find out more information about Be Connected or to join the network, go to beconnected.esafety.gov.au or call 1300 795 897.
(ENDS)