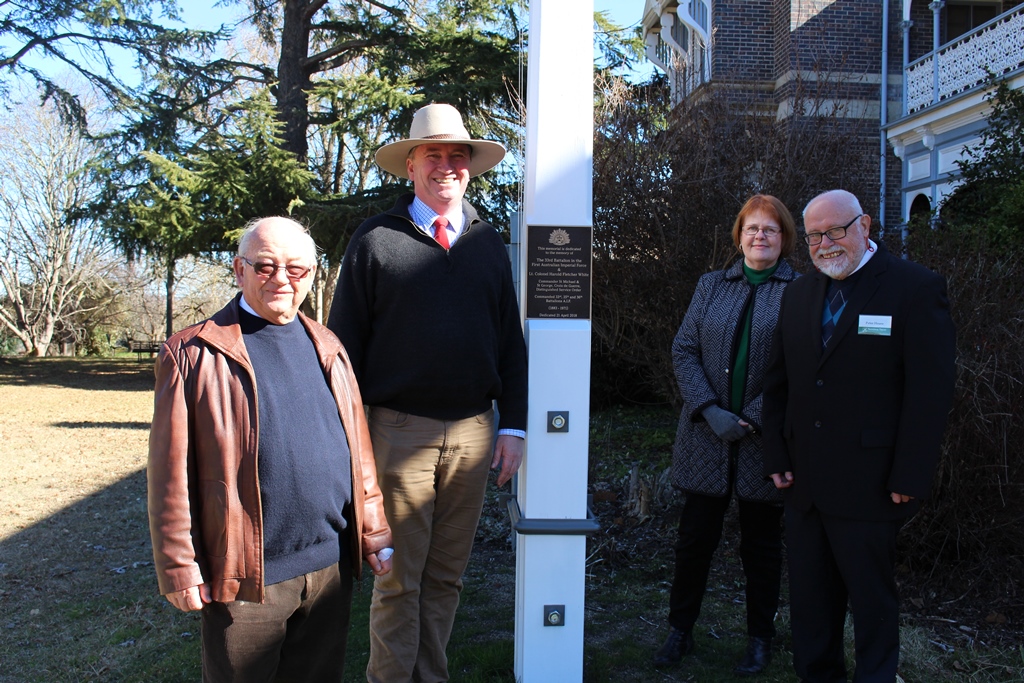 Pictured with members and volunteers at Saumarez Homestead in Armidale and the newly installed commemorative plaque and flagpole which honours the district's 33rd Battalion.
Two local projects commemorating the New England's rich wartime history and recognising our local service men and women, are receiving funding under the Australian Government's Saluting Their Service community commemorations grants program.
Armidale's Saumarez Homestead is receiving $2,711 for various projects including First World War exhibitions, memorial services for the 100th anniversary of the Battle of Villers-Bretonneux and a new plaque commemorating the 33rd Battalion. Meanwhile Walcha and District Historical Society is receiving $2,727 in funding to install a glass display cabinet featuring wartime memorabilia at Pioneer Cottage.
"These projects will serve as a lasting tribute to community members in Armidale and Walcha, and all around the New England for that matter, who have served and continue to serve our country," Mr Joyce said.
"This latest round of ongoing grants will ensure the delivery of meaningful projects to local communities like ours to commemorate Australia's role in wars, conflicts and peacekeeping operations and reflect our gratitude to service men and women."
Saumarez Homestead property manager Les Davis said the plaque and accompanying new flagpole now take pride of place at the front of the homestead.
"It gives the front of the place a bit of character," Mr Davis said.
The New England grants are among 84 Saluting Their Service grants recently announced by the Minister for Veterans' Affairs, Darren Chester.
The Community Commemorative Grants category of the Saluting Their Service program provides up to $4,000 for each project and applications can now be made through the Community Grants Hub.
Applicants requiring support in submitting their application are encouraged to phone 1800 020 283 or email support@communitygrants.gov.au
Veterans and Veterans Families Counselling Service (VVCS) can be reached 24 hours a day across Australia for support and free and confidential counselling. Phone 1800 011 046 (international: +61 8 8241 4546). VVCS is a service founded by Vietnam veterans.
(ENDS)