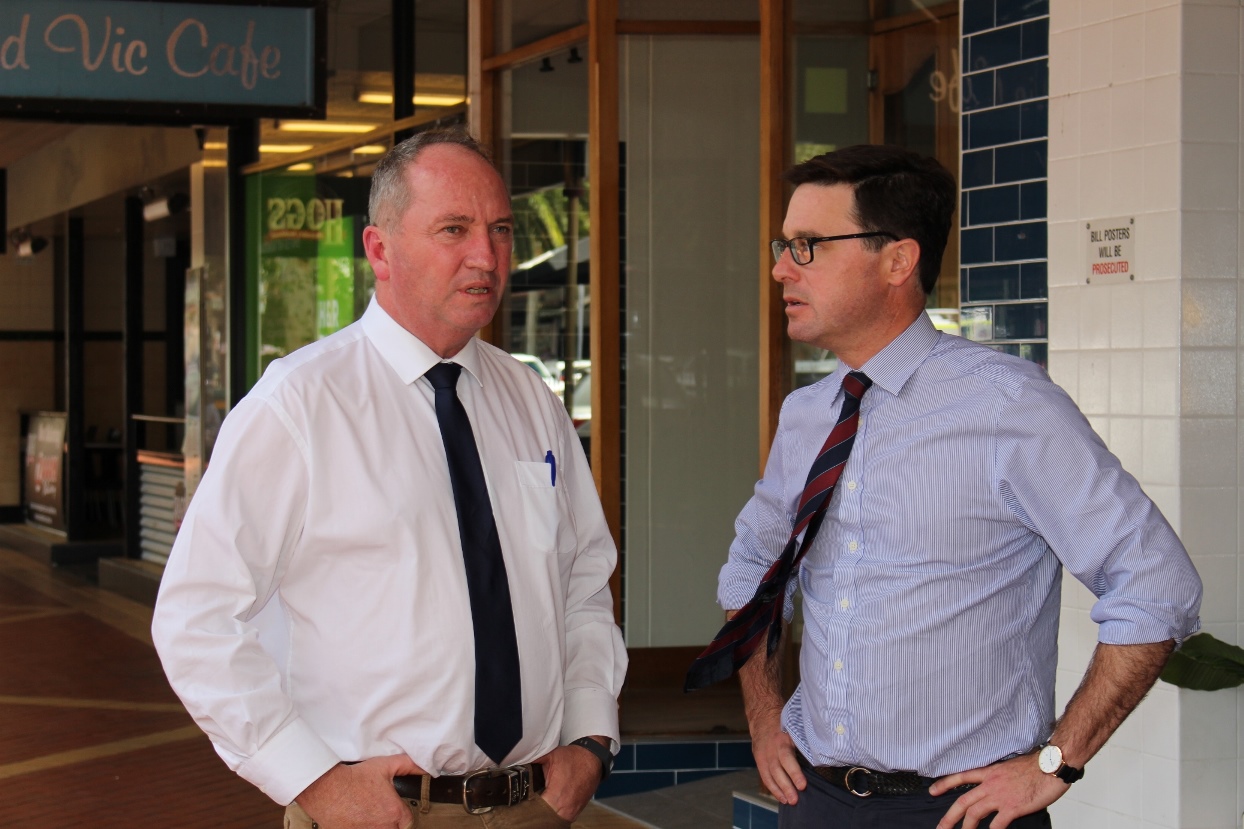 Pictured: Mr Joyce with the Minister for Water Resources, Drought, Rural Finance, Natural Disaster and Emergency Management, David Littleproud.
Federal Member for New England, Barnaby Joyce, has welcomed today's opening of funding applications for all 10 drought-affected councils in the electorate which can now apply for a further $1 million each under the Drought Communities Program.
"This is another $1 million for every council in the New England, in addition to the $1 million they each received in the first round of the program," Mr Joyce said.
"In my former capacity as the Special Envoy for Drought Assistance and Recovery, I fought for and delivered this funding last year and am proud to see its continuation to help support our towns and communities in drought.
"Mayors from across the electorate have told me how well this assistance has been received by helping to prop up local business, support jobs and drive new wealth back into the New England which has been heavily affected by drought and more recently, bushfire."
Local projects previously supported by this funding include but are not limited to road repairs in Tamworth, heritage grandstand improvements in Glen Innes, a new function centre at Walcha Showground, small business support in Inverell, sports facilities upgrades in the Upper Hunter and improvements to the fire control centre at Quirindi.
Minister for Drought, David Littleproud, said the program was to fund council projects that stimulate their local economy.
"We wanted this ready to go before Christmas and now councils can get their applications in," Minister Littleproud said.
"This will get projects off the ground sooner so drought-hit communities get the boost they need.
"The program delivers more business for suppliers like local hardware stores and more jobs for their communities.
"In just over 18 months this program will have delivered $250 million to communities in drought. The program has already funded more than 300 projects, such as potable water supplies, tourist attractions and community events, and employed drought support officers.
"The extension of this program demonstrates that as the drought steps up, so does our response.
"These projects will provide an immediate economic boost so I urge councils to apply
for funding as soon as they can."
More information on the application process is available at business.gov.au
(ENDS)