FEDERAL Member for New England, Barnaby Joyce said wild dog management groups on the Northern Tablelands will receive an extra $255,000 in funding over the next three years.
The money has been allocated to 28 Wild Dog Management associations by Northern Tablelands Local Land Services through the National Landcare Programme.
The project has also leveraged more than $800,000 in in-kind contributions from landholders.
Mr Joyce said the funding announcement was a welcome initiative.
"When I left Queensland to come to the New England Electorate, one of the last conversations I had there was regarding wild dogs. One of my first meetings in the New England Electorate was in Nundle and the chief concern was wild dogs," he said.
He said a report compiled by ABARES for Australian Wool Innovation Limited underlined the serious financial and social impacts of wild dog attacks in the sheep and cattle industries—with many farmers dedicating close to a month out of every year tackling the issue.
"This report showed that on average, each landholder surveyed spent about 26 days and around $7200 a year on wild dog management, and that they were forced to remain constantly vigilant for attacks, especially during lambing season," Mr Joyce said.
"And those figures only take into account the direct costs of management efforts, like baiting and trapping, materials and so on. When you look at the financial costs across the whole sector—in livestock losses, disease transmission and control costs—wild dogs were estimated back in 2004 to cost our agricultural industries up to $66 million per year. The current costs could be significantly higher.
"And of course, the financial cost doesn't account for the personal impacts of wild dog attacks that leave farmers deeply distressed and angry," he said.
Wongwibinda Wild Dog Association Chair, James Robertson, says the extra funding is badly needed.
"We're seeing a lot more dogs, and we're shooting a lot more dogs, but we haven't been making a dint in the problem," Mr Robertson said.
"Over the last three years I've lost possibly 1200 sheep and lambs, whereas 15 years ago, we hardly ever saw a dog, so this new project is going to be very helpful.
"We have always had a good working relationship with other landholders in our area, but the dogs are moving into new areas where people haven't experienced them before. They're going to need help to tackle this problem."
Mr Robertson praised Northern Tablelands Local Land Services Invasive Species Team Leader, Mark Tarrant, for his work with landholders.
"He's done an excellent job in trying to get on top of the dogs," he said.
Mr Robertson has also welcomed the Invasive Animals CRC appointment of Dave Worsley as the North East NSW Wild Dog Facilitator.
"It's been very useful having Dave on board as an independent facilitator to drive this project," he said.
Mr Worsley worked closely with the Wongwibinda Wild Dog Association and other local landholder groups to prepare funding applications for the new wild dog management project.
"Given the escalating wild dog problem, we're aiming to build a more coordinated approach across all stakeholders and different land tenures, so that we're working together in a strategic, proactive way," Mr Worsley said.
The new wild dog management project will augment existing baiting programs coordinated annually by Northern Tablelands Local Land Services, and will work with landholders to develop long term wild dog management plans tailored to their local circumstances.
As part of the Wild Dog Management project, Canid Pest Ejectors will be deployed on strategic routes where dogs are regularly traversing the landscape. One hundred ejectors have already been distributed amongst the 28 wild dog management associations involved in this project.
The ejector is a bait delivery device that sprays a dose of 1080 poison into the mouth of the target animal, using a spring loaded mechanism.
The ejectors are ideal for use in rougher, less accessible country as they can remain viable for up to four months before they need to be checked.
The Wild Dog Management project will also fund a series of wild dog and vertebrate pest Control field days to take place at Atholwood, Ashford, and Nullamanna during December.
Further field days and training and information sessions related to pest management will be held in 2016.
Northern Tablelands Local Land Services Team Leader for Planning and Commercial Services, Sally Croker, has welcomed the support of the National Landcare Programme in tackling the wild dog issue.
"This project is very important because the costs of wild dogs to livestock production and to the environment are enormous," said Sally.
"It's not only an economic burden, but there's significant distress for the farmers having to deal with dead and mauled sheep that have been attacked by dogs, and small native mammals are also suffering significant predation."
We're very pleased that the Federal Government has been able to recognise the severity of the problem and allocate this funding through Northern Tablelands Local Land Services," said Sally.
For more information about the Northern Tablelands LLS Wild Dog Management project, contact Mark Tarrant on phone: 02 6732 8800 or email: mark.tarrant@lls.nsw.gov.au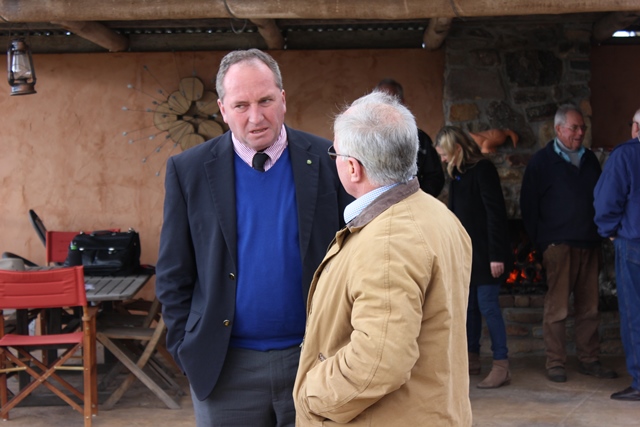 The Member for New England Barnaby Joyce chats with Hanging Rock-district wool grower and Barnard River Wild Dog Association member, Bruce Moore, at a Wild Dog event east of Walcha earlier this year.