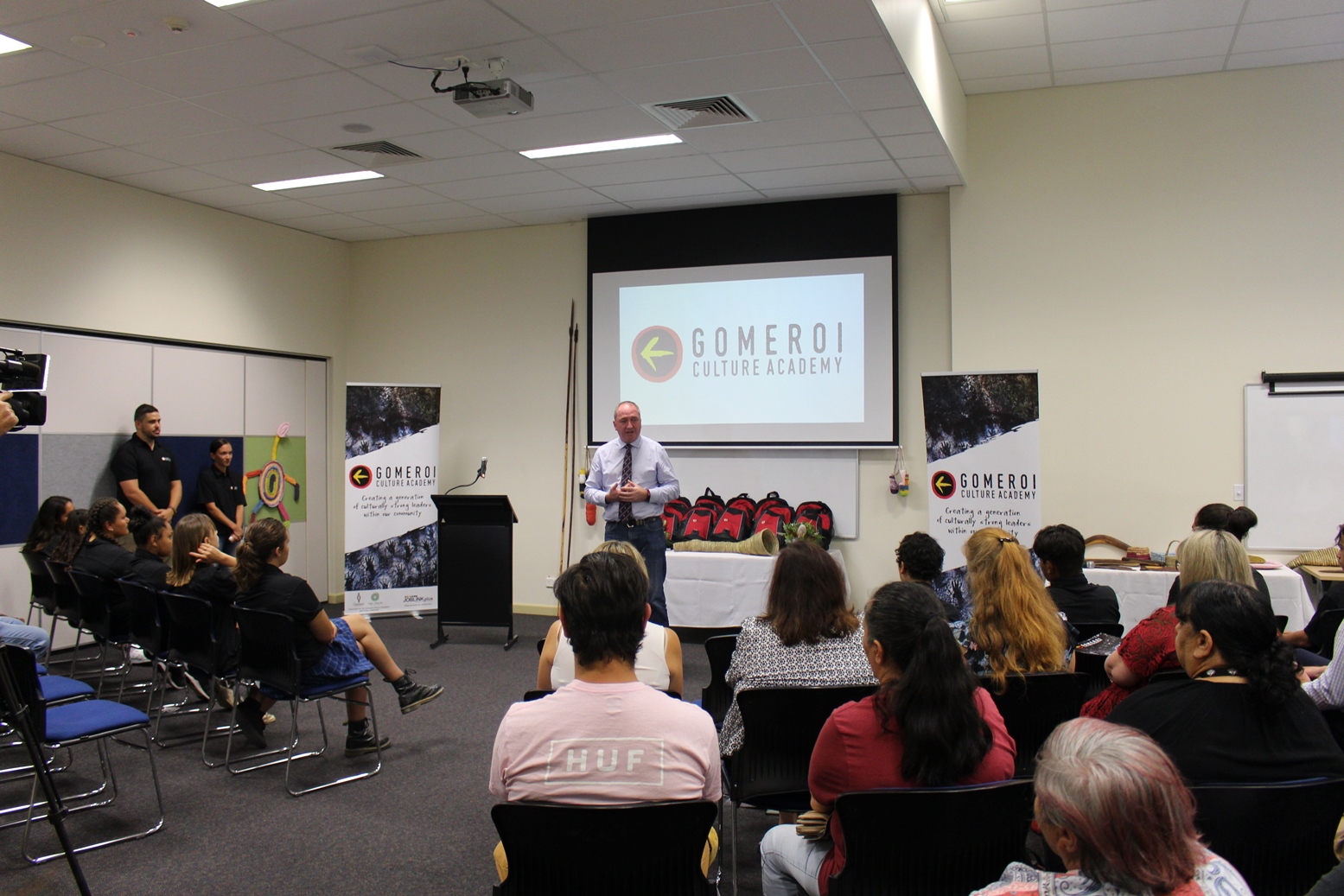 PICTURED: Mr Joyce at the Gomeroi academy launch in Tamworth last year which will receive new funding to continue its indigenous mentoring program.
The Coalition Government has announced $200,000 in funding to continue the Gomeroi Dance Company Inc's intensive cultural mentoring program to Indigenous students in the Tamworth region.
Minister for Indigenous Affairs, Nigel Scullion, and Member for New England, Barnaby Joyce, said the program was delivering huge success in ensuring local Aboriginal students complete their education and was part of the Coalition Government's plan to make lives better for all Australians no matter where they live.
"The school attendance rate for Year 9, 10 and 11 students who participated in the program rose to 85 per cent or higher, and students gained drivers licences and are continuing education in 2019," Minister Scullion said.
Member for New England, Barnaby Joyce, said that the aim of the mentoring program, run by the Gomeroi Dance Company Inc, is to increase school attendance and retention rates.
"In addition to gaining drivers licences and continuing their education, six students out of the 10 who participated in the program also secured part-time employment," he said.
Mr Joyce was pleased to support this funding to the Gomeroi Dance Company Inc to ensure it could continue its vital and effective work.
"Gomeroi Dance Company Inc is an Indigenous organisation with a proven track record of increasing Indigenous school attendance rates and increased school engagement," Mr Joyce said.
"This funding is all part of my record of delivery for the New England electorate."
This measure follows $56,000 in Federal Government funding for the pilot program in Tamworth last year, and all funded from the Coalition Government's $5.2 billion Indigenous Advancement Strategy.
(ENDS)