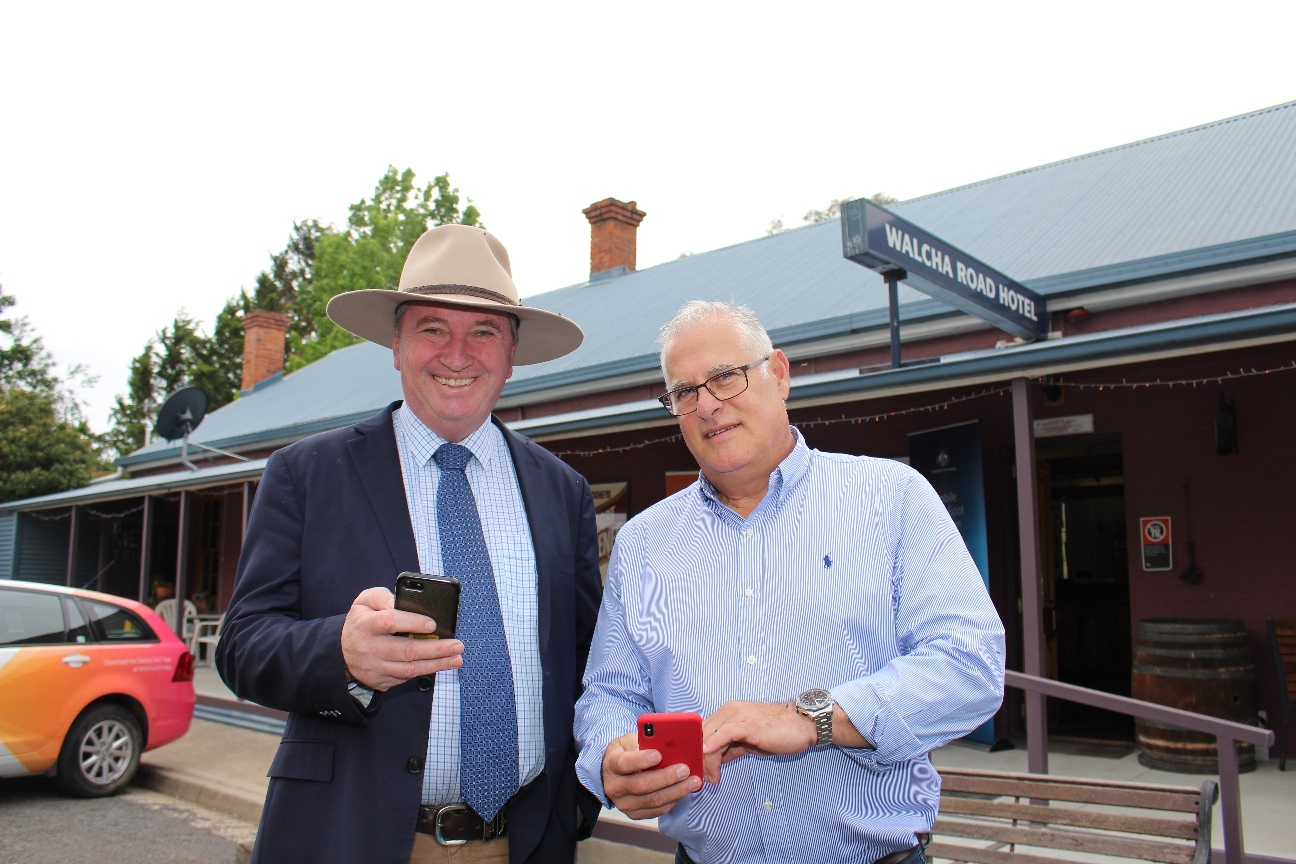 Pictured with Telstra Area General Manager Mike Marom outside Walcha Road Hotel, which now has mobile coverage for the first time.
Member for New England, Barnaby Joyce, has welcomed the switch-on of the Walcha Road mobile base station.
The Telstra tower is the latest of 37 new and upgraded mobile phone towers being delivered across the New England Electorate under the Liberal-National Government's $220 million Mobile Black Spot Program.
"I said we would get this tower built and now we have - this is real delivery for the people of New England," Mr Joyce said.
"This area is not only a major thoroughfare for tourists and locals heading over the range to the Coast, it's also a well-travelled route for stock transport operators, and having reliable mobile coverage here is vitally important for safety.
"We're committed to establishing more mobile infrastructure to more parts of rural and regional Australia including right here in the New England."
Walcha Road Hotel staff member Garry Fairley said the new mobile service will have significant advantages for the community.
"For us, it means a big improvement to our eftpos because it will run off mobile, and other things like the local doctor, people can ring directly now," Mr Fairley said.
Minister for Regional Services, Senator Bridget McKenzie welcomed the switch-on of the Walcha Road base station.
"The 867 base stations we're delivering under the first three rounds of the Mobile Black Spot Program are making a real difference to so many communities, families and businesses across Australia, helping them to access the services they need," Minister McKenzie said.
Telstra Area General Manager Mike Marom said the new mobile base station will bring new and improved coverage to the area.
"This is an important moment for residents, businesses and visitors to Walcha Road who can now make and receive mobile calls as well as access high speed mobile broadband using Telstra's latest 3G and 4GX services," Mr Marom said.
In recent months, mobile phone coverage has also been expanded across the New England at places such as Manilla, Barraba, Fossickers Way, Duri, Piallamore and Warral.
Earlier this year the Coalition Government announced $25 million in Commonwealth funding for Round 4 of the Program, to deliver more coverage to regional and remote communities across Australia.