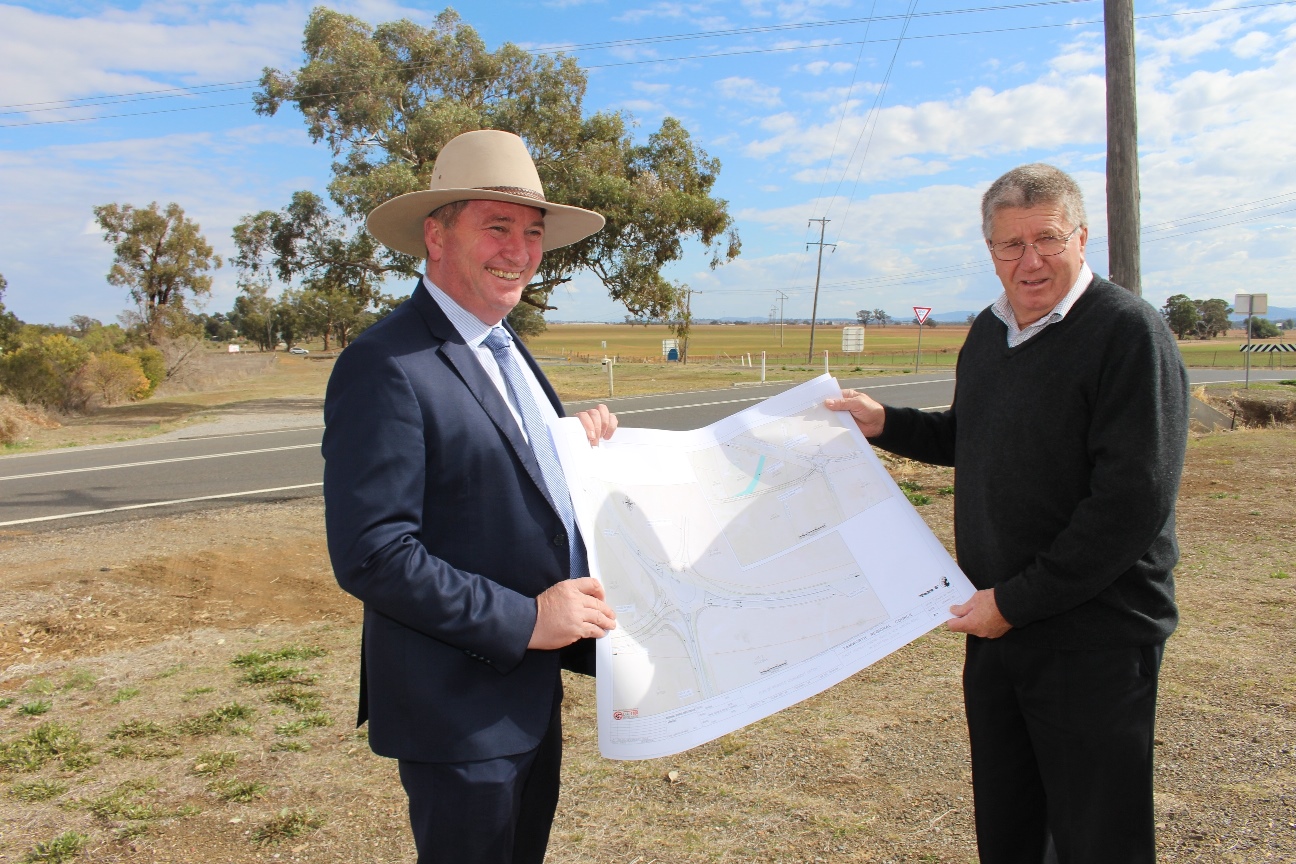 PICTURED: Member for New England Barnaby Joyce and Tamworth Regional Council Mayor Col Murray near the site of soon-to-be-built airport roundabout on the Oxley Highway, Tamworth.
Member for New England Barnaby Joyce has welcomed nearly $5 million in new funding for two local road upgrades under the $132.5 million round six of the Coalition Government's Heavy Vehicle Safety and Productivity Program.
Projects for New England include:
$4.53 million for Tamworth Regional Council to construct a $9.53 million five-leg roundabout on the Oxley Highway at New Winton Road and Country Road, Westdale (Tamworth Regional Airport) and realignment of New Winton Road, to increase heavy vehicle access, shorten travel times and improve safety.
$100,405 to Walcha Council for nearly $201,000 in road improvements at Yalgoo rest area on the Thunderbolts Way. The project includes sealing and widening of pavement, and the installation of toilets, signage and furniture at the rest area. The upgrade will provide a heavy vehicle rest area between Walcha and Uralla, reduce driver fatigue, and improve safety.
"I have been fighting for safer, more efficient roads in the New England and we now have a real opportunity to connect our major arterial highways used by heavy vehicle transport operators to create the corridor of commerce between capital cities to our north and south, as well as links between agricultural producing areas in the west across to the coast in the east of the state," Mr Joyce said.
"The Tamworth roundabout will also serve as key infrastructure to support developments at the nearby Tamworth Airport such as the $2 million in federal funding we're delivering for upgrade of the airport's Instrument Landing System (ILS) and ongoing negotiations to secure the Qantas pilot academy in Tamworth," Mr Joyce said.
"This extra funding for Thunderbolts Way is in addition to the $5.4 million upgrade of the road we delivered just last week."
A further $5 million in Australian Government funding has been announced for a $19 million project with Mid Coast Council to realign and widen 12.65km of the Bucketts Way through the construction of nine individual projects, and the construction of passing lanes at three locations.
"This project just over the range gives significant backing to my calls for funding to upgrade the connecting Port Stephens Cutting road which feeds into the New England electorate and is high on my priority list," Mr Joyce said.
"Getting product from paddock to plate is a vital part of Australia's growing agriculture and transport industries, which is why we are investing in making those freight routes safer and more efficient for operators and businesses.
"We all understand how important it is to upgrade these roads – we all drive them often and see first-hand the jobs and opportunities agriculture and transport brings to regions like Tamworth."
Deputy Prime Minister, Nationals' Leader and Minister for Infrastructure, Transport and Regional Development Michael McCormack said the program provides funding to local councils and State and Territory Governments to help fund works designed to improve the safety and efficiency of important heavy vehicle routes around the nation.
"Around Australia we are investing in helping people get home sooner and safer, no matter where they live," Mr McCormack said.
"That's why we are continuing to deliver road funding where it's needed, based mainly on the local knowledge, especially to councils which make up more than 60 per cent of the 93 projects selected under this latest round of funding."
More on the Heavy Vehicle Safety and Productivity Program, including a full list of successful Round Six projects, is available at: investment.infrastructure.gov.au
(ENDS)