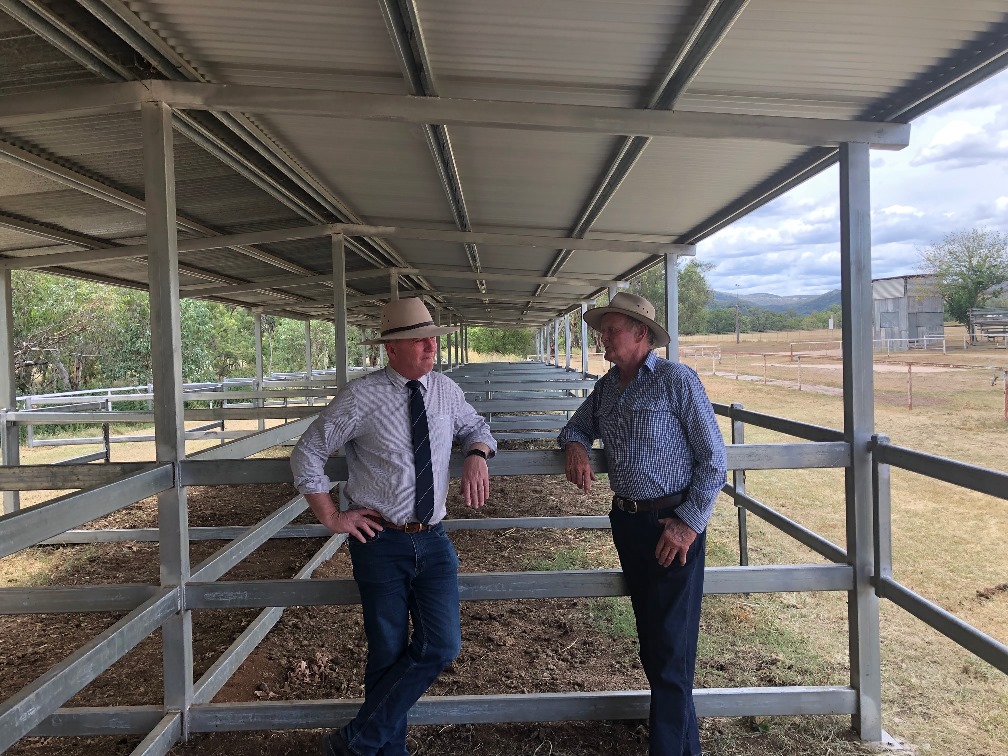 Mr Joyce pictured with Kootingal and District Pony Club President Len Wall inspecting some of the new stable complexes, which recent funding will help replicate.
Federal Member for New England, Barnaby Joyce, has welcomed more than $100,000 in Australian Government funding for infrastructure upgrades in the electorate.
The grants are the latest to be awarded in the $30 million round 2 of the Liberal Nationals Government's Community Sport Infrastructure Program.
A total of $40,000 will go to Kootingal and District Pony Club to assist the club to upgrade its ageing horse shelters and stables.
"I grew up, upstream from Kootingal, in fact I learnt to swim at the Kootingal pool," Mr Joyce said.
"So it's really good to invest in further community infrastructure such as the pony club because so many people in Kootingal and district utilise this resource as a mechanism for training in all aspects of horsemanship."
A further $45,000 will be awarded to Tenterfield Bowling Club to install sun safe shading around the club's bowling greens to minimise the risk of sun cancer and heat stress on bowlers during the hot summer months.
"As a person who has had melanoma, I know how important it is to be sun smart, it is the reason I wear an Akubra all the time to try and tell people to be sun smart," Mr Joyce said.
"These shade awnings at the Tenterfield Bowling Club are not only a further investment in the town's community infrastructure but also an investment in the health of local and visiting bowlers in Tenterfield."
Another $50,000 grant will go to Armidale Tennis Club to carry out for modifications to the toilet and shower amenities including a unisex-disabled toilet and shower facility.
"We have completed a program of upgrading the tennis courts across the New England at Upper Horton, Currabubula, Dungowan and now a substantial investment in the Armidale Tennis Club," Mr Joyce said.
"This allows people to enjoy the experience of playing tennis, noting that for people to have their own tennis court is a substantial expense. But community tennis courts allow us to encourage the next Pat Cash, the next Pat Rafter, the next Lleyton Hewitt, here in our towns.
"We hope these facilities become the seedbed for the next tennis champions and also for the community to enjoy a social game of tennis."
Minister for Regional Services, Sport, Local Government and Decentralisation, Senator Bridget McKenzie, said the funding was an important step to further developing grassroots sports across the country.
(ENDS)