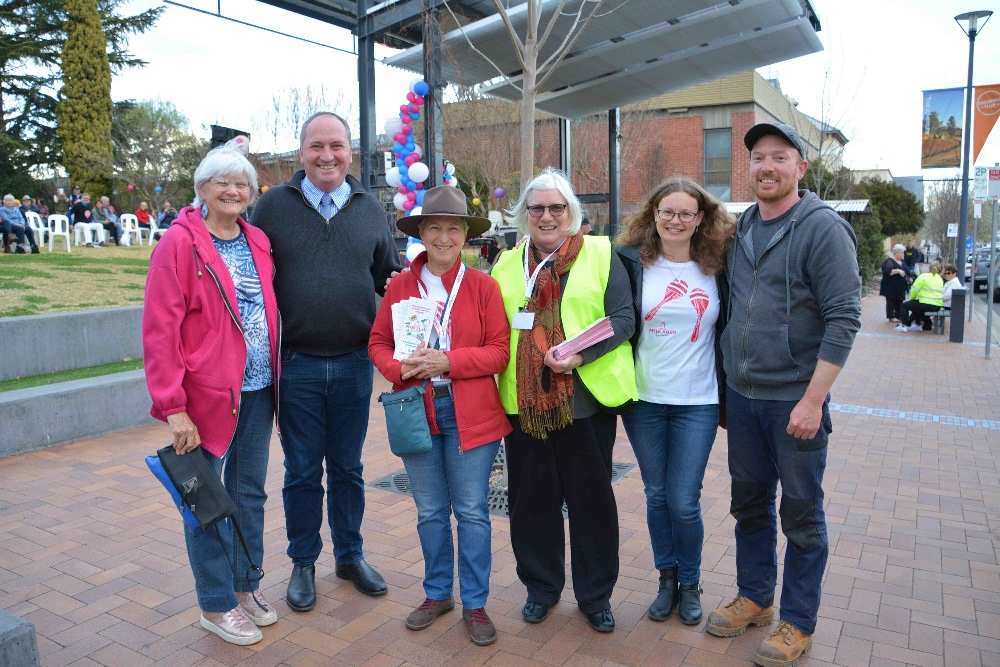 PICTURED: Wendy Preston, Barnaby Joyce, Colleen Knight, Jan Evans, Caitlin Reid and Nic Little enjoying the festival: Photo: Tenterfield Star
Peter Allen fans around Australia flocked to the place that the singer-songwriter called home at the weekend for the inaugural Peter Allen Festival in Tenterfield.
Deputy Prime Minister, Nationals' Leader and Minister for Infrastructure, Transport and Regional Development Michael McCormack said the festival was a huge win for the Tenterfield community, bringing in over 1,100 visitors across the weekend.
"This festival is not only a great opportunity to celebrate the music of one of Australia's most beloved performers, it is also supporting local talent, tourism and small businesses in this region," Mr McCormack said.
"Festival-goers are expected to spend nearly $300,000 in Tenterfield over the weekend, which is a significant boost for local businesses and a great outcome for the community."
Federal Member for New England Barnaby Joyce, who attended the festival this evening, said the three-day festival would incorporate a range of events, including a cabaret show, music, food and market stalls.
"Peter's music has touched the hearts of people across the world, and it's absolutely fitting that the festival is held here in Tenterfield – Peter's birthplace and the home to one of his most well-known songs, Tenterfield Saddler," Mr Joyce said.
"The festival will also celebrate the heritage and Indigenous history of this area as well as promoting local produce and suppliers, so this event is really bringing the whole community together."
Mayor of Tenterfield Peter Petty said events such as this would not be possible without the dedication and commitment of our local businesses and community members, and funding through generous sponsorships and donations.
"Tenterfield has become a thriving town for visitors who are always sure to make a stop at the famous saddlery which Peter's song placed on the world stage," Cr Petty said.
"The festival is sure to be a crowd pleaser with the young and old alike, bringing to life the stories and charismatic performances of the late Peter Allen."
The project was funded by the Australian Government investing $30,000, the Tenterfield Chamber of Tourism, Industry and Business $30,000 and Tenterfield Shire Council $5,000
(ENDS)