The Deputy Prime Minister and Member for New England, Barnaby Joyce said the Tamworth Historical Society will be able to upgrade the floor of the Calala Cottage Shepherds' Hut floor with a $5,024 grant from the Stronger Communities' Programme.
Recent conservation work on the main section of the hut revealed the floor bearers had decayed to such an extent the floor was unsafe.
Mr Joyce said the funding will help restore the flooring of the extension room section, which is the principal access through the Shepherd's Hut. The project involves the lifting of floor boards and their cleaning and de-nailing for reuse, the replacement of the bearers on new foundations and the re-laying of the boards.
Additional floor boards of a similar age are on hand to make up for any un-useable floor boards.
Calala Cottage Museum is housed at the town house of Tamworth's first Mayor, Philip Gidley King, the General Superintendent of Goonoo Goonoo for the Australian Agricultural Company at the time.
The Shepherds' Hut is probably Tamworth's oldest building and stands on its original location in the grounds of the museum and the iconic building is a much visited site.
The museum is visited by about 800 school children annually and the Shepherds' Hut is integral in helping them understand the history of early European settlement in the region.
"It is vital for the people of Tamworth and the visitors to Tamworth that the building is maintained in the best possible condition," Mr Joyce said.
Major conservation work has been undertaken under a NSW Government Community Building Partnership grant and while this work was being carried out, the serious problems in the northern room were identified.
The museum is staffed exclusively by volunteers from the community and is open on a regular schedule for visitors.
"If the building could not be visited by the public because of safety concerns, the cultural experience would be significantly diminished," Mr Joyce said.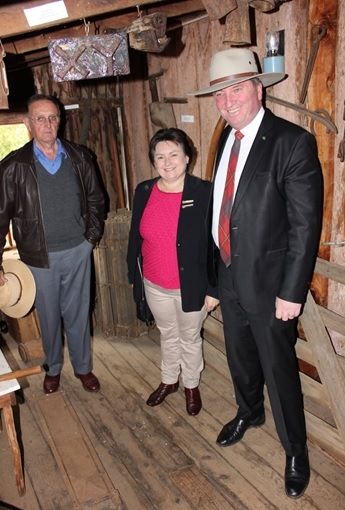 Caption: Tamworth Historical Society's Vice President John Vickery, President Jenny Porter and Deputy Prime Minister and Member for New England, Barnaby Joyce examine the soon-to-be-replaced floor of the shepherd's hut at Calala Cottage.