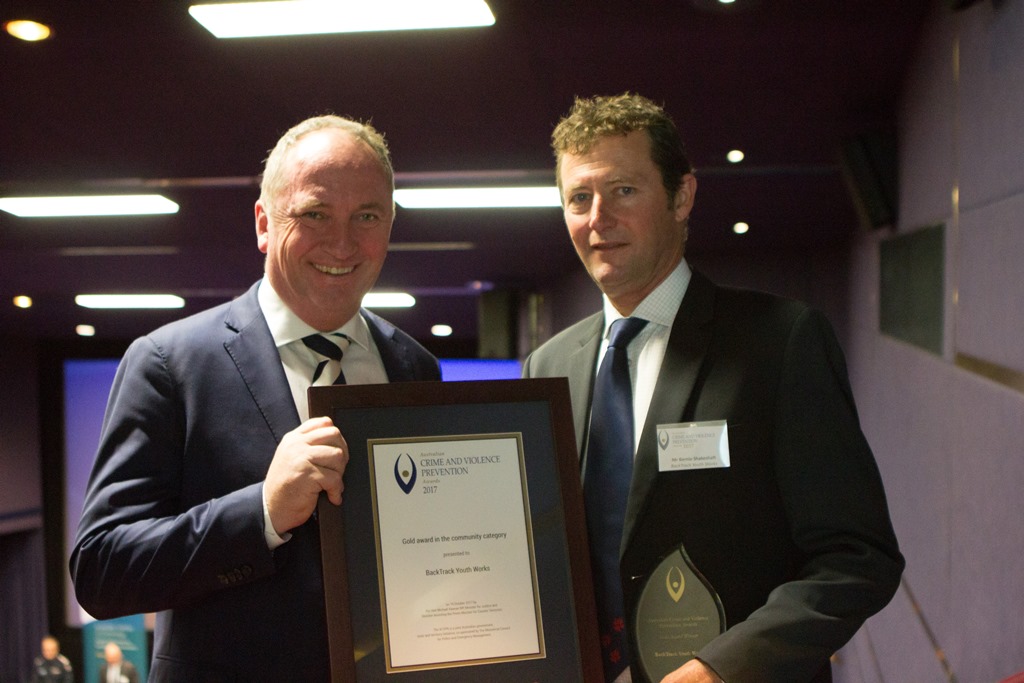 PHOTO: Deputy Prime Minister and Member for New England, Barnaby Joyce, with BackTrack manager and founder, Bernie Shakeshaft at the ACVPA presentation in Canberra.
Deputy Prime Minister and Member for New England, Barnaby Joyce, has congratulated Armidale-based organisation BackTrack YouthWorks on its national recognition at the 2017 Australian Crime and Violence Prevention Awards (ACVPA).
Mr Joyce attended the presentation by Minister for Justice Michael Keenan of ACVPA's gold award to BackTrack manager and founder, Bernie Shakeshaft, at a special ceremony held at Parliament House, Canberra.
The gold award, one of only four presented Australia-wide, recognises individuals, community groups and programs which have made outstanding contributions to crime prevention and community safety.
"I congratulate Bernie on this outstanding award which is the result of years spent dedicated to the BackTrack organisation," Mr Joyce said.
"The difference Bernie and his team have made to the lives of young Australians cannot be overstated.
"It's a credit to all involved."
BackTrack is a non-government youth organisation working to address risk factors recognised as contributing to juvenile crime, including family dysfunction, disengagement from education, poverty, substance abuse and psychological distress.
The organisation provides youth with diversionary activities, case management, education, training and personal security to interrupt these key risk factors which result in youth coming into contact with the legal system.
Mr Shakeshaft said it was a privilege to accept the award.
"It's fantastic to be recognised at a national level, a real honour," Mr Shakeshaft said.
"It says a lot about what we're doing here, the hard yards we've put in, and that we have a model that works."
The BackTrack model has been proven to be effective in multiple NSW communities, with 87 percent of youth who complete the program moving into training or some form of employment, and maintaining positive life relationships.
[ENDS]