02 December 2014
FEDERAL Member for New England, Barnaby Joyce has praised the efforts of Inverell High School student, Hannah Worsley who has been named as one of three Year 11 girls who have been recognised in a nationwide essay competition.
Mr Joyce said not only was he passionate about the Country to Canberra initiative, he was delighted with the theme she adopted in her writing to the topic, "Analyse gender equality in your community. Should more be done to empower women?"
"It was such an impressive piece of writing and Hannah certainly has a great future in whatever vocation she chooses," Mr Joyce said.
Miss Worsley said her father is a grazier at Nullamanna and her mother is a teacher, while she hoped to follow a career path in medicine or medical sciences.
She said the two-day trip to Canberra included a breakfast with powerful women including NSW Nationals Senator Fiona Nash, ACT Chief Minister Katy Gallagher and Deputy Secretary Defence People, Rebecca Skinner. There was also a behind the scenes tour of Parliament House and of the National Gallery of Australia.
The Country to Canberra initiative was open to young women in Year 11 who attend a school more than 50 kilometres away from a city of 50,000 residents.
The trip to the ACT gives the three winners, Hannah Worsley, Vesna Clark from the NSW Southern Highlands and Libby O'Brien, from Beaudesert, Queensland, an opportunity to engage with government, discover new career paths and build a professional network to achieve their goals.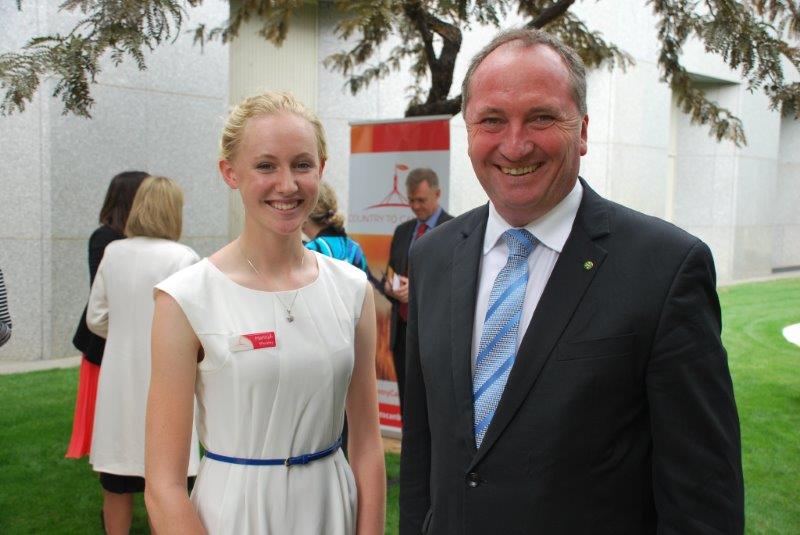 Caption: Inverell High School Year 11 student, Hannah Worsley accepts a letter of congratulation from the Member for New England Barnaby Joyce. Miss Worsley was one of three winners of a national essay writing initiative.
Hannah's award-winning essay
Question: Analyse gender equality in your community. Should more be done to empower women?
Author: Hannah Worsley Community: Nullamanna, NSW Age: 17
"Why would you want to be a politician? Isn't that like, for guys?" "Well of course he'd get it, boys are always better at science."
"Why would girls want to join the army as soldiers when there are nursing and cooking roles for them?"
These are just a few of the statements from my fellow classmates pertaining to women and their role in society that have shocked me to the core. They say it so easily, barely stopping to consider the things they are insinuating about a particular gender within a single sentence. When I've attended programs where I met people from urban areas, I've found that they exhibit less "casual sexism" than any of my rural peers. So why is it that gender equality seems such a hard concept to grasp in rural communities?
It's an intriguing phenomenon, where rural youth seem to experience the effects of a gender disparity on a much larger scale than those in urban areas, yet not even know about it. Having an avid interest in politics, I'm seen as an oddity by many of my peers, and not just because that in itself it is an uncommon interest to have when coming from a country area. It's also because the concept that a female would want to try and break into the male-dominated realm of politics is so foreign. Within my community, it's clear that while the majority of people truly believe in gender equality, a lack of exposure to various feminist and gender equality movements leaves our rural citizens with a distinct misunderstanding of what gender equality is. The statements I mentioned earlier come easily from people my age, and unbeknownst to them they are perpetuating a gender stereotype and promoting the very existence of the infamous glass ceiling women still face.
Simple awareness of, and exposure to, the more diverse demographics of urban communities has helped me understand what we as a rural community face in terms of gender inequality and how we should overcome it. As I stated, in a small regional town we miss out on the impassioned rallies of feminists fighting for equal opportunity and we are at a distinct disadvantage when it comes to accessing the resources needed to spread the word about gender equality.
To empower women, both young and old, and to create a new generation where gender equality is top priority, rural communities such as my own need to be afforded more education campaigns, programs encouraging young women's involvement in male-dominated career paths, and an overall promotion of gender equality. Rural communities are famous for their ability to band together and make a concerted effort to enact change. To bring out our fighting spirit and stop the gender inequality we need to be educated about, and exposed to, the issue. It's not that we are backwards, it's that we don't know enough about the issue, and if we can educate people we will know what we are facing and be empowered and inspired to do something about it.