FEDERAL Member for New England, Barnaby Joyce has welcomed the announcement that BAE Systems has been awarded an extension on its contract to support the Republic of Singapore Air Force (RSAF) Air Grading Centre (AGC) – Flying Training Institute (FTI) from its Flight Training Academy located in Tamworth, NSW.
Mr Joyce said BAE Systems will continue to provide the RSAF with aircraft, purpose built training facilities, instructor training, student accommodation and recreational facilities for a further five years.
Under the contract extension, the RSAF aims to increase the number of students that undertake AGC from 220 to 240 annually. AGC will continue to be supported by a permanent detachment of 12 RSAF personnel who along with their families make a valued contribution to the local Tamworth community.
Mr Joyce said the BAE Systems facilities at Tamworth are used to support the training of four militaries – ADF, the RSAF, Royal Brunei Air Force and Papua New Guinea Defence Force.
"BAE Systems trains up to 170 pilots per year. They provide flight screening for 275 ADF students and air grading for up to 240 Republic of Singapore Air Force students per year," he said.
He said the new contract required a small increase in the throughput of students per annum.
"That's why I'll continue to fight to ensure BAE System's Tamworth flight training college will continue to grow as a premier pilot training facility."
During the recent AGC Contract Performance Review, the RSAF Head of Air Training, Colonel Ho Yung Peng, stated that the excellent working relationship between the RSAF and BAE Systems has delivered solid contractual outcomes to date.
Steve Drury, Director Aerospace, BAE Systems, said, "We are honoured to continue providing the Singapore Air Force with aircraft and training equipment to meet their future aircrew training needs.
"We welcome the RSAF's continued support for Flight Training Tamworth and BAE Systems as their on-going partner for air grading activities."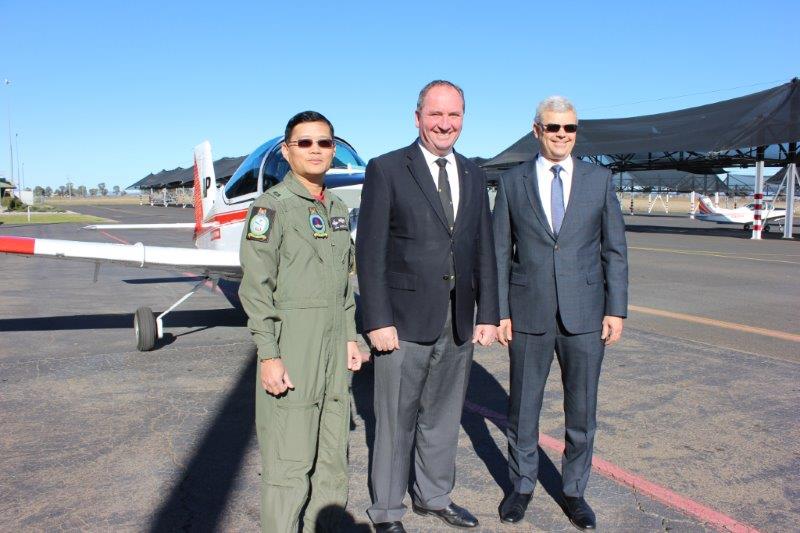 Major Aaron Ang, Acting CO RSAF AGC, the Member for New England Barnaby Joyce and Steve Drury, Director Aerospace.