The Deputy Prime Minister and Member for New England Barnaby Joyce has been sworn in as the newest member of the historic Tamworth RSL Sub-branch today.
In what is believed to be a first in Australian RSL history, Mr Joyce's swearing in will see the local Federal Member, who is also the Deputy Prime Minister, and the local State Member in the same RSL Sub-branch, with Member for Tamworth Kevin Anderson already being a member for a number of years.
Mr Joyce served in the Army Reserve for 5 years and his paternal and maternal grandfathers served during the First World War while his father served during the Second World War. He said he was honoured to be accepted into such a prestigious organisation and hoped he could make a similar contribution as other notable members who have been involved with the sub-branch during its 99-year history.
"I'm proud to be serving with such dedicated members of the community that make up the Tamworth RSL Sub-branch and it's especially promising that we now have both a State and Federal Member among the membership," Mr Joyce said.
"This occasion is appropriate to wear my father's and grandfather's medals in remembrance and honour of their exemplary service.
"The sub-branch has had some prestigious members in its 99-year history in Tamworth, such as former Tamworth State MPs Ray Walsh and Noel Park, as well as current members, so I am pleased to be counted among such great company."
RSL Tamworth Sub-branch President Bob Chapman said it was a special time to be involved in the Tamworth RSL Sub-branch, with the club's 100th anniversary coming up in May 2018.
"The Tamworth Sub-branch has received a lot of support from both the State and Federal Members over the years so it is definitely an honour and a privilege to have them both as sub-branch members at the same time," Mr Chapman said.
The Tamworth RSL Sub-branch currently has 260 members and is the biggest in the New England area. To become a member go to www.tamworthrslsub.com.au/become_member.html or call 6762 1244 for further information.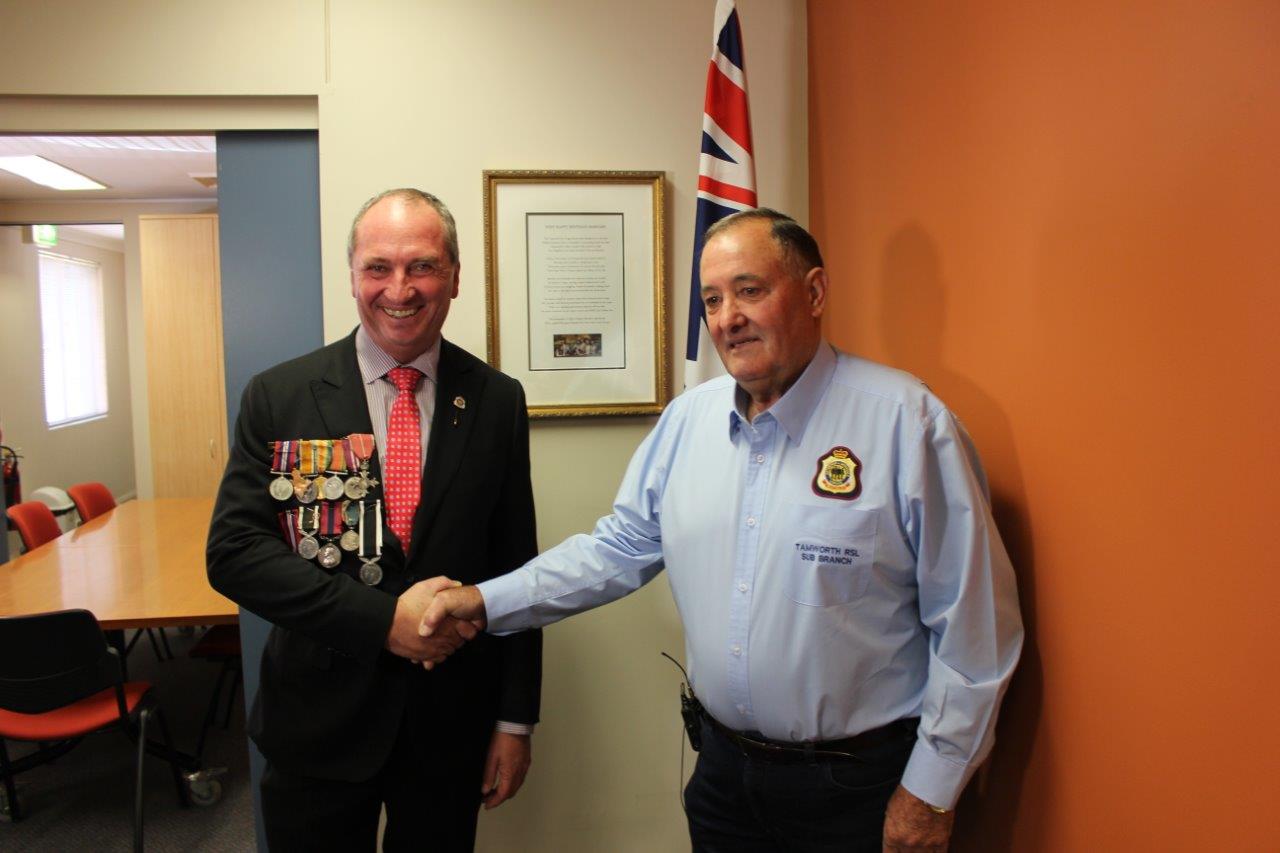 Deputy Prime Minister and Member for New England Barnaby Joyce was sworn into the Tamworth RSL Sub-branch today by President Bob Chapman.