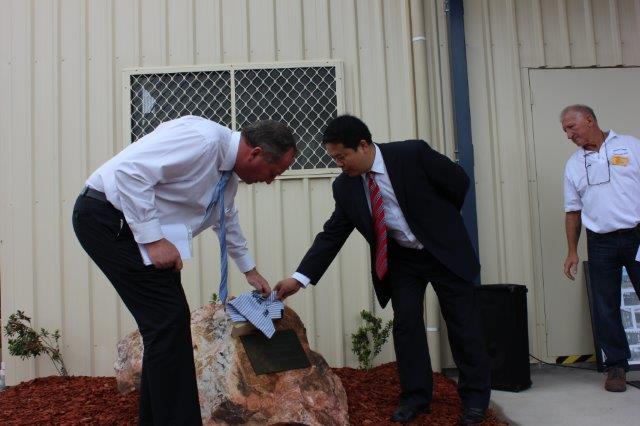 Member for New England Barnaby Joyce and Shenhua Australia Chief Executive Officer Mr Wang Ningbo unveil the plaque commemorating the opening of the Werris Creek Community Shed.
06 December 2014
WERRIS Creek has a new social hub with Saturday morning's opening of its Community Shed.
Federal Member for New England Barnaby Joyce, who opened the new building, said the sense of community is what binds people together and the decision to call the building a community shed was most appropriate.
"I bought my first home in Gordon Street, Werris Creek and I know what a great community it is," he said.
Mr Joyce said works included the construction and fit?out of the shed with a kitchen and meal room, office and showroom, and bathroom and shower facilities.
He said the new shed is being used by local residents as a place to learn new crafts and hobbies as well as providing an important opportunity for people to socialise.
Deputy Prime Minister and Minister for Infrastructure and Regional Development, Warren Truss, said the facility will give residents a new venue to enjoy social, recreational and craft activities.
"The Australian Government provided $80,000 towards the project, reinforcing our commitment to building stronger communities in regional Australia," Mr Truss said.
"That's why we are getting on with the job of delivering $314.2 million to almost 300 Community Development Grants projects across Australia, and an additional $1 billion to community projects over the next five years through the National Stronger Regions Fund.
"Every dollar spent in rural and regional communities is a dollar invested in their futures."
The project was jointly funded by the Australian Government which provided $80,000, the New South Wales Government which contributed more than $58,000 and Shenhua Watermark Coal Pty Limited which invested $118,000.