The Deputy Prime Minister and Member for New England Barnaby Joyce said the Coalition Government's contribution of $8.5 million to the Northern Inland Centre of Excellence will be a tremendous boost for Tamworth as a premier location for sport in regional NSW.
Deputy Prime Minister Joyce was joined in Tamworth today by Minister for Regional Development Fiona Nash to announce the election commitment towards the project.
Mr Joyce said he'd been lobbying on behalf of the Tamworth Regional Council to secure the funding and he was delighted to be able to deliver it and the benefits the Centre of Excellence will bring to the city.
He said the proposal would include the construction of a synthetic athletics track, a 400 metre velodrome and criterium cycling circuit, as well as extensions to the existing Sports Dome, including additional sports administration rooms and an indoor sports facility.
"On the equine front, the construction of a 100m by 100m sand-based arena and associated civil works for dressage, eventing and show-jumping events, the development of a large group accommodation facility and other associated ancillary works will further enhance Tamworth's reputation as a destination for all kinds of equestrian events," he said.
Mr Joyce said the proposed Centre of Excellence would be located in the precinct of the existing Australian Equine and Livestock Events Centre (AELEC), Tamworth Regional Entertainment and Conference Centre (TRECC) and Sports Dome.
Minister for Regional Development Fiona Nash welcomed the announcement noting that this delivers on the Coalition's vision for vibrant regional communities.
"As Minister for Regional Development, I aim to help build the types of communities that our children and grandchildren want to grow up in or come back to. A project like this helps to do that. This vision is at the core of everything we do," said Minister Nash.
"Sport is a social conduit in regional Australia, and world class facilities like those announced today give the stars of tomorrow the best chance to follow in the footsteps of local legends such as Kookaburras' captain Michael York or test cricketer Josh Hazlewood."
The development of this major sports precinct took a significant step forward in early May with development approval granted by the Tamworth Regional Council (TRC) making the projects "shovel-ready".
TRC Mayor, Cr Col Murray, said the approved new AELEC arena would make it possible for the venue to host a higher level of outdoor jumping competitions, including Olympic level, while the athletics centre will deliver to Tamworth the only outdoor synthetic track between Newcastle and the Gold Coast.
"Like the $5.35 million Northern Inland Cycling Centre approved in April for a site at the rear of Tamworth Sports Dome, the approved developments would only proceed if funding is secured," Cr Murray said.
"Now we have the excellent news that our local MP and the Deputy Prime Minister, Barnaby Joyce has delivered $8.5 million and this will set in stone Tamworth's reputation for first- class sporting events".
Cr Murray said the new facilities are part of Tamworth Regional Council's plan to create a Northern Inland Centre of Excellence, a multi-venue precinct able to cater for a range of sports hosting local, regional, state and national level competitions.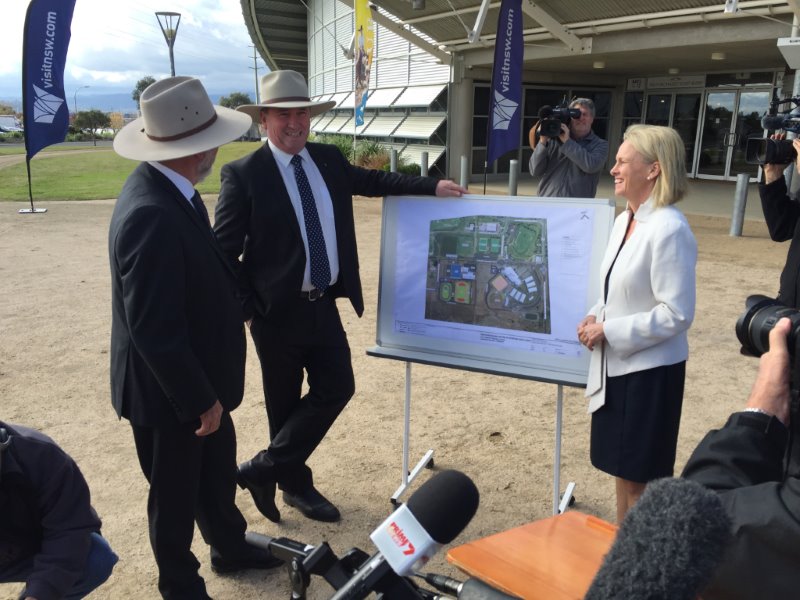 Caption: Tamworth Regional Council Deputy Mayor, Cr Russ Webb, the Deputy Prime Minister and Member for New England Barnaby Joyce and Deputy Leader of The Nationals, Senator Fiona Nash.