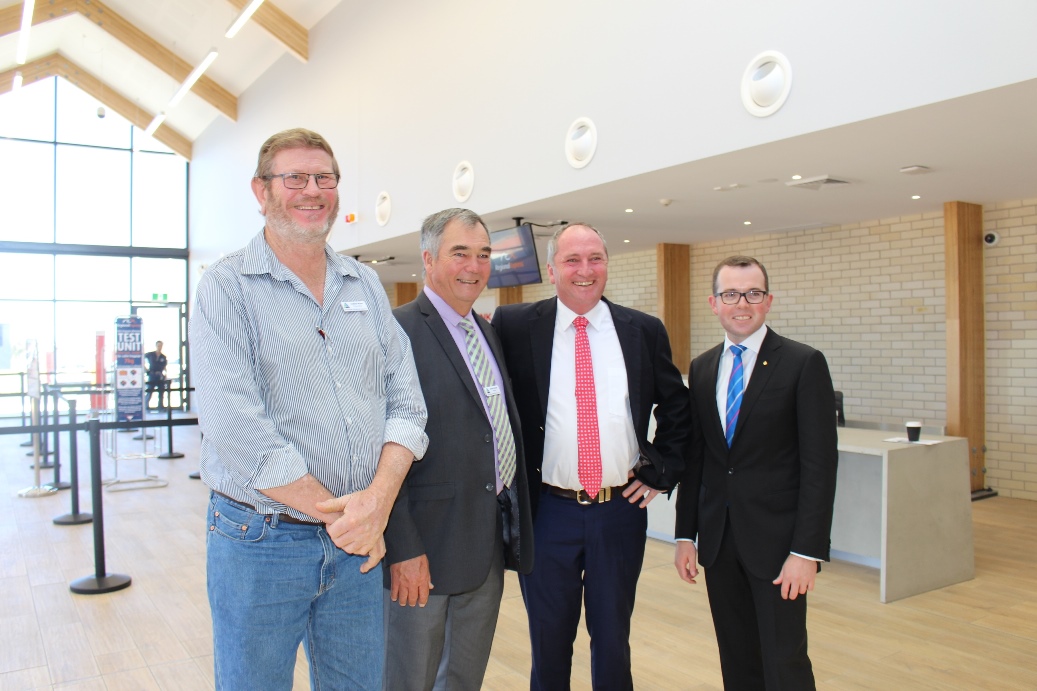 PHOTO: Armidale councillor Andrew Murat, Armidale Regional Council Mayor, Simon Murray, Deputy Prime Minister and Federal Member for New England, Barnaby Joyce and Member for Northern Tablelands Adam Marshall at the official opening of the Armidale Regional Airport upgrade.
$10.5 million expansion of the Armidale Regional Airport Terminal is now complete
New terminal boasts a café and retail area, new baggage carousel and extra seating
The Federal Coalition Government invested $1.12 million towards the project in stage two, with $3.5 million in total funding over the two stages.
Armidale residents can now check-in or wait for their loved ones in style with today's opening of the new Regional Airport Terminal after a $10.5 million upgrade.
Minister for Infrastructure and Transport Darren Chester said the recent upgrades would further solidify Armidale's place as the gateway to the Northern Tablelands, by letting the airport to expand its services to meet growing passenger and freight demands.
"Access to high quality transport services is vital for people living in regional and rural Australia, and this upgrade will provide travellers with a fit-for-purpose terminal that will serve New England for decades to come," Mr Chester said.
"Larger planes will be able to land at the airport, carrying up to 74 passengers. Previously the largest planes landing here only had 50 seats.
"It will also increase the airport's capacity for transporting freight, which will be a boost for local business and create jobs."
Federal Member for New England Barnaby Joyce, who was in Armidale for the opening today, said the upgrade would provide regular, reliable and fast access to Sydney for business, medical and tourist purposes for both passenger and freight services.
"It will reduce passenger congestion and cater to growing passenger numbers, improve mobility, and benefit the general aviation industries located within the airport commercial zone by reducing delays for take-off and landing," Mr Joyce said.
"The project has created five jobs during construction, and another eight ongoing jobs, which continues our commitment to support regional Australia."
New South Wales Deputy Premier and Minister for Regional Development John Barilaro said this project is a great example of what could be achieved when all three tiers of government work together.
"The previous terminal was built in 1994 and whilst in reasonable condition it was not capable of meeting current requirements nor allow for the necessary future expansion that will support our region and boost the local economy," Mr Barilaro said.
"The spacious facility features modern check in areas, office space for air carriers, conveyer baggage handling facilities, cafe and space for security screening."
Mayor of Armidale Regional Council Simon Murray said the upgrade to the Armidale Regional Airport terminal marked a significant milestone in Council's master plan for the airport.
"Today's opening heralds a wonderful funding collaboration between Australian, State and Local Government to deliver one of the largest infrastructure projects the Armidale region has seen for many years," said Cr Murray.
"The new state-of-the-art airport terminal will service increasing passenger numbers for many years to come and be a wonderful gateway to the many attractions the New England High Country has to offer."
The project is jointly funded by the Australian Government ($1,119,936), New South Wales Government ($6,550,000) and Armidale Regional Council ($2,830,064).