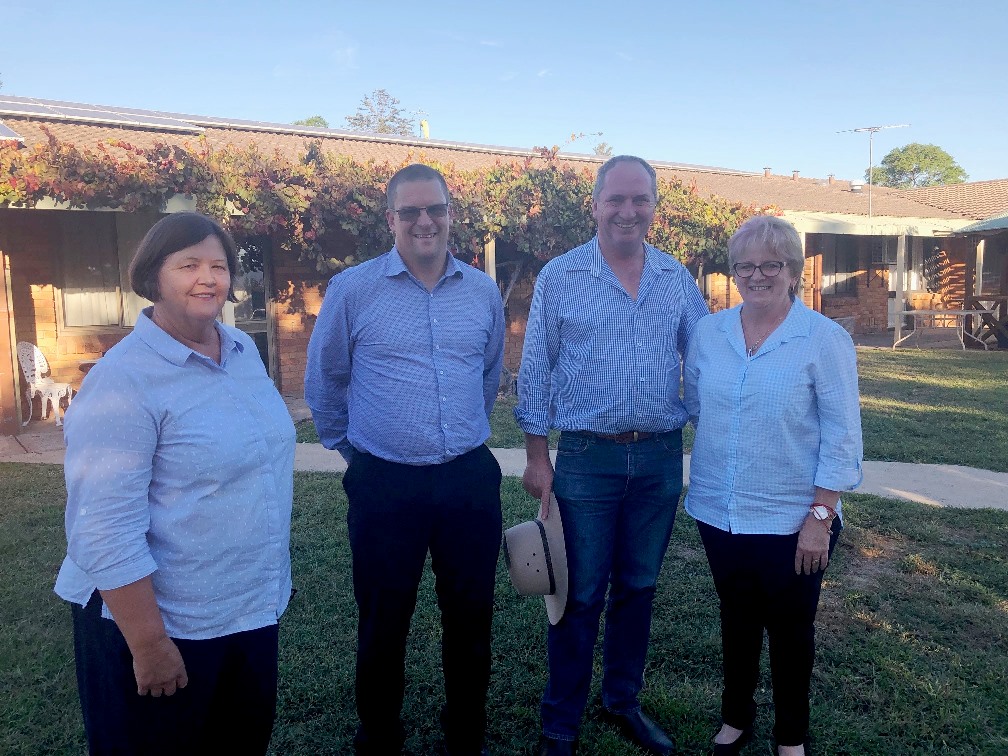 Pictured: Mr Joyce congratulating staff at Strathearn Village, Scone, on their grant. Volunteer Co-ordinator Janelle Birch, Operations Manager Stuart Thorne and Support Services Manager Anne Ferries
Member for New England, Barnaby Joyce, is backing volunteers in the Upper Hunter through the Coalition Government's $20 million Volunteer Grants program.
Grants of between $1,000 and $5,000 to help community organisations for a range of needs, including buying equipment, paying fuel costs, training volunteers or improving their fundraising, have been allocated to organisations in the New England.
Some of the organisations in the Upper Hunter receiving grants are;
Strathearn Village - $5,000 to assist volunteers deliver a regular, ongoing Men's Shed activity with space to store newly purchased tools, so volunteers can feel confident and empowered to offer residents, many who are off the land, in hands-on workshops relevant to their interests.
Murrurundi Rescue Squad Inc - $2,600 for reverse cycle air-conditioning for comfort of volunteers during participation in Association activities.
Aberdeen Senior and Little Athletics Centre Incorporated - $2,300 for barbecue equipment and pie warmer, used to host thank you meals for volunteers.
Ellerston Public School Parents and Citizens Association - $5,000 for equipment to assist in fundraising activities including kitchen and food handling equipment, seating and storage.
Upper Hunter Mummers Incorporated - $5,000 for new storage facilities at the Moonan Flat Hall. Will assist the volunteer-run, Theatre Restaurant productions with all proceeds being donated to registered local charities.
Mr Joyce said volunteering greatly benefits our communities – both socially and economically.
"The enormous value of volunteering is estimated at $290 billion per year, and Australia's 8.7 million volunteers and their organisations, including those here in the New England, are the backbone of community life," Mr Joyce said.
"Volunteers embody the best of our community with thousands of people regularly volunteering their skills, services and time to make life in Scone, Murrurundi and Aberdeen, better for those around them," he said.
The Coalition Government's strong economic management is why we can afford to provide the essential services Australians rely on and support the good work of our volunteers.
(ENDS)