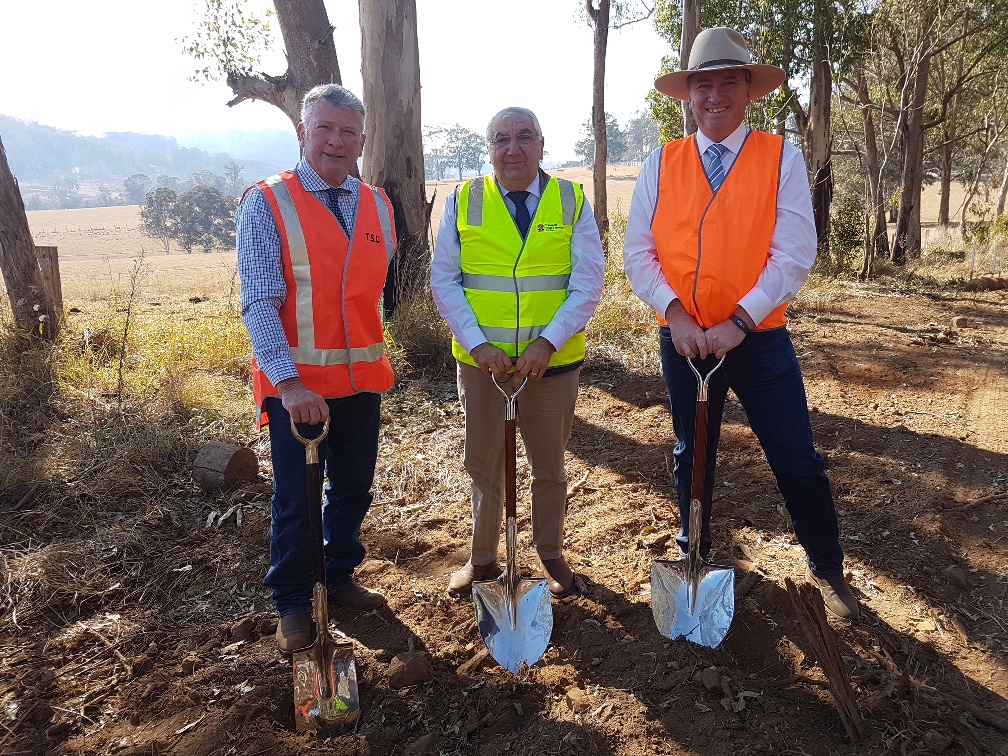 PICTURED with Peter Petty, Tenterfield Shire Council Mayor, and the Hon Thomas George MP, Member for Lismore marking the start of works on the $24 million Mount Lindesay Road upgrade.
Improved safety and transport efficiency is on its way with work now started on the upgrade of Mount Lindesay Road, between Legume and Woodenbong.
Deputy Prime Minister and Minister for Infrastructure and Transport Michael McCormack said the $24 million project, jointly funded by the Australian and NSW governments, would include improvements to various sections of the road between Legume and Woodenbong.
"Around Australia the Liberal and Nationals' Government is investing in roads – especially in the regions – to ensure Australians can get home sooner and safer and enhance productivity," Mr McCormack said.
"This work will significantly improve safety for the increasing number of motorists, freight drivers and tourists who use this road as the connector from the Southern Darling Downs to the Northern Rivers.
"The existing road is narrow with poor pavement condition and everyone agrees it is in need of an upgrade to make it more attractive for motorists and freight."
NSW Minister for Roads, Maritime and Freight Melinda Pavey said Roads and Maritimes Services were working closely with Tenterfield Shire Council to deliver this project.
"Tenterfield Shire Council has engaged a contractor to deliver the first part of the upgrade, a 2.4 kilometre section of road starting about 27 kilometres east of Legume, which is due for completion in December 2018," Mrs Pavey said.
"Design work is being finalised for the second stage, involving the upgrade of the Legume intersection and the section of road immediately to the east of Legume."
Federal Member for New England Barnaby Joyce said work was also planned near Koreelah Creek, 13 kilometres east of Legume, and the Big Hill section, 16 kilometres east of Legume.
"The original road was designed for horse and cart, so it's about time it was upgraded." Mr Joyce said.
"I've been fighting for upgrades on this road and now we're seeing delivery of that effort.
"This project is not only improving safety for motorists, it's helping build our corridor of commerce, from the Tablelands to the coast, for the benefit of industry and local business in the New England electorate."
State Member for Lismore Thomas George said the entire upgrade was expected to take about three years to complete, weather permitting.
"It has been a long process getting the project to this point, requiring collaboration between three levels of government, including close cooperation between five different Councils," Mr George said.
"Motorists looking for more information about the project are advised to contact Tenterfield Shire Council on 02 6736 6000."
The Australian and NSW governments have each committed $12 million to fund the Mount Lindesay Road – Legume to Woodenbong project.